Can you take a pile of not so rare parts and assemble them into something very rare and special? I think the likes of Harris, Baker, Spondon and even earlier Bimotas prove that this can be the case. Careful selection of parts and a healthy exchange of sweat equity can create something truly special. In this case, a super mono style racebike consisting of a Honda Hawk GT 650 aluminum twin spar frame and a KTM 525 single. Toss a RGV swingarm on the back, mate up a smattering of Honda CBR600 and 900 pieces to complete the mix, and you are ready to roll down your driveway.
We don't usually post unfinished custom builds on this site, but I took a chance on this one anyway. It is in far better nick than the GSX-R LE basket case recently posted by Ian, and it represents another type of spring project: sorting and finishing rather than a complete redo. The seller claims that this bike has seen a track day, although he has not ridden it on the track since he acquired it from the original builder. Is that a case of life getting too busy, or an indication of what lurks beneath? I'll let you decide.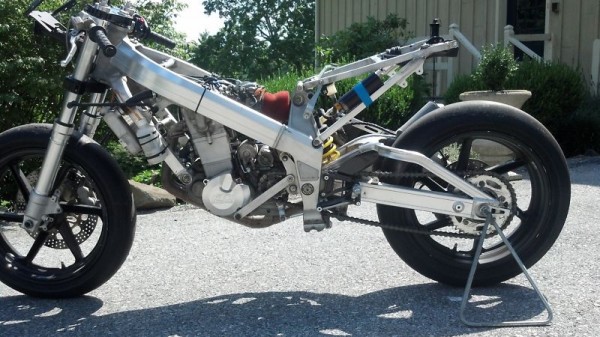 From the seller:
For auction is my unique KTM powered supermono. I purchased this machine from the builder. The gentleman was a professional machinist from Toronto. He bulit the machine for supermono/sound of singles racing. As fate often has it, he didn't have as much free time as he thought (seems to be a recurrent theme). I negotiated the purchase of the machine and he brought it to me in an enclosed truck from Canada. The bike has one track day on it's clock. I rode the bike up and down my street a few times per year and started it to heat cycle it a few times. It is made up of a "hybrid" of components: it is essentially the wonderful honda hawk GT aluminum frame coupled to a suzuki 250 2 stroke aluminum swingarm. I am listing the specific compononets below. I have many many bikes and cars and another baby on the way so I'm honest enough with myself to know that I'm not going to have the time to race this great little bike. I have listed it with what I feel is a very low reserve. Please don't ask me the reserve however I do have it listed locally and am open to offers. Thus, I reserve the right to end the listing early. If you are interested in converting this to a street legal canyon carver, I have a nearly new duplicate hawk frame with a clear and open title that I will make available to the winner.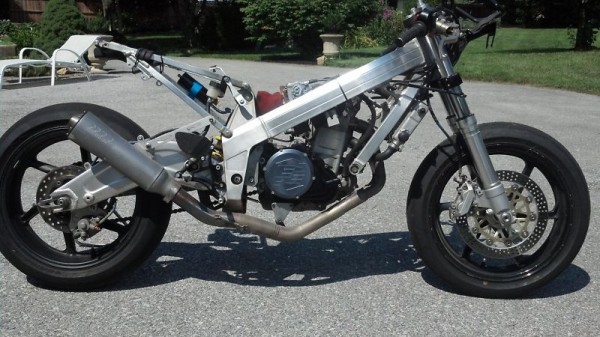 The seller has posted a brief spec sheet to go along with the pictures and text. Nothing terribly rare went into the bike, but what came out is a modern day super mono machine that has unmistakable potential. A little work may be needed to polish up the package, but it certainly looks to be a potent track day bike for anyone willing to try. Only a few bids thus far, with the auction up to $1,500 and reserve still in place. Somebody has already invested the dollars and sweat to get it to this stage; in the end this could be a real bargain. Click the link to jump over to the auction and check it out!
MI