It won't be the fastest BMW at the track but it sure is heck will be the most unique.  Before BMW got ultra serious with the S1000RR they ran a single brand race series in conjunction with MotoGP.  You are looking at the result. 
From the seller:

The exclusive bikes were only available to teams through BMW subsidiaries or official importers and were modified directly by BMW Motorrad Motorsport in Munich after assembly at the plant in Berlin.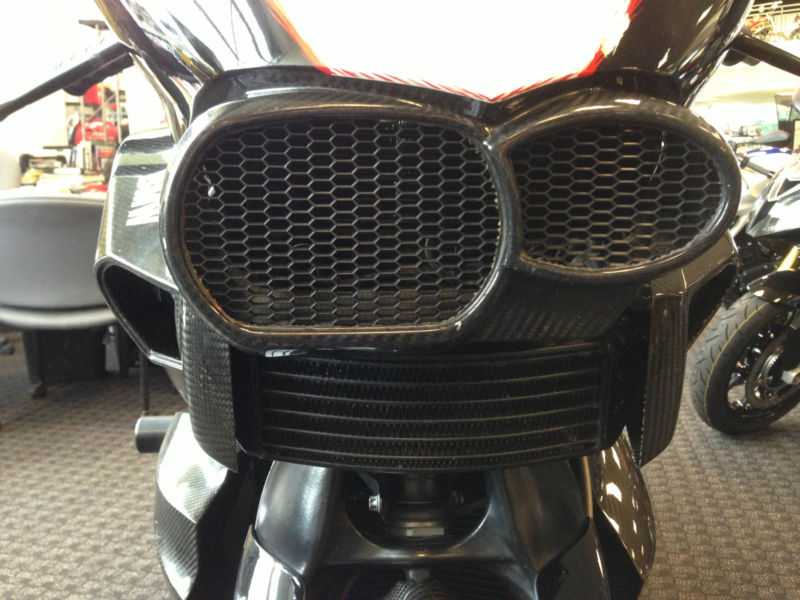 What's the saying that if you having nothing nice to say?  Actually, I like it.  In these days of cookie cutter sport bikes I like anything different.
The story:
WB10584076ZN10101 is one of those VIP factory bikes and still carries a scrutineering sticker from one of the 2005 rounds. Starting as the most powerful, road legal naked ever built, BMW honed the bike for circuit use with carbon fiber bodywork and an even more powerful engine, delivering a claimed 175 bhp.

  The 230kg monster was further lightened with a unique Laser racing exhaust helping to shed a few more unwanted lbs and delivering a much sportier exhaust note. F1 quality carbon adorned the headlight surround and series specific electronic dashboard with lap timing capability and gearshift indicator, hand guards, intake panels, pillion seat cover, and a series specific engine undertray was added to meet race regulations with essential crash bungs mounted in several key locations. K 1200 R Power Cup machines sported an electronic quick-shifter, later seen on the road-going HP2 sport, and bespoke adjustable rear-sets and foot pegs from the French manufacturer Gilles. Suspension was again, series specific from the well-known Dutch White Power concern.

  This bike was imported into the US directly by BMW Motorrad Motorsport and raced successfully by well-known US racers Brian Parriott of San Jose and Nate Kern out of Atlanta. Modifications have been limited to all black body panels (the carbon remains unpainted) and wheels, and aftermarket adjustable rear torque arm and Remus titanium silencer, which makes the bike sound like a Phantom jet. This vehicle is in great condition, but sold as seen, complete with used slick tires and rear paddock stand and is offered with a selection of extremely rare Power Cup accessories.

 
No sir, no title for you.  If you have visions of riding on the street you better buy your friend with a street legal two stroke a couple beers and pick his brain.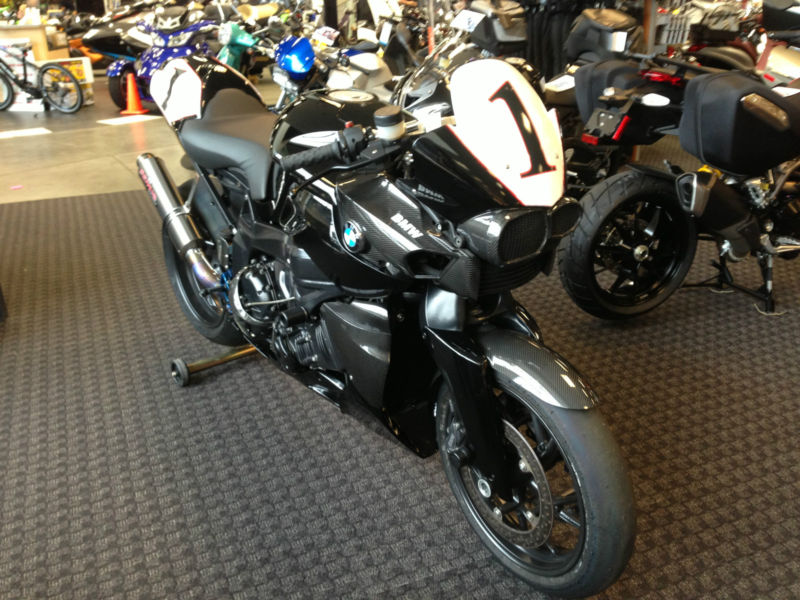 I imagine the BMW folk know a relevant price; I'm truly in the dark on this one.  Is it pricey because of the rarity?  Is it not because it was juat a production based series?  Tell me what you think. 
Ian