I'll come clean; to me, this is about as exciting has adding Ohlins and Termignoni's to a shopping cart but RSBFS has taught me to appreciated all variations of sport bikes. Having read reader comments I know the RSBFS masses are a varied bunch with wide ranging tastes. This XR1200 is residing over in the U.K., enjoying retirement after its' days on the track there.
The seller explains what we have here:
HARLEY DAVIDSON XR1200 CHAMPIONSHIP WINNER !!!!!!!!!!!!

THE BIKES TANK HAS BEEN SIGNED BY THE CHAMPIONSHIP WINNER !!

A very collectible investment !!

THIS BIKE WON H/D XR1200 challenge which televised and ran on the back of British super bike !!!!!
THE BIKE WAS RIDDEN AND WON THE CHAMPIONSHIP WITH JAMES WEBB ON BOARD !!!!!
The bike comes with a full set of DVDs with all the races that it ran !!!! And believe me they are quite amazing !!!!!

I have as in the photos a collection of posters of this motorcycle promoting the xr1200 challenge
The original number from the bike and a letter of year of manufacture should you wish to road register the bike ?

IF YOUR A HARLEY FAN WHAT BETTER BIKE TO HAVE IN YOUR COLLECTION ????
THE BIKE WAS BUILT FOR RACING AT A COST £22,000 for racing !!!
IT RUNS SUPERB, NOT EVEN A PUFF OF SMOKE AND NO NASTY NOISES, IT'S A CREDIT TO HARLEY ENGINES !!!
Just a few random things on this bike are as follows

Quick action throttle
Termignoni full stainless exhaust system with carbon cans
PVM racing light weight 17inch wheels
Oberon rear sets fully adjustable
Oh links rear shock absorbers
Onlins front internals
Ohlins adjustable steering damper
Harris performance billet yokes
Protaper bars
Carbon components
Performance disc brakes
Screaming eagle ignition unit
Good ridge lines
Etc etc etc etc
The bike also comes with a Harris stainless paddock stand
This bike is an amazing piece piece of history on wheels !!!
FANTASTIC ROAD BIKE OR GREAT INVESTMENT
WHY MAKE SOMETHING LOOK THE PART WHEN YOU CAN HAVE THE REAL THING ?
That is a first for my eyes; Termignoni exhausts on a Harley. That might get your ass kicked in certain crowds.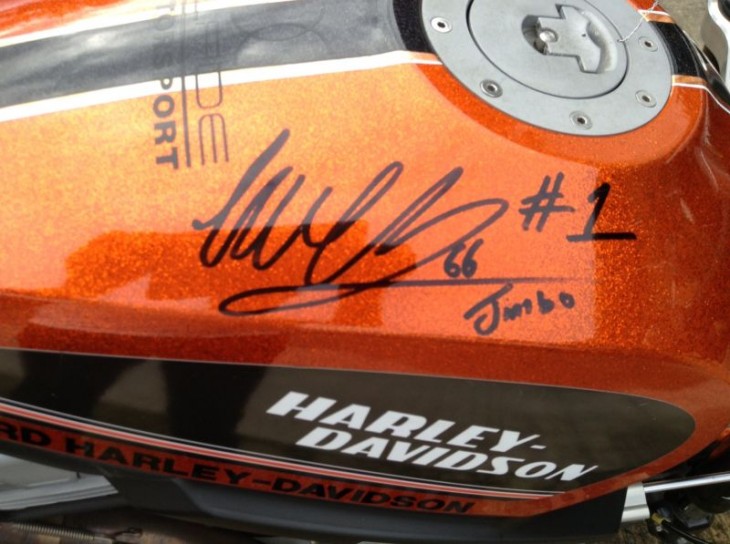 Now who the hell is Jimbo? Has to be a mechanic with a name like that.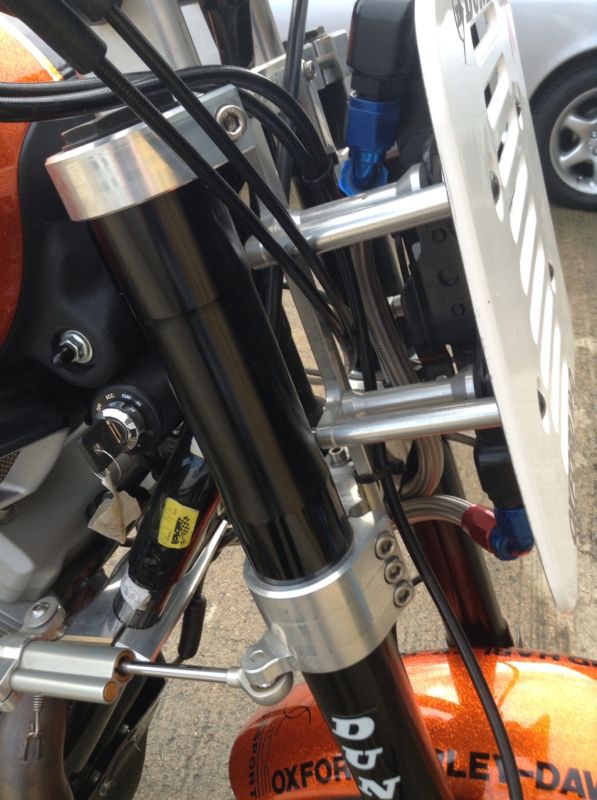 That is pretty darn stout with an assist from Ohlins if she gets the shakes.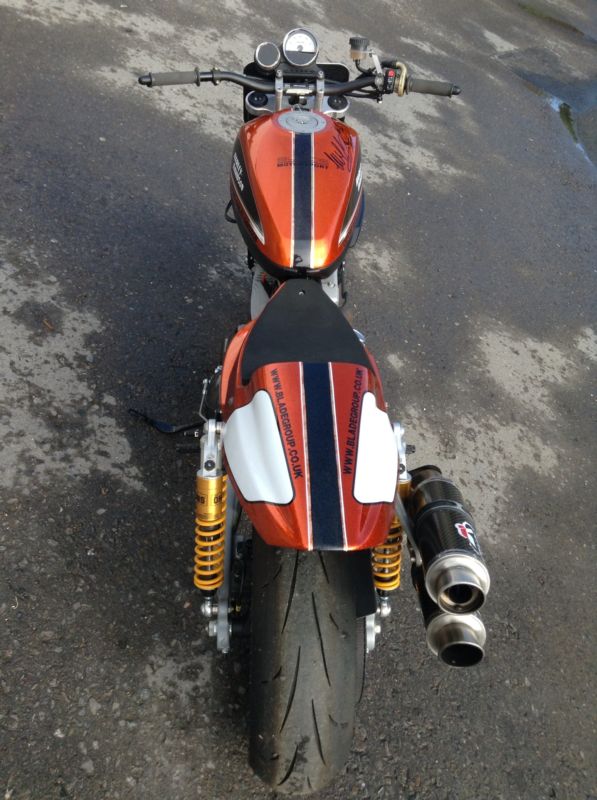 The BIN is an eye opener at $19,800. Click here to see the listing.
Ian