I know we've had well over a dozen Duc's in the pond in the last couple weeks, but when Eric emailed me about his S4RS I knew readers wouldn't mind one more! The modifications to this bike are very well thought out and you can tell he's taken very good care of it.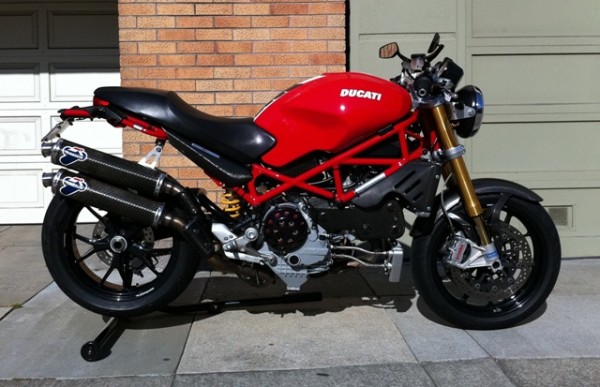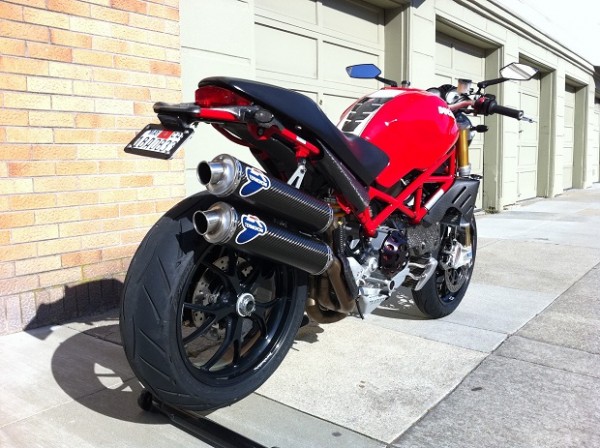 He has extensively outlined all the details about his Monster:
For Sale 2006/7 Ducati S4RS Monster Red 31,000mi $9000 obo

-Full Termignoni exhaust kit with Ducati Performance ECU and airbox
-Nemesis fully programable ECU installed with dual fuel maps switchable on the fly, one power/one lean for increased range, custom dyno tune from Desmoto in San Francisco
-Fully rebuilt motor at 12k service due to out of warranty crank damage, replaced with 999S crank, titanium rods and lightened flywheel
-Sigma slipper clutch with freshly serviced and installed clutch pack
-Cam timing checked during 30k service, all rockers ok, cams set to race spec tolerance
-Forks revalved by James Siddall of Superplush Suspension
-K&S mirrors as well as stock ones
-Carbon radiator covers
-Carbon tailsection
-Quick change rear sprocket
-Low mileage Meztler M5 tires
-Termignoni exhaust just repacked
-Stock front fly screen
-Stock exhaust with ECU
-Adult owned by rider with extensive Ducati experience
-Complete list of service records

I have straight up loved owning this bike. There are many who may scoff at a bike that has been ridden and maintained to a higher mileage than might be the norm but I would keep riding it if it was just a little bit bigger and would let me travel two up with more than a tankbag.

I am the second owner, the first bought it new and put 1300 miles on it after a year. I think of it as a 'rescue' purchase.

Bike performed flawlessly until the 12k service when we discovered a nut that holds the flywheel onto the crank had started to fail and had actually damaged the crank journals. As I enjoy a very close relationship with my shop, we decided to fix it a bit more decisively than was required as they do a lot of work on the race bikes owned locally. In went a 999S crank mated to
titanium rods and a lighter flywheel, cam timing was re set to match and off I went.

Of each generation of 4 valve Ducati motors, the ones with lightened internals, as with any of the R models are always noticeably lighter on the throttle, eager to spin up, and smoother everywhere in the powerband. This is the net result for the S4RS as well. The motor has been bulletproof for almost 20k miles now requiring only regular service, oil and tires which has put any of my own queries about reliability to rest just based off practical use. It is just a sweet motor to ride. The Nemesis ECU can hold two maps for use anytime which are changed by pressing the ignition button when the motor is running, the tach needle will blip up to a different number on the dial to indicate which map you are in. The default is for full power use and delivers normal RS range of around 100+ miles, and the 'B' map has shown me close to 120 miles of range on longer trips, is equally rideabe, just leaner. Though I have the baffles for the exhaust, the bike runs as it was intended by Ductai best with them removed. I rode 5 miles with them in before taking them out, it is just pointless as they castrate the bottom end of this bike, even with the stock motor.

A slipper clutch came with the bike and depending on where you ride most is either great or not. I'm just being straightforward about it as I have around 100,000 miles on different Ducati dry clutches and thats the way it is. I live in San Francisco, so when I just ride it out of the city I love it but when I do more stop/start riding it can be a chore as dry slipper clutches can get grabby around town. This one has a fresh clutch service and new plates.

I have used this bike primarily for local Northern California road riding and occasional longer trips, to be honest I've had it sitting in the shop for the last month looking for anything out of sorts on it before I sell it, hence the muffler repacking and clutch service, I really want someone to ride it that will enjoy it. Just starting it up for the first time in awhile makes me remember how special it is.

Why am I selling? At the time I did the motor work I thought I would keep it forever, as you do, but after trying to travel further and futher on riding trips I came up against the limitations of what this bike is meant for. No shocker there, but I need to be able to take my gal in comfort and dissappear for a weekend, and I already have a bike for track work.

Wear and tear on the swingarm is from the left boot, I added the Leo carbon shield to keep from melting the right one. Theres also a dent on the bottom of the exhaust header that hangs lowest under the bike, urban bump, one of which I've had repaired before but this one is smaller so it remains. I forget how many miles are on these tires as I've had less time to ride recently but it's not much, they work brilliantly on the street and for my mind I really found them to be superior to the stock Michelins while still working well on cooler damp road conditions. Bike has always lived in a warm dry garage.

Thats pretty much it. I'll be happy to field any questions at all or arrange to show the bike locally. If anyone has specific questions about the bike and how it runs you can call Desmoto in San Francisco directly, believe me they know the bike really well.
While many will note that the S4 uses the 4 valve Ducati Superbike motor, the RS was the ultimate iteration as it used the next generation 999 Testastretta engine. It also received Öhlins suspension front and rear and had radial brakes up front. To my mind, this is the baddest Monster ever offered so far, first or second generation.
And if you're wondering what kind of thunder those termi's make, here's a clip I found on YouTube (not the seller's bike):
Interested parties can email me directly or through his Ducati.ms listing.
dc