Here's my own personal 1991 Kawasaki ZXR750R homologation special for sale. I bought it initially with the intention of restoring to it's former glory, but with our new baby daughter arriving in May, it's probably not the best time to take on such a project, so would prefer to see the bike to go a new owner who would take good care of it.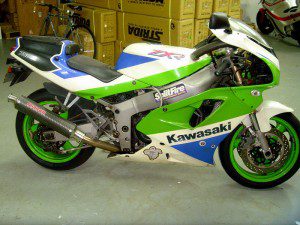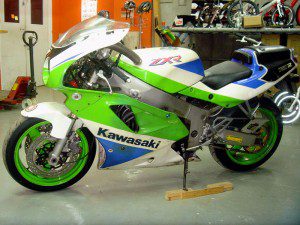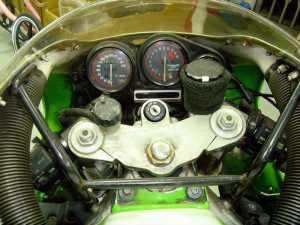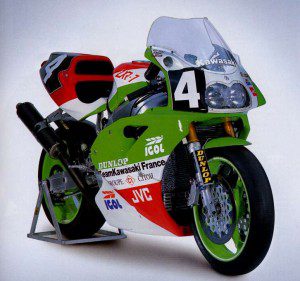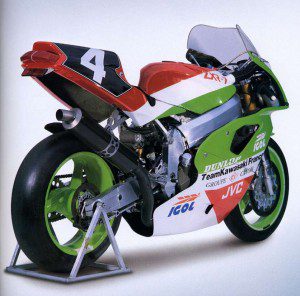 The ZXR750R is the homologation special of the standard ZXR750, with Keihin flatslide carbs, close ratio gear box, aluminum gas tank, single seat (the previous owner added rear pegs and a passenger 'pad') and even a slipper clutch (called a 'Back Torque Limiter' - bet you didn't know that!)  There's a wealth of excellent ZXR750R info on Andy's ZXR750R site. This specific sample has 19,493 km on the clock bike has new fork sliders plus Racetech gold valve internals, Ohlins rear shock, Akrapovic header with Micron carbon exhaust, and new Michelin tires.  Cosmetically it's a bit ratty and could do with some restoration (or you could get some race bodywork from Airtech and turn this into an awesome 90s track bike!), but then again I'm only asking for $2000 or best offer. There is a slight catch though - the bike is located in Hong Kong.
In any case, please allow me to share my vision of what I had planned for this ZXR750R - I've always had a thing for endurance racers (as in the bikes, not the riders!). Inspired by the original endurance racing ZXR-7 (see attached photos below), I wanted to restore the "Zed" with a complete strip down, and rebuild it with completely new body work and paint it up as a ZXR-7 endurance replica.  Actually, a limited number of ZXR750R were available in the red/white/green endurance colour in the UK back when:
And just for reference, here's one of the original ZXR-7 race bikes for sale. Even more info on the  ZXR-7 and older ZXRs in general, click HERE, HERE and HERE.
phil
So if you're in the market for a Homologation special on the cheap, cheap hit Phil up and help him buy some diapers
🙂 dd