Ultra Rare 1990 ZXR250 In CA
If you think a NSR, TZR or RGV250 is rare, try looking up info on a ZXR250.  These were another product of the race replica craze that swept Japan in the late 80's and early 90's.  The 250's became exercises in engineering with each company trying to showcase it's technology.  I don't know if it is correct or not but one spec sheet for the ZXR shows a red line of 18,000 rpm!  Remember these are four cylinder bikes, not two's like the current Ninja 250's.  The 1990 ZXR is very similar to the initial model in 1988.  A major redesign came in 1991.   Claimed hp is the usual 45hp for a 250cc bike  due to Japanese law at the time.  The bummer is the seller states this is actually an SP model.  I could find almost no info on the SP.  Generally SP's had close ratio gear boxes, adjustable suspension and sometimes things like larger carbs.  I'd just be guessing though on the ZXR.  I did find one photo of a later model SP and it had a remote reservoir visible under the tail section.  I also found a video of an early model SP and it had a solo tail section.  Not saying this isn't an SP just pointing out some things to look for.
Here she is.  This is one bike where you could use some detailed pictures.
The seller does not mention much about the bike in the ad other than it is in excellent condition.  He's left out the obvious questions of mileage, title and specs of the bike.  Sounds like a phone call is need to me.  Check out the little Kawi here on Craigslist.  He is asking $3,800.
Here is a reference photo of the bike in classic Kawasaki colors for you from Bikepics.com.  They sure do look good in those colors.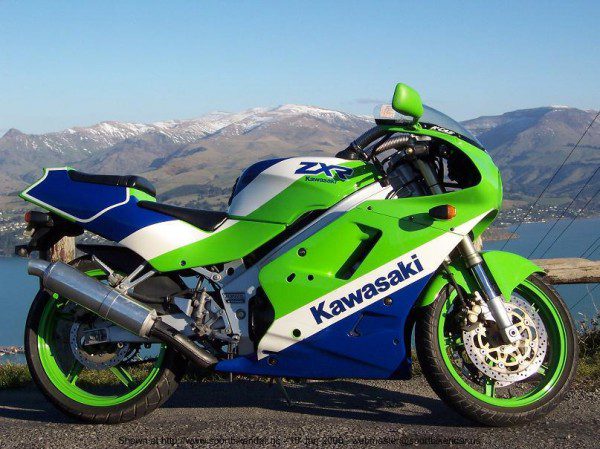 Here is the video I mentioned of an early model SP with a solo tail section:  sounds pretty good too!
IK