Warning!
This post is in our archives. Links in this post have been updated to point to similar bikes available to bid on eBay.

California Two Stroke Sighting: Plated 1991 Yamaha TZR250 3XV
Like a sighting of Bigfoot in the woods of California, a sighting of a titled stroker in California can bring disbelief.  Well your eyes aren't deceiving you.  There isn't time to waste though, this bike is on the Bay Area Riders Forum and can disappear fast.
I'm sure you Cali boys are having a panic attack right about now so here are the details:
I am selling my CA-plated TZR. This bike was brought in from Japan and registered after a lot of effort. The motor is tight and the bike is a blast to ride. It pulls hard to 12k. I would consider it a scalpel vs. a hacksaw in terms of how tight it is and how it handles vs. bigger bikes.I've restored the bike back to original glory as best I can. The top end had excellent compression so I didn't pull the barrels (but I do have another OEM piston kit, included). The bike is stock sans the TZMIke carbon cans. I just didn't want to hack it up. Here is a brief list of work:•15,7XX KM's (9700 miles)
•Powder-coated wheels, triple, calipers & steering nut w/20% gloss black
•Rebuilt brake system with new OEM piston seals, new stainless lines & new pads
•New front & rear master cylinder OEM rebuild kits
•Rebuilt front end with new OEM seals & oil. Stripped and re-painted painted lowers.
•New BT 016's
•New 520 o-ring chain
•New OEM bolts and fasteners all around
•New OEM battery
•New OEM petcock
•Media blasted and painted tons of parts including pipes
•New windscreen
•New OEM levers, new OEM signals, new OEM mirrors
•New bearings in both wheels
•Some fairing pieces had cracks; all cracks were welded from the inside.
•Both carbs were fully disassembled & cleaned w/OEM parts; lines, filters, jets, seats, rings, needles and needle jets.
•I pulled the heating circuit, no need for it in CA climate (and it makes for more room to work under tank).
•Running Motul 710 on pump
•I have a crate of spares that are included. Workshop manual and parts manual included.The only thing I would change is the front end seals and oil. The stock 7.5W is too light (I'm 170#). Also, when I put in the new OEM seals, I must not have driven them in all the way or something because I get a small weep. EZ change.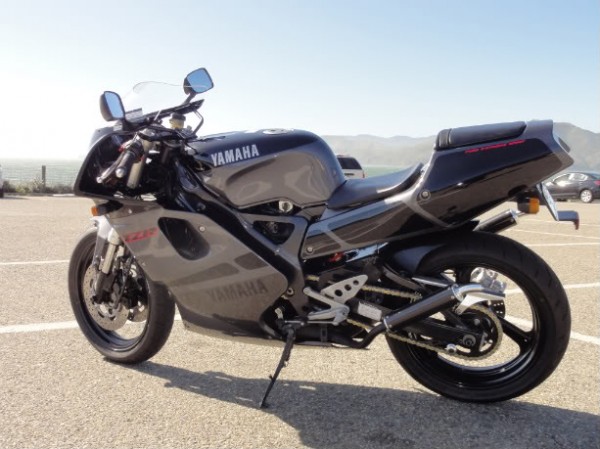 The TZR's are much more are than NSR's or RGV's.  Only KR1 owners can claim more exclusivity.  From the sellers description it sounds like it was a bit of a fixer upper when he purchased it.  He did the leg work though and got you the paperwork to make you legal.
She looks darn good from the pictures.  Like any Japanese 250cc import these were restricted to that magic 45 HP.  The seller states he has restored it to stock so I'm assuming it is still in restricted form.  The TZR's seem a little mysterious to derestrict to me.  Can a TZR owner set me straight.  I've read it is strictly electronics and others seem to say involves barrels etc.  Did I read correctly that a TZ250 engine will directly bolt into the TZR frame? Hmmmmm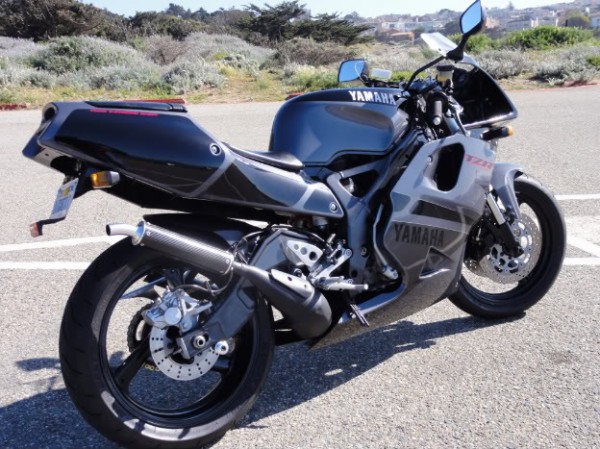 It looks the business, that is for sure.  Am I correct that this is a 1991?  The seller didn't list the year of the bike but it looked like this paint scheme is from the 1991 model year.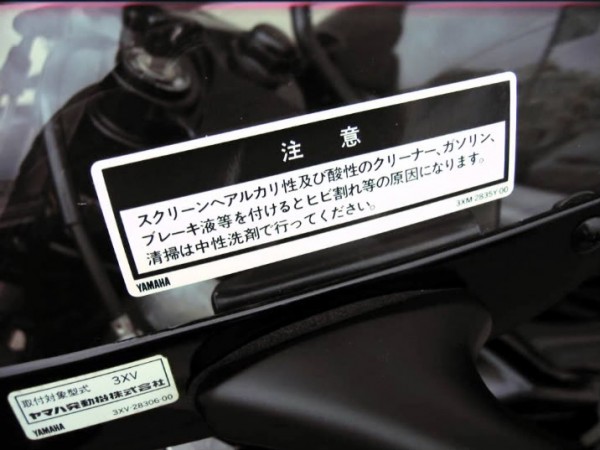 You can still pretend you are roaming the streets of Tokyo in the 90's if you like.  The seller is asking $8,000  and is open to some trades:
open to trades +/- $ for a well-appointed Hypermotard.
Give the man a call and help keep Cali just a little polluted.
Ian