For Sale: 1998 Ducati 916 SPS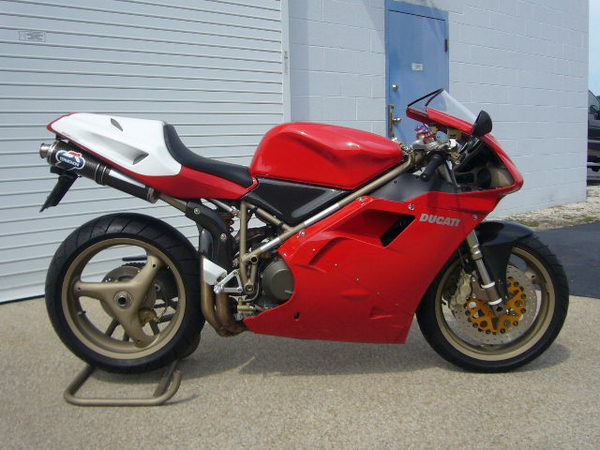 Sorry for another Ducati post, RSBFS fans – we usually try not to capitalize on just one brand too much. But what we have here is something truly special. Any 916 SPS would be worthy of RSBFS, even if it had high mileage or needed some TLC. But a ONE MILE, brand new, never registered, never started or never ridden 916 SPS? This is a time-warp dream, taking you back to 1998 when these bikes were showroom new, and you were too young or too broke to pick one up.
The Ducati 916 is an icon in the sports bike world – but the SPS was a step above. The seller does a good job of sharing what makes the SPS a unique machine.
From the seller:
The Ducati 916 SPS was an Evolution of the legendary Ducati 916 and had an even punchier engine and a refined chassis. There were major updates to the Sport Production series for 1997 and the 916 SPS, still carrying the "916" title, featured a 996cc engine with new crankcases for World Superbike homologation. However there was more to the SPS than merely new crankcases and larger pistons, as 36mm inlet valves were used , together with new inlet and exhaust camshafts.The 916SPS for 1998 received not only the new graphics, but the lighter frame of the Corsa (thinner tubing and no longer constructed in AL450) and also new Showa forks to accept the revised front brake calipers.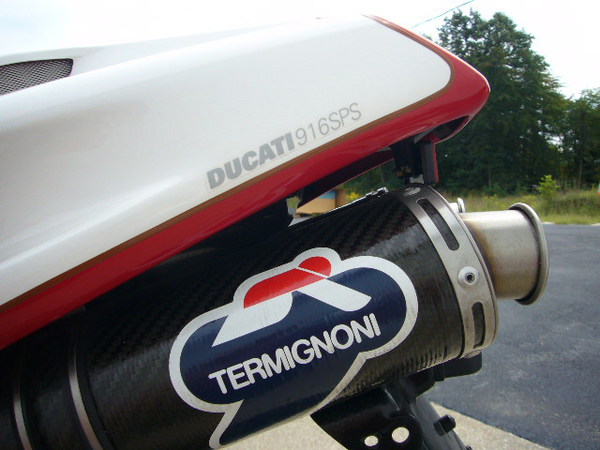 From the seller:
1.8 Miles!!!
Less than two miles on this bike!!!

271 of 1058 total Europe, and U.S.
1 of 100 imported to United States.

This extremely rare track bike still comes with an original MSO.
This bike is untitled.

You will be the FIRST OWNER

Owned since 1998 by private collector
climate controlled storage

Production Date:October of 1997
There are not many chances to purchase a "brand new" Ducati 916 these days, much less a lightly used SPS. Here is your chance to grab both at once. It is clear that this is a rare opportunity as this auction is still relatively new and yet bidding has been very active. The current bid at time of this writing was up to $14k – and a reserve still in place. No BIN number on this auction, so looking for some RSBFS help on an educated guess as to value.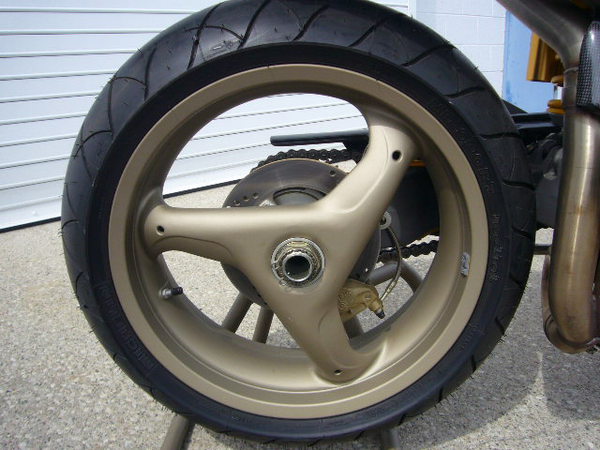 If I was to nitpick, this bike is not totally stock – I note the purple anodized adjusters (an easy delete), a non-standard battery (good thing since the original must be toast by now) and the lack of turn signals as some quick pieces that caught my eye. I have no idea why you would have those adjusters on a bike that has never been ridden – as what would you be basing you adjustment on – but there they are for the next owner to enjoy.
For more info, LOTS more pictures, and for just plain entertainment watching this one rocket up to the top of the 916 pricing charts, click the link and jump over to the auction. Special thanks to eagle-eyed RSBFS reader and superfan Martin who pointed this one out!
MI