In the late 1970's Moto Guzzi created a line of smaller-displacement machines based on the classic 850 Le Mans, and though they have largely been forgotten, they're still a great lightweight – especially for fans of the marque.  This Quebec-based model has been given a rider's restoration and has a nice patina.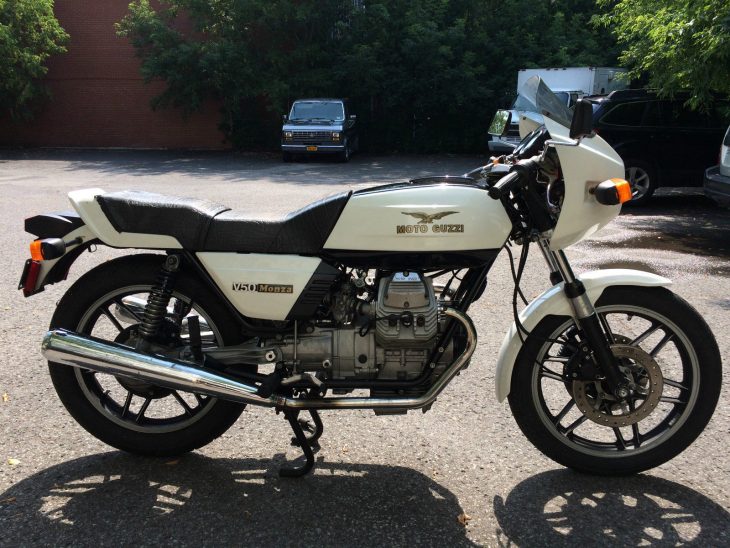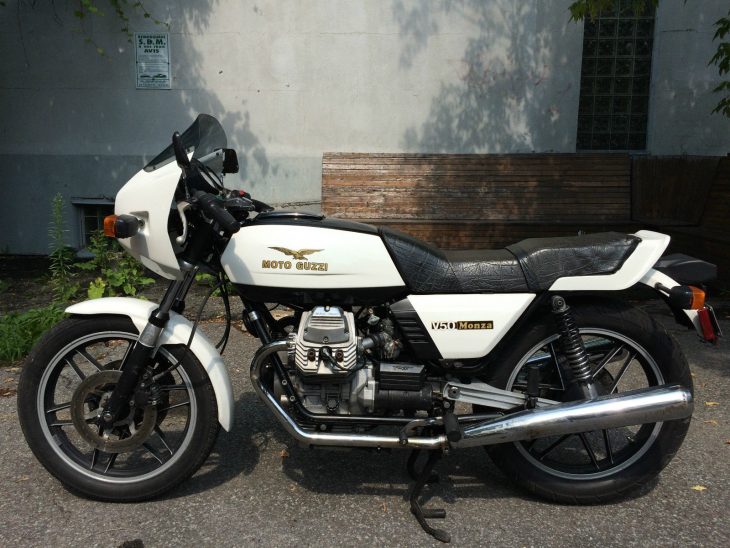 The V35 Imola and V50 Monza incorporated many family Guzzi features such as the longitudinal V-twin, air cooling, shaft drive, and linked triple-disk brakes.  The chain-drive single overhead cam engine used a novel Heron head, where the combustion chamber is largely carved out of the machined piston and the head itself is quite flat.  This saved manufacturing dollars though it's not the best for intake and exhaust flow.  The engine was also somewhat easier to service than the V7, the oil filter being more readily accessible and the clutch was a lighter design.  Otherwise the 353 lbs. junior, with star alloys and handlebar fairing, walks and talks like part of the venerable Moto Guzzi lineage.
Professionally converted to a white/black scheme, this V50 has just under 14,000 miles and except for the seat, looks great for a 35 year-old.  With its low-maintenance drivetrain and fresh cosmetics, some new foam and vinyl is all that's in the way of a sweet ride.  Some notes from the eBay auction:
I bought the bike many years ago from a local mechanic, who had the bike and it had been dropped and scratched the gas tank severely.  The bike also had had the fairing removed and a round light was installed. I bought a NOS front light system and a fairing imported from Italy by MG Cycle in Wisconsin.  Had the bike rebuilt top to bottom and a complete impeccable body job and paint redone by the mechanic before giving it to me.  It turned out as you can see really beautiful. The original color of the bike was red and black, and I had it painted white and black, and bought original decals for it.  It's a professionally done body job and looks factory!

It has spent it's last winter in a professional bike dealership who have an amazing garage, I just picked it up exactly one month ago (July 1 2017)  and had many things done to it including:

Cleaned flushed & tuned the whole system carb system out (changed the carbs from the original Dellorto to Mikuni)
Flushed the gas tank
Oil change
Changed the spark plugs
Complete cleaning
Truth be known, the V50 Monza was a little more economy than sport, and Guzzi boutique prices soon put it on the back burner.  But it's an interesting data point on a manufacturer who has been there from the beginning.  None other than Billy Joel said in a 2011 edition of Motorcyclist, that he rode a V50 Monza around Manhattan for many years, and the bike was responsible for his ongoing interest in Moto Guzzis.  While the factory pursued the global smaller displacement market for several years, they didn't last long here and are quite rare now.  This one has had a nice rejuvenation, never losing sight of reality.  It would be just the thing for a Le Mans or V11 owner, many of whom appear to be bidding in ernest !
-donn