Warning!
This post is in our archives. Links in this post have been updated to point to similar bikes available to bid on eBay.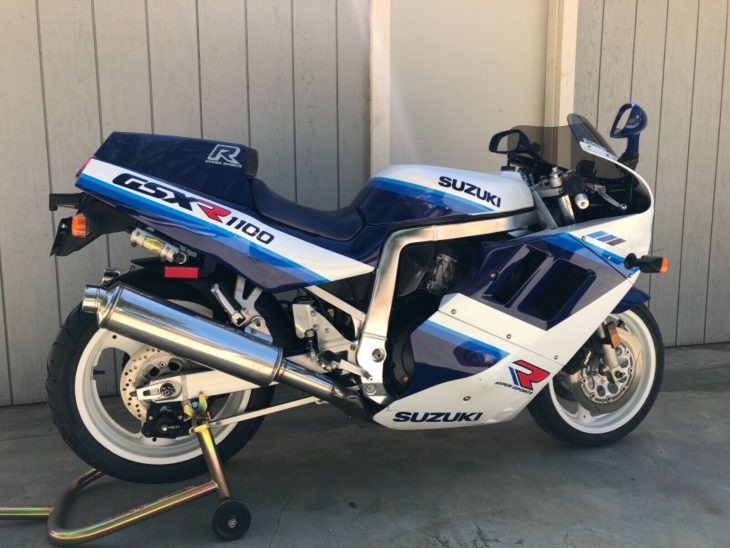 For a flagship superbike, the Suzuki GSX-R1100 looked relatively primitive on paper: oil/air cooled engine, twin cradle frame, five-speed gearbox… But the sledgehammer personality of the early GSX-R1100 makes it more collectible today, next to comparatively polished in-era competition from Honda and Yamaha. It may not have been the most sophisticated bike, but it did the job, and the engine is famed for being durable and responsive to tuning, with a wealth of go-fast expertise out there for anyone looking to build a big, bruising retro sportbike. It's a handsome beast as well, with old-school looks and more tasteful graphics than the later Gixxers, combined with more modern running gear like those 17″ wheels that allow for riders to fit modern, grippy rubber.
The air and oil-cooled inline four was always the star of the show. It has dual overhead cams and sixteen valves, but stuck with what is basically air cooling, which does seem like a strange choice. But in the wild days of the 1980s, motorcycle designers were experimenting with all sorts of technology to maximize power and minimize weight. Japanese sportbikes were suffering from no deficiency in the former department, but weight was still a bit of an issue. So in developing the various GSX-Rs, Suzuki took a page out of Colin Chapman's book and decided that keeping things simple meant fewer parts to fail, less of them to weigh the bike down, and a whole type of fluid the bike wouldn't need. Namely: coolant.
To keep the bike operating within the appropriate temperature range, Suzuki employed a high-capacity oil pump, a dedicated oil circuit for the cylinder head, and oil jets for the bottom of the pistons. The system was dubbed "SACS" for Suzuki's Advanced Cooling System, and it featured on the Gixxer lineup from the bike's introduction until 1993. The GSX-R1100K introduced in 1989 bumped displacement to 1127cc from the original bike's 1052cc and featured a set of 38mm Mikuni "Slingshot" semi-flat slide carburetors for a claimed 143hp and 75lb-ft of torque. Compared to today's cutting edge superbikes, the GSX-R1100's 462lb dry weight is still pretty portly and this version of the bike wasn't especially successful in international racing, but the bike's fat powerband meant the bike was a highway blaster par excellence and it was a popular choice for drag racing and all-around hooliganism here in the US.
From the original eBay listing: 1990 Suzuki GSX-R1100 for Sale
11,225 ORIGINAL miles, bike is in exceptional condition for a 29 year old machine. Untouched, original and exceptionally clean, but not perfect. Bike has been garaged since new. I had not started it or ridden it in about a year. I installed a new battery and drained the fuel bowls and it runs like new. Title is in my name and there are no back fees on registration.  Please feel free to ask me any questions.
Bidding on this clean, original example is up to $7,100.00 with several days left on the auction. This is one of my favorite sportbikes of the period, and this one looks like the perfect candidate for someone who wants a collector they can actually ride: condition appears to be good, but not perfect, and miles are low, but high enough to encourage the new owner add a few more. Suzuki sold lots of these when they were new, but very few remain in anything approaching collectible condition.
-tad