Black Out:  2004 MV Agusta F4 SPR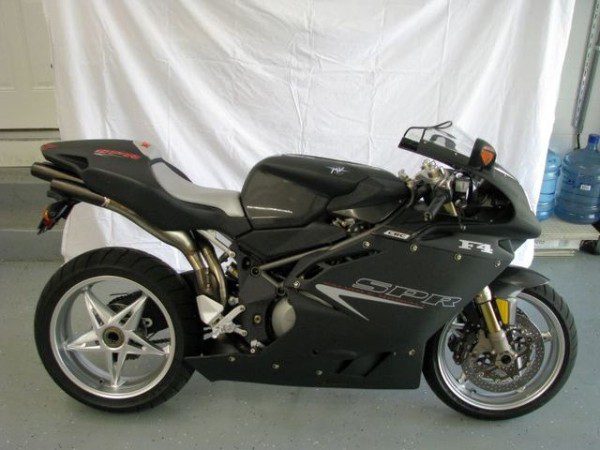 Oh man did I lust after one of these when I first saw the pictures.  That matte black finish had me sold.  Other than the blue/silver kit MV Augusta sold for a bit I think this the best looking bike they've produced.  Of course there is more to this bike than Darth Vader good looks.  The SPR was supposed to be the "maximum expression of performance", according to MV Agusta, of  the 750 series.  It benefited from engine and chassis upgrades compared to the standard F4.  Here is the link to the MV Agusta site with all the details and specs on the bike.
Some info from the auction on this particular bike:
This beautiful 2004 mv agusta is truly one of a kind. Being a limited production bike this one is 190 out of 300. Never seen rain, and garage kept. Only 3139 miles. This bike is more commonly known from it debut in the move IROBOT  starring will smith. If you want to ride a collector item, or something that you wont see everyone else riding this is the bike for you. I originally bought the bike with NO intention on selling. But unfortunately the economy had another thing planned for me. I hate to sell this bike, but I need the money. This bike does have clean carfax, I am more than willing to answer any questions you might have regarding the bike.
Please tell me people know more about this bike than it was in IROBOT.  I got a chuckle reading that from the auction.  Any bike with an SP in it's title should sell it self.  The origianl MSRP on the bike was close to $23,000.  The seller has a buy it now option of $12,500.  That sure doesn't sound bad to me for a limited edition, Italian bike with low miles and in excellent condition. .
Here is one posing and idling for you if still aren't sold:

IK