The Bimota SB6R is possibly the peak of Bimota's unique formula which was stuffing a big Japanese engine into their own refined platforms.  The SB6R took Suzuki's big and bad GSXR-1100 engine and surrounded it with the best parts possible.  It featured an aluminum beam perimeter frame, Anterra wheels, Paoli suspension, Brembo brakes and generous use of carbon fiber to keep the weight down.  Bimota also reportedly tweaked the big 'Zook engine with new cams and claimed over 155hp for their SB6R.  It was an expensive bike, but one that ended up being more than just the sum of it's parts.  As can be expected with the 90s Italian motorcycles, most owners report a love/hate relationship with them.  Which basically means it's not without it's quirks, but ends up being a more engaging experience as an owner.  It might not be the best choice if you only have room for one bike in the garage, but as a second bike for those special days, it deserves consideration.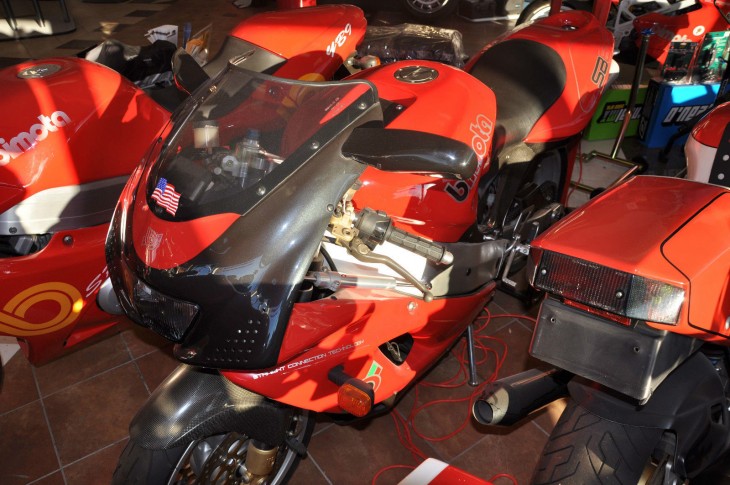 This one reportedly came from a private collection (don't they all?) and is showing a very low 2300 miles.  It appears to be very close to stock with a few more details found in the seller's eBay listing seen here: 1998 Bimota SB6R
The SB6/7 had hairy Suzuki GSX-R engines, sublime handling and craftsmanship and characteristically Italian unreliability and fickleness. Then came the SB6-R – the first Bimota ever to be labeled "Racing", and the factory solved many of the "Italian" characteristics. With a larger airbox, the SB6-R was more powerful than the SB6 and with a single easy to access battery, it was much easier to maintain. The SB6-R comes with all of the standard Bimota componentry from the time – Paioli forks, Ohlins shock, Anterra wheels and Brembo brakes. 

This particular example is from a collection and has only 2,314 miles on it.  It is in excellent condition and looks like new.