12.13.2017: Bob has decided to upgrade to a Featured Listing after we first posted this bike on November 30th. Links updated to latest auction. Good luck to buyers and seller! -dc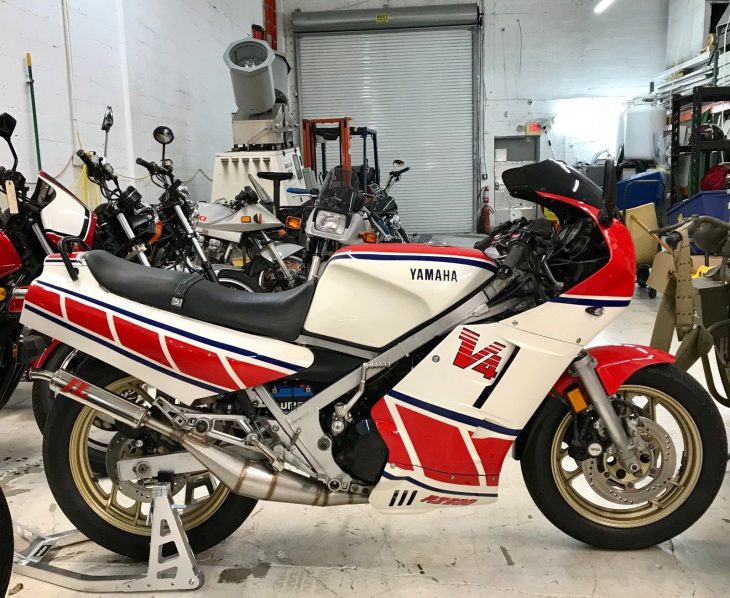 When Yamaha and Suzuki dropped their 500cc two-stroke race replicas in the middle of the 1980s, the bikes effectively stopped the oil-burning horsepower wars that had been raging since the 1970s. Each bike celebrated the success of its manufacturer's top Grand Prix rider, though the Suzuki was much hairier than the big Yamaha.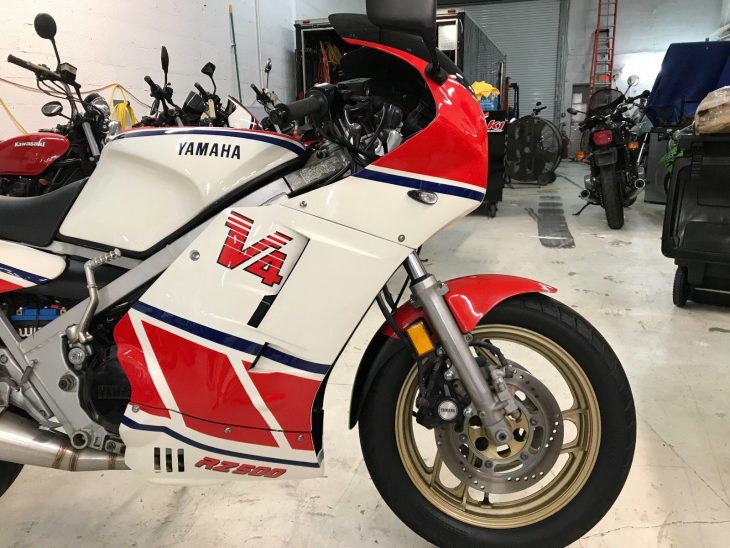 The RZ500 is powered by a twin-crank, 50-degree V4 fed by four side mounted carburetors and oil injection. In its day, with the stock YPVS powervalve exhaust, it made close to 90 horsepower, a few shy of the Suzuki. Carrying a steel perimeter frame in most markets, it was north of 450 pounds dry.
This 1985 Yamaha RZ500 has new JL exhausts, a matching jet kit and was bored .030 over stock during a recent top end rebuild. The seller says it has covered just 100 kilometers since. Provided everything was done right, the bike should be good for a little over its stock 88 horsepower.
The bodywork and seat appear to be in excellent condition, and apparently are all original.
From the eBay listing:
THIS AMAZING YAMAHA RZ 500RN IS COMING OUT OF MY PRIVATE CLIMATE CONTROLLED COLLECTION.

THIS BIKE IS BLAST TO RIDE AND A REAL HEAD TURNER.

THE YAMAHA RZ 500 IS A MUST HAVE FOR EVERY COLLECTOR. DONT MISS OUT ON A SUPER NICE ONE.

THE BIKE HAS BEAUTIFUL PAINT AND DECALS NO SCRATCHES, DINGS, OR DENTS. THE BIKE IS MOSTLY ALL ORIGINAL. IT WENT THRU AN ENGINE TOP OVERHAUL SPARING NO EXPENSE JUST 100 KILOMETERS AGO (SPEEDO IS IN KILOMETERS) BY THE PREVIOUS OWNER.

THE BIKE IS A 9 OUT OF 10. IT STARTS UP IN JUST 1 KICK, IDLES AND RIDES BETTER THEN IT DID IN 1985.

RECENT UPGRADES AND MAINTENANCE INCLUDE…. SOLO SEAT COVER WITH PAD, JL STAINLESS EXHAUST CHAMBERS, CARBURETOR CLEANING/OVERHAUL AND REJETTED TO THE NEW PIPES, TIRES AND WHEEL BEARINGS, BRAKE OVERHAUL, WISCO .030 LARGER PISTON KIT WITH ALL YAMAHA GASKETS, LITHIUM BATTERY.

I CAN STORE THE BIKE FOR UP TO 60 DAYS IF NEEDED. I AM WILLING TO DELIVER TO THE SOUTH FLORIDA AREA OR COORDINATE WITH YOU SHIPPER (I RECOMMEND DAILY DIRECT/HAUL BIKES).

PLEASE ASK IF YOU NEED MORE PICS OR A VIDEO OF THE BIKE RUNNING OR HAVE ANY QUESTIONS 954.816.0806

THIS BIKE IS A REAL HEAD TURNER AND SHOW WINNER. IT ALWAYS GETS TUNS OF ATTENTION.

OWN A PIECE OF HARD TO FIND YAMAHA HISTORY THAT WILL ONLY APPRECIATE WITH TIME.

DON'T MISS OUT THIS IS YOUR CHANCE TO HAVE A RARE AWESOME RZ500.

ALSO INCLUDED WITH THE BIKE ARE 2 ORIGINAL TURN SIGNALS, 2 REAR FOOT PEGS, AN OWNERS MANUAL, AND THE BATTERY COVER.

ALSO AVAILABLE ARE A LEFT AND RIGHT NOS MID FAIRING PANELS
The $16,000 starting bid is pretty close to the market for these bikes, though it is a couple thousand dollars over the sale price for a similar bike we listed last month.