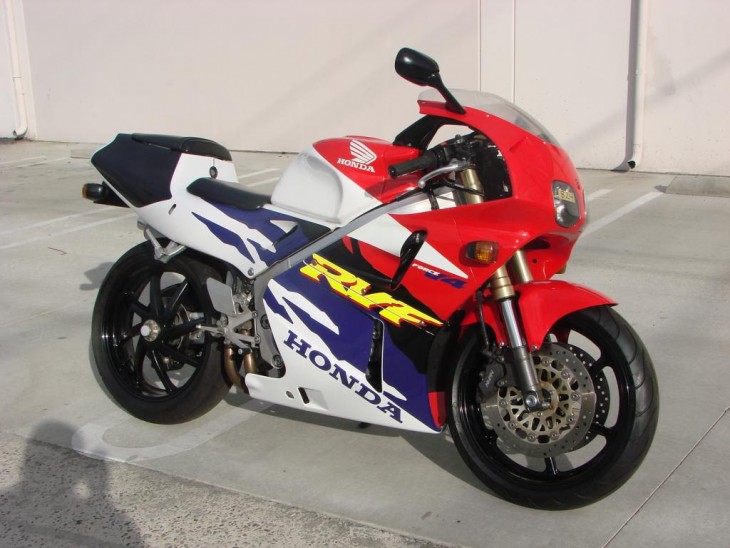 Introduced in 1994 to replace the VFR400R, the RVF400 used a smaller, 399cc version of Honda's gear-driven V4 powerplant with a 360° firing order. The updated model featured a revised fairing with cat-eye headlamps replacing the earlier bike's round units, distinctive air tubes leading from the fairing to the front of the tank to feed the carburetors, although the airbox was not pressurized by any sort of ram-air system. Running gear saw a change to more modern upside-down forks and a 17" wheel replaced the earlier bike's 18" item.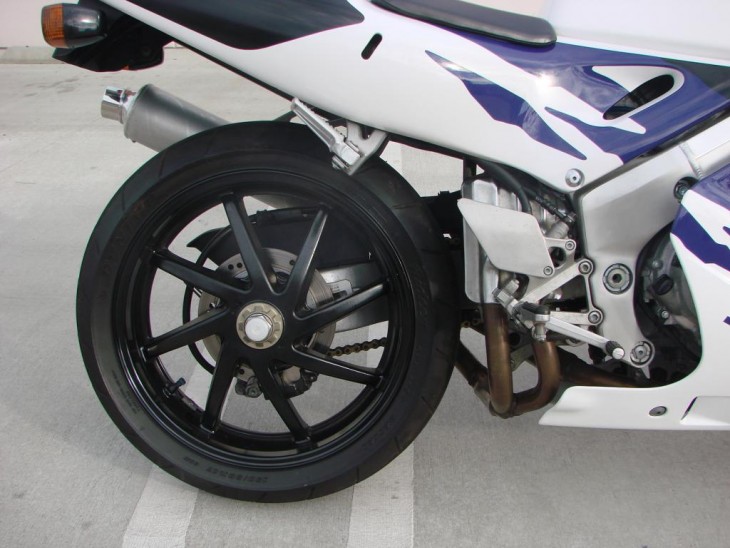 Honda's homologation V4 engines featured a "big-bang" firing order that has all of the combustion events taking place relatively close together, instead of spaced evenly. This naturally increases engine vibration, but creates distinctive pulses in the power delivery that allows the rear tire to momentarily regain traction in between during on-track moments at the edge of adhesion, aiding handling and increasing tire life.
There's also the undeniably subjective benefit in terms of sound: the "big-bang" engines often have the rawer, more charismatic sound generally associated with V4 engines compared to more conventional "screamer" motors with evenly-spaced firing intervals.
From the original eBay listing: 1996 Honda RVF400 for Sale
1996 Honda RVF400 NC35. This bike is in very good condition. Bike has 9589 km = 5753 miles. Engine runs fine, no problems. There is a crack in the seat "see pictures". The passenger seat covers the crack so you don't see it. You don't see many RVF400 in this condition anymore. Bike is original, not restored. I have a clear California title for the bike.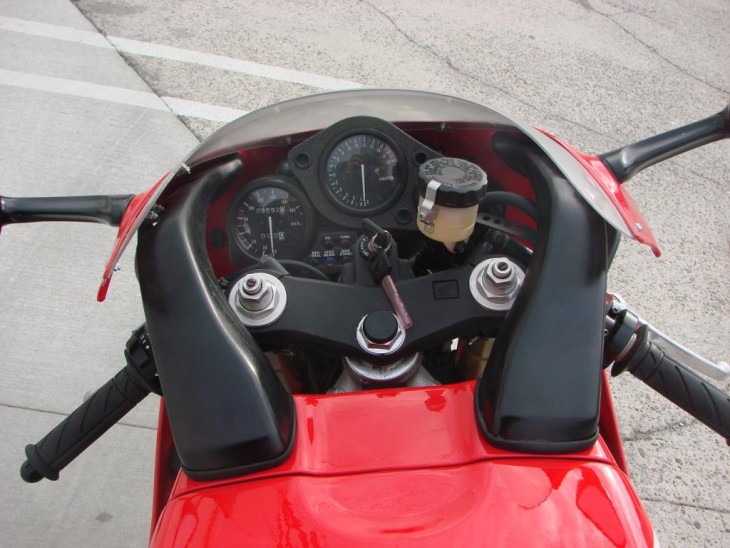 Sold officially only in Japan, all RFV400's are grey-market imports. The seller is based in Japan, although this bike is supposedly in the US and has a clear California title. There is plenty of time left on the auction, with no takers yet at the $9,000 starting bid.
While these are obviously not as desirable as their bigger RC45 siblings, the RVF400 is prized by collectors for its motorsports heritage. And while the stock bike's claimed 53hp is underwhelming on paper, the little RVF is reportedly a brilliant-handling bike, a "brains-over-brawn" bike for riders who like gear-whine that drowns out the stock exhaust.
-tad