Happy Veterans Day and thanks to all those who have served !  -donn
Though MV Agusta is the acknowledged king of special editions, it would've helped to already be a very good customer to even hear about the SP-01 "Viper" kit, available for your F4 750S.  Finished in Agusta's blue and silver "special projects" livery, the bodywork and accessories are all carbon, and the kit included magnesium wheels, titanium frosted windscreen, alcantara seat, and Tamburini-signed airbox.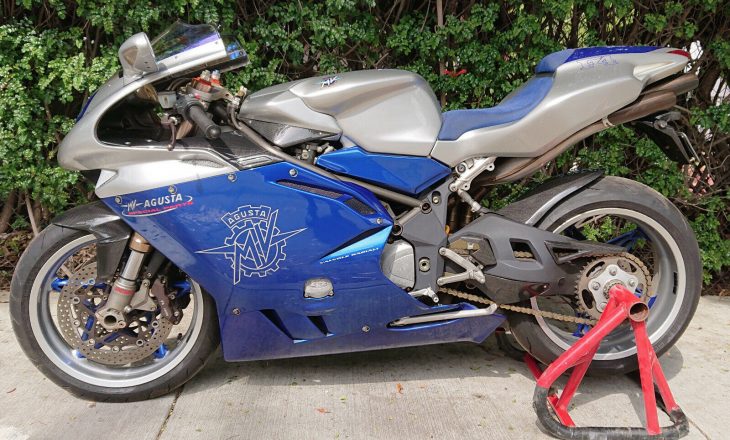 MV Agusta introduced the F4 750 in 1999, with Ferrari-aided head design, and four-into-four calliope singing about superbike power from 749cc's, not to mention Massimo Tamburini's swooping design. Electronic fuel injection made the high performance design usable day to day, and 49mm forks were fully adjustable as was the rear monoshock.  Bespoke Nissin front brakes were 310mm with 6-piston calipers, and the alloy star wheels still look unique.
With more miles than most very exotic Italians, this Viper still looks excellent.  The owner calls out some defects on the front rim, but they're not visible in the pictures.  Alcantara is a great gripping material but not impervious, and the seat confirms the mileage.  Join my dissatisfaction with the photos, but good notes and description of the dealer-installed package are in the eBay auction:
This is one of the rarest contemporary kitted bikes to date with only 50 of these kits made for the world. As far as I was able to find out, 12 of these kits were slated for the US market, they have not been able to track them down to date. Truly The Art of the Motorcycle as MV says. It has Tamburini's signature on the air box, a plaque of authentication, and an 18 karat gold corresponding number plate. The last one offered on the market was 8 years ago. There are some minor nicks in the paint as well as on the rim lips from tire changes prior to my acquisition. There is also a small ding or dent on the right lip of the front wheel, which was also as I purchased it but it does not affect the tire or ride-ability. I have not touched anything up to hide the minor flaws.

I took it to the 2012 Cafe Desmo show at Pro Italia where it took 3rd best in Italian superbike Class, beat out by two one off race bikes. They have the details. I purchased it with just over 24,000 miles and since I could not verify the service, it got a 100% service along with new Pirelli tires at 24,150. It was put on a California non-op in 2014 where it has remained in proper storage ever since. It was run twice a year to keep fluids clear. It has been a very rare privilege to have owned it these years, but time for someone to have something that almost no one else does.

The Corse Special Parts kit includes: silver/blue painted C.F. front faring, silver/blue painted C.F. air box with Tamburini's signature, silver/blue painted C.F. fuel tank, silver/blue painted C.F. tail section, silver/blue painted C.F. left and right side fairings, blue painted C.F. lower fairing, silver painted left and right mirrors, blue painted left and right fuel panels, C.F. left and right air box panels, C.F. left and right air ducts, C.F. left and right wire harness covers, C.F. ignition cover, C.F. chain guards, C.F. exhaust guards, Titanium treated (blue) windscreen, blue Alcantara seat and bump stop, silver/blue painted magnesium 5 spoke wheels, 18k gold engraved number badge with kit number, limited edition certificate with kit number and wax seal.
With only fifty copies for the planet, no more than a dozen could have made it here.  Riding most of the miles, the original owner got their money's worth.  Competition from the east wasn't standing still, and after the introduction of the MV liter, the 750S was largely on the back burner.  Renewed interest in lighter weight and usable power has led MV ( and others ) back down the displacement ladder, with 675's and 800's occupying the sport category once ruled by liters.  With its exotic materials and sporty stature, the F4 750S with SP-01 might prove to have been looking into the future.
-donn