Warning!
This post is in our archives. Links in this post have been updated to point to similar bikes available to bid on eBay.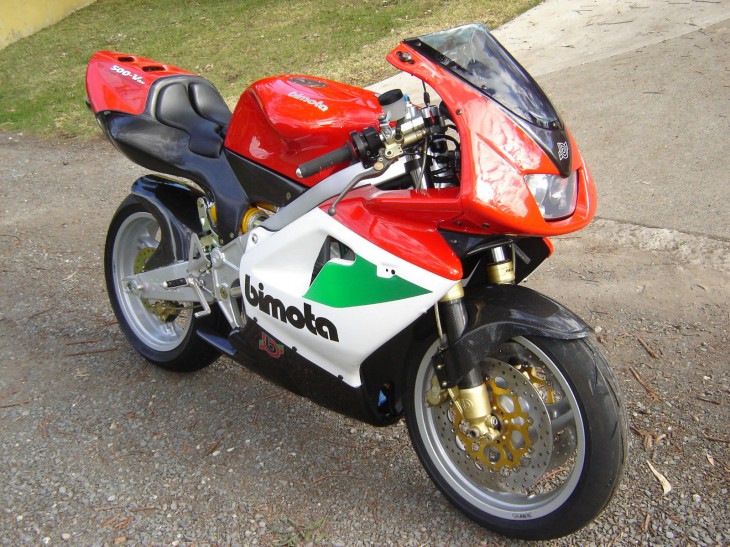 The Bimota Vdue should have been epic: it was supposed to be the very first Bimota designed and built completely in-house, powered by a proprietary engine with cutting-edge technology. Bimota got their start building lightweight exotica around existing engines, but this would take their bikes to a whole new level and the spec sheet reads like a resume for the racetrack refugee that it was: a 500cc two-stroke v-twin pumping out 110hp. Cassette gearbox. Carbon-fiber bodywork and a dry weight just north of 300lbs. Top-of-the-line suspension front and rear.
But not only would this machine offer a nearly GP-level experience, it would single-handedly save the roadgoing two-stroke. The all-new engine featured a state-of-the-art, electronic direct-injection system to keep emissions of the fundamentally dirty two-stroke engine within acceptable limits.
But the tiny Italian firm overreached themselves and what should have ushered in a new era for Bimota actually sank the company: the first batch of bikes was a disaster. While the bike was, of course, amazingly agile and fiendishly powerful, it was nearly impossible to ride smoothly. It delivered on the promise of a light-switch, two-stroke powerband, but amplified with hideously inconsistent fueling that made it nearly unrideable.
Seized engines were common, and buyers soon began demanding their money back.
The problem was eventually blamed on manufacturing differences in port-height that was exacerbated when the parts were mixed and matched in production. Even worse, the problem was initially thought to be a mapping problem with the new ignition. But with inconsistencies between port-height in different engines, new maps that made one bike work fine didn't work on other bikes. It took a while to track down the actual problem.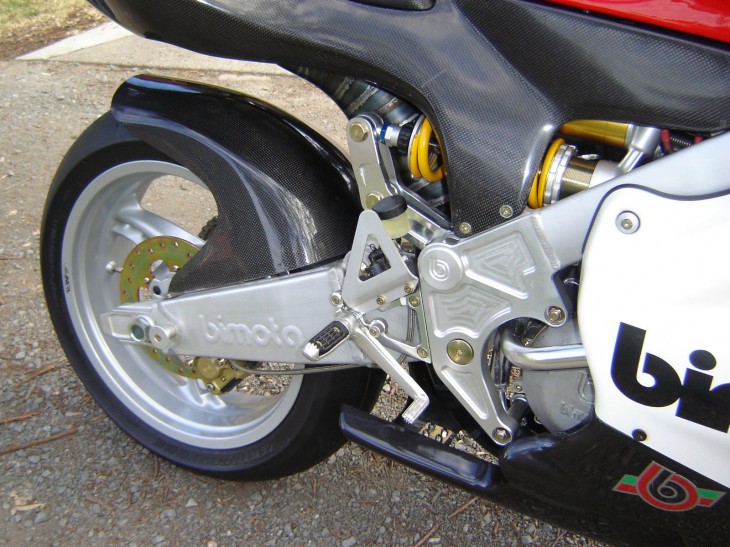 Barrels were replaced under warranty, but the problem wasn't really resolved. Eventually one of the engineers involved in the project bought the remaining unfinished machines after Bimota went bankrupt. He continued to refine the bike, dropping the troublesome injection and simply fitting a set of Dell'Orto carburetors for the Evoluzione Corsa version of the bike, and a few of these made it onto the road. Well, not really the road: the goal for the injected bikes was emissions legality, and carbs may have made the package work, but it wasn't generally legal.
Ultimately, something like the full performance potential of the Vdue was realized, but the project sank the company, their envisioned triumph turned into disaster.
From the original eBay listing: Bimota 500 Vdue for sale
The only Bimota with a Bimota engine: 500cc v twin two stroke engine. Carby model with Jolly Moto pipes. This is a brand new bike never ridden with 2014 spec CDI and jetting set up. Bike has been tuned and runs perfect at a press of a button, ready to go. Parts are very cheap and easy to get no problem. There is a manual and spare keys that will come with the bike as well with the number plate mount.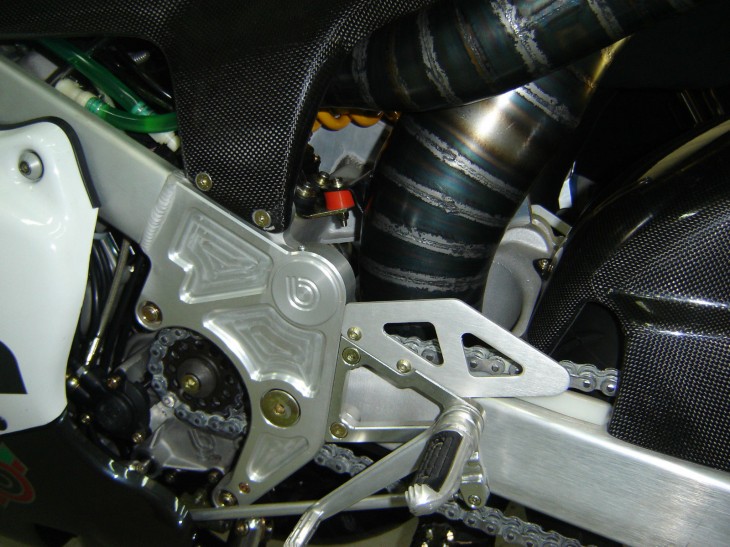 The performance potential is huge, but these are true exotics and require real dedication to own, in spite of the seller's assertion that "parts are very cheap." Just fueling the thing could put you in the poorhouse: mileage can dip as low as 15mpg when ridden hard. Less than 500 Vdues were made, including the carbureted "Corsa" and "Evolutzione" models. It is truly exotic, with ambitious goals and technology. It's also one of the best looking bikes of this, or any era: purposeful and sleek, with no gimmicks.
In an era when the Japanese were committed to their garish neon slash paint jobs and names like "Ninja," "Thundercat," and "Thunderace, the Vdue made do with a loud, but classically patriotic paint scheme and a name that was about as simple as you can get: "Vdue" translates directly to "V-twin." Everything sounds cooler in Italian. Who else could name a car the "Four-door" and make it sound cool?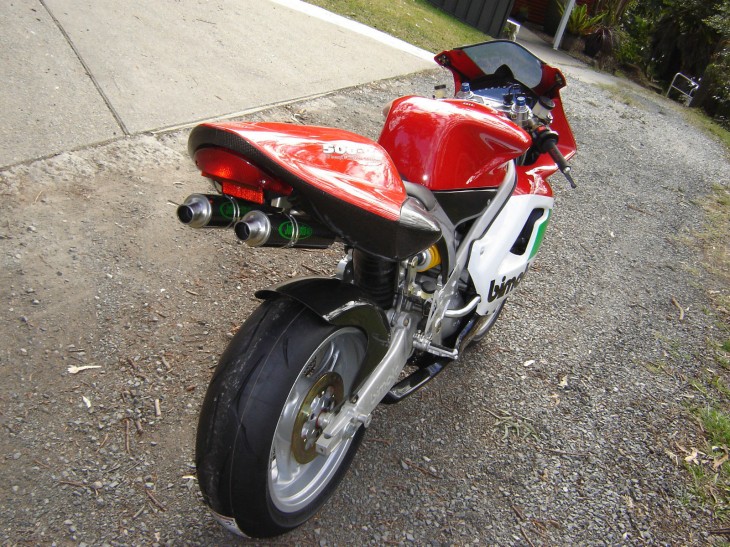 $30,000 starting bid is pretty steep, but seems to be in the ballpark for these, although it's not really clear what year bike this is. There's been virtually no interest in the bike so far, with no bids and just four days left on the auction. The bike is currently located in Sydney, Australia, but it's unlikely to be road-legal wherever you are without some legal wrangling. But out on the track, this should be killer and you'd probably manage to pass people because they'd just want to watch you as you go by…
-tad