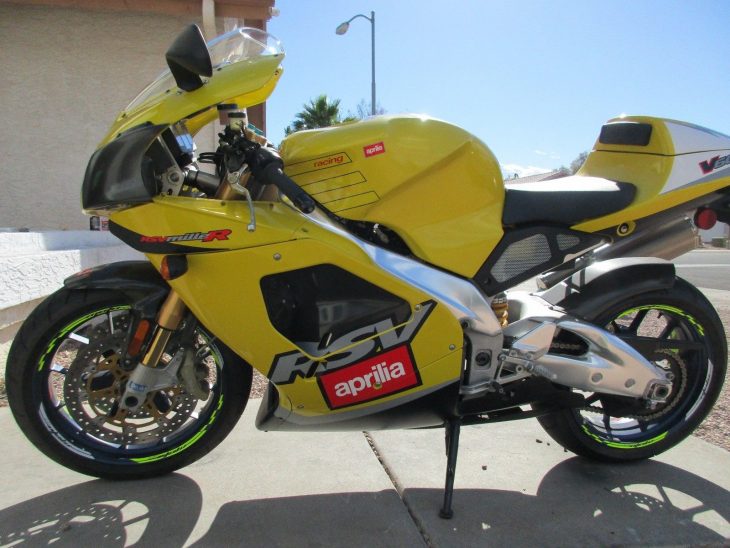 Well-used Aprilia RSV Milles and RSV 1000Rs can be had for silly money these days, nearly as low as some of their Japanese rivals, but with more power and sweeter suspension. They tend to be a damn sight cheaper than contemporary Ducatis. This 2001 Aprilia RSV Mille R does not meet the definition of well-used by any standards, but is still offered at a relative discount for its mileage and condition.
The Mille was Aprilia's first crack at a large-displacement superbike, and it went all-in, bringing its vast experience with 250cc grand prix two strokes to the big-bore four stroke market. The result was powered by a 60-degree Rotax v-twin, which was good for the better part of 140 horsepower. The Rotax mill was a wise move, giving what could have been a temperamental and fragile platform a welcome dose of strength and reliability.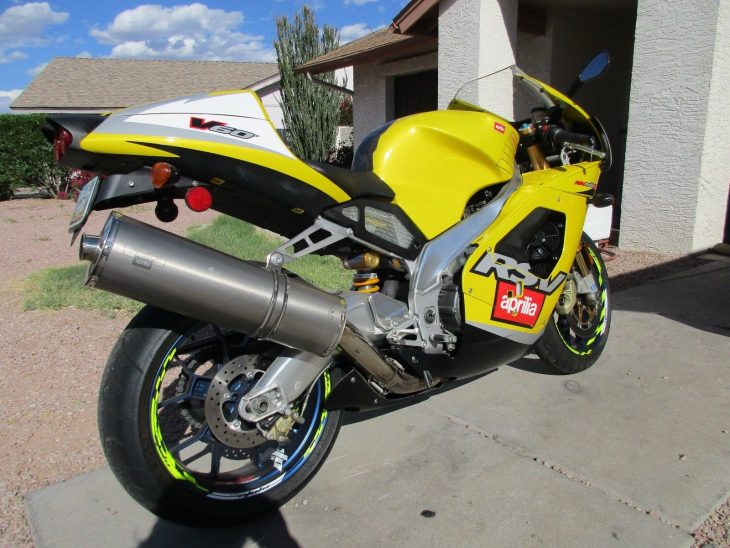 This example was apparently in the collection of the family responsible for Meguiar's car wax. It was ridden sparingly, and wears fairings in near-perfect shape.
From the eBay listing:
Wow for sale is a one of a kind Aprilia RSV 1000R Customed ordered from the factory by the Meguiar's car polish families private auto collection in 2001. Although it has been in their collection since new and has been ridden and maintained so it has some mileage on it. At only 3000 miles and not a scratch on her. All the paint color is bright and vibrant All of the fluids and manufacturer recommended sceduled maintance is followed by the book. This bike is as new as you can get in the way it looks and runs just like the day it rolled off the manufacturer's floor. This bike has all oem parts just the way it was ordered from the Aprilia factory with upgraded Ohlins front and rear suspention and all carbon fiber fairings and fuel tank. The bike has brand new factory tires with aftermarket rim tape for cosmetic appeal. I was honored that they sold me this bike and have had a real blast owning it and showing it off. I own a number of exotic bikes and am a avid sport bike enthusiast. letting go of a couple of my bikes to make room for a brand new bike. please contact me if you need anything else to help you make the decision to own this flawless bike.

THE BIKE IS FOR SALE LOCALLY AND I RESEARVE THE RIGHT TO CANCEL BIDS AT MY DISCRETION

NO PAYPAL............NO PAYPAL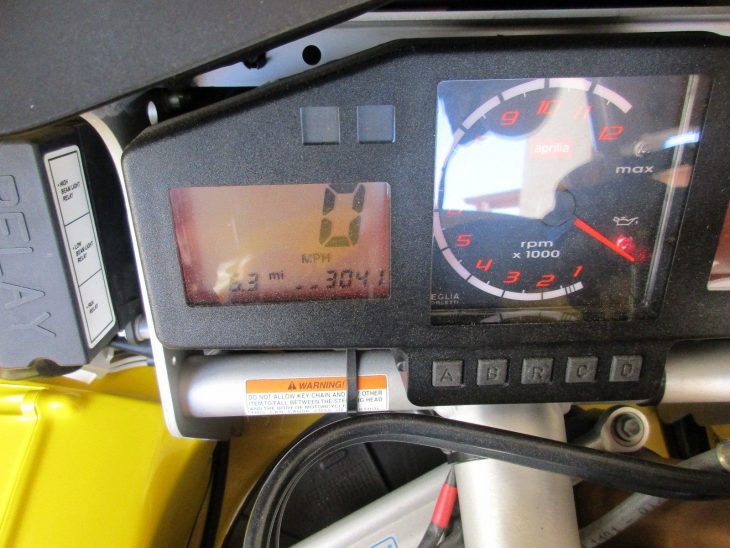 As the ad notes, the bike carries a bunch of special carbon touches. It's ready to ride or add to a collection, or both. Whatever becomes of it, someone will get a truly special and mental streetbike.