RSBFS is all about the rare machine in exceptional condition. This is NOT that kind of post. This is, shall we say, an experiment. As many of our readers exhibit extensive mechanical knowledge, how about a rare and desirable bike that requires a little bit of work? Put on your rose-colored "I can see the potential here…" glasses and dive into this 1985 Yamaha RZ500. Long a staple of US-based two-stroke desires, the big RZ is one of the more popular smokers in existence. With great examples capable of eclipsing $20k in today's market, does sweat equity mitigate the price or is this just another pile of parts? Read on before you make your decision.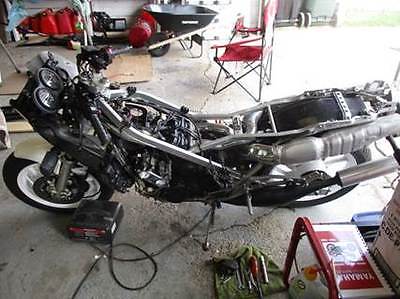 Known as the RD500LC in some markets, the RZ500 was Yamaha's repli-racer knockoff; having experienced tremendous success on the racetrack thanks to the exploits of Kenny Roberts and the PJ1-sponsored YZR500 GP machine, Yamaha hoped to parlay that into success on the showroom floor. Between 19854 and 1986, these 500cc, twin crank V-4 machines allowed street riders to exercise their inner Roberts or Lawson – everywhere but the US. Given the importance of the US market and the lack of EPA acceptance of anything as dirty as a two-stroke, the big RZ did not have a long model life span. Today it is considered rare and coveted by collectors. That is what makes this opportunity potentially (insert rose-colored glasses here) interesting.
From the seller:
1985 Yamaha RZ 500 in the works, I have most the parts (approx. 99.7%) including New Aftermarket Fairing kit with some new hardware (Tank cover not included). Windshield, Brakes, Tires, Chain/Sprocket, Wheel Bearings, Rims Powder Coated, Upgraded Hi Performance Ignition, Throttle Cables, Battery, Air filter, Gas Cap, Exhaust gaskets, Oil caps and plugs, Thermostat. Seat recovered. Some of these items have not been installed. Engine starts/runs but only been tested on cap full of fuel. Needs a bit more to assemble/finish YPVS needs setting up/repair. left handle bar cap missing, one mirror cracked. Need seat key/lock Fuel tank refinished in White Main photo of completed bike for reference only.
While the seller claims that the bike is mostly there, restoration experts would warn you that there can be a LOT missing in that final 0.3%. And that only refers to the parts list. Unless you have extensive experience assembling this model, have an original example that you can use as reference or are clairvoyant, you may find putting this puzzle together a bit more work than anticipated. And considering that this puzzle is good for speeds well over the ton, you had better ensure that the pieces are assembled correctly.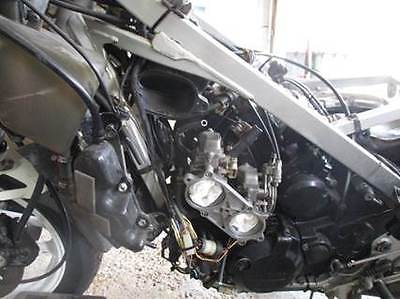 The general consensus is when collecting you should strive to find the best example of what you want; the cost of restoration usually exceeds the cost of what you could buy a better example for in the first place. Methinks this may be one of those cases, unless you are purchasing simply because you want a project. If you want a RZ500 to ride, my recommendation would be find one that is ready to be ridden. The seller is looking for $8,200 Canadian (works out to be $6,542 USD) or best offer. Cheap and interesting, or crazy and incomplete? Check it out here first, and then jump back and share your thoughts in the Comments section. Is this a project you would tackle? Good Luck!!
MI