Interspersed among the legion of red bikes, Ducati has always had an alternate or special paint available, sometimes black or grey, in limited editions tri-colore or green, and more recently white.  Variously called speed, Ferrari, or fly yellow, the paint on this nicely updated 998 jumps right out in the Arizona sun.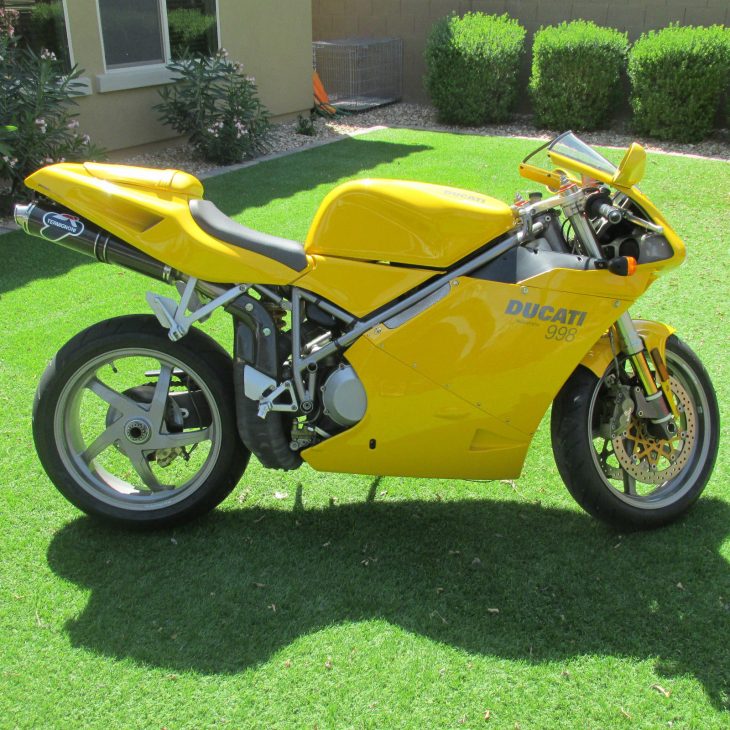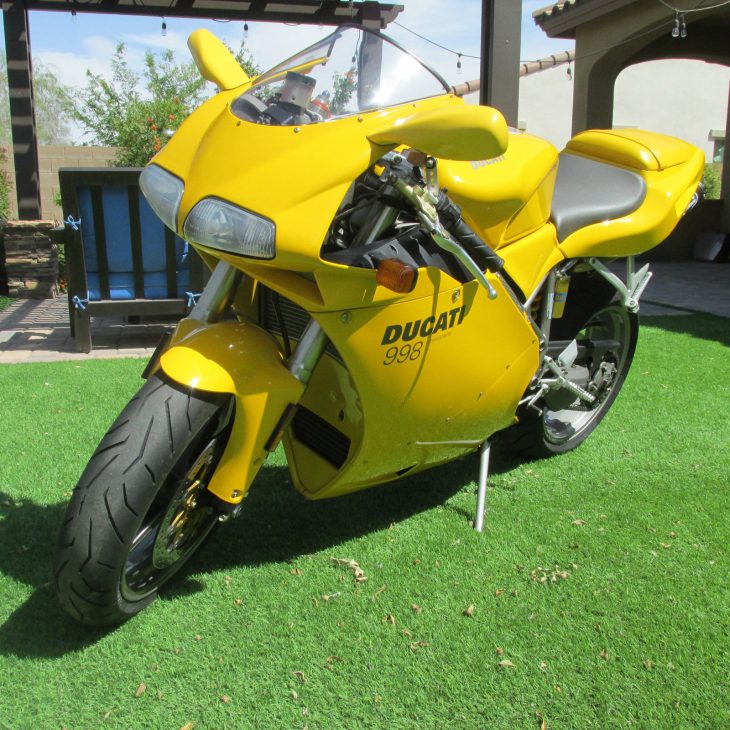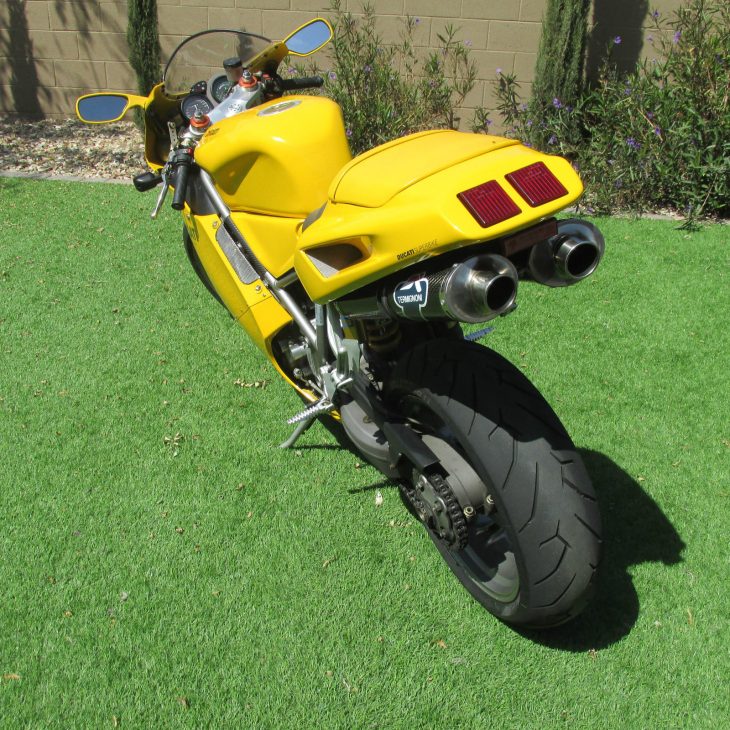 The 998 was the first production Ducati with the testastretta engine, and the last of the 916 folded-nose dynasty.  The narrow-head engine brought 40mm intake valves at less of an angle to the piston tops, helping the 998 make 123 hp, a 10 percent increase over the 996.  The iconic chassis design makes that power as usable as can be on the road.  As well as being top components, the gold anodized Brembo brake carriers, nitrided Showa fork sliders and Öhlins monoshock provide accents to the yellow scheme, as the gray Marchesini alloys do for the silver trellis frame.
With a little over 4,000 miles, this 998 has current maintenance, Termi's and ECU, and new rubber.  That's the way to start the riding season.  A couple of rubs are pictured, but not bad for 15 years.  The hidden rear signals clean things up so much that the fronts should be next.  From the eBay auction:
All maintenance is current and all work has been done by certified Ducati techs.  I am the second owner and purchased the bike with 1300 miles on the clock over 2 years ago.  Everything works as should on this bike.  It needs nothing.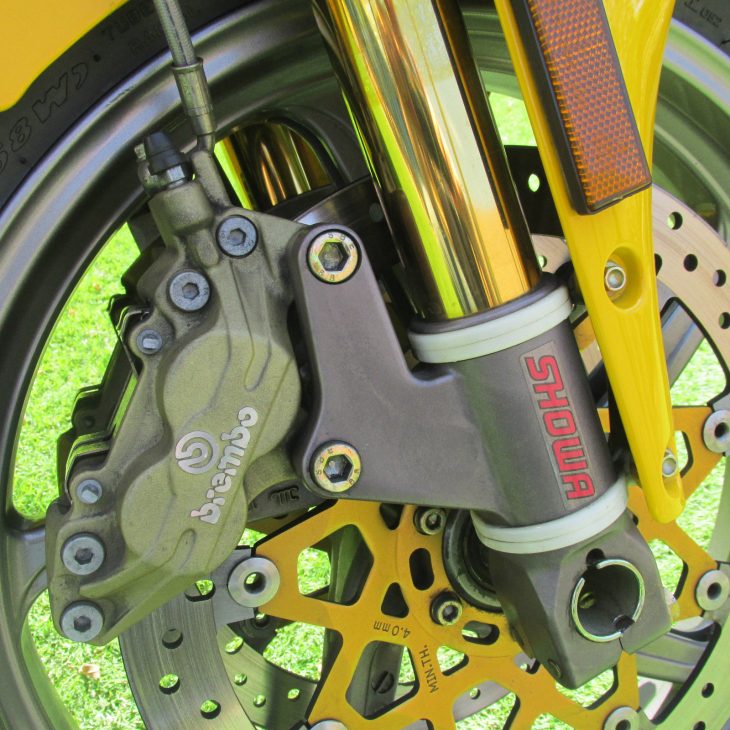 The bike has a full Termignoni exhaust with the Ducati performance ECU.  I have had a Oberon clutch slave cylinder installed to smooth out and make gear changes easier.  There are a set of after market foot pegs with serious grip for your boots.  A tail tidy has been affixed that has the rear turn signals inside of the seat cowl.  When you signal they flash thru the mesh air vents in the rear.  Pretty cool.  All of the original parts (pegs, clutch slave cylinder, rubber air restrictors, etc.) are included in the sale so if you want you can take it back to as it left the factory.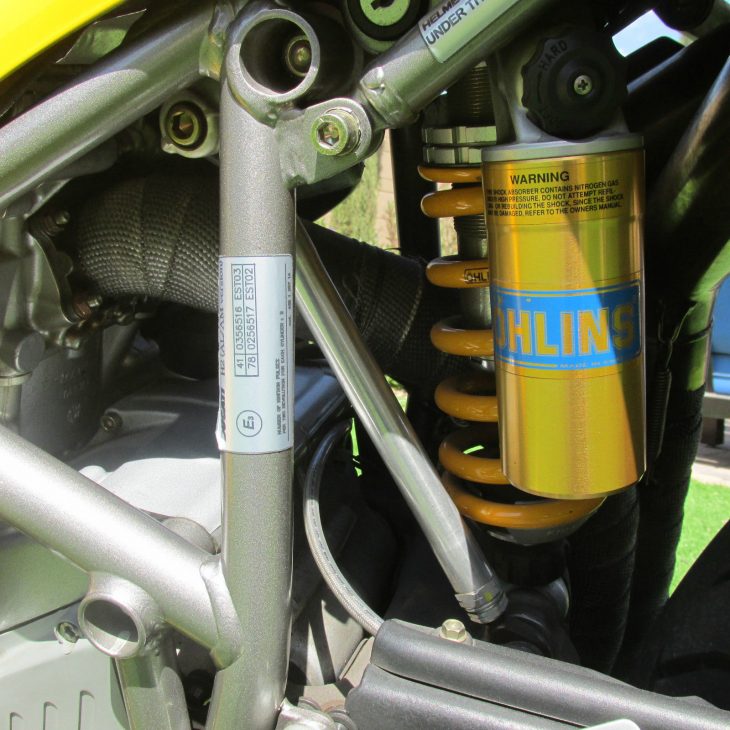 Of the 916/996/998 bikes, this is the engine you want.  Most power and torque.  And most reliable.  Look on Ebay right now and you will see almost no other 998 for sale.  Especially a yellow one.  This bike turns heads everywhere I ride.  No disappointments.  I have a clean title and both sets of keys.  Brand new Pirelli tires.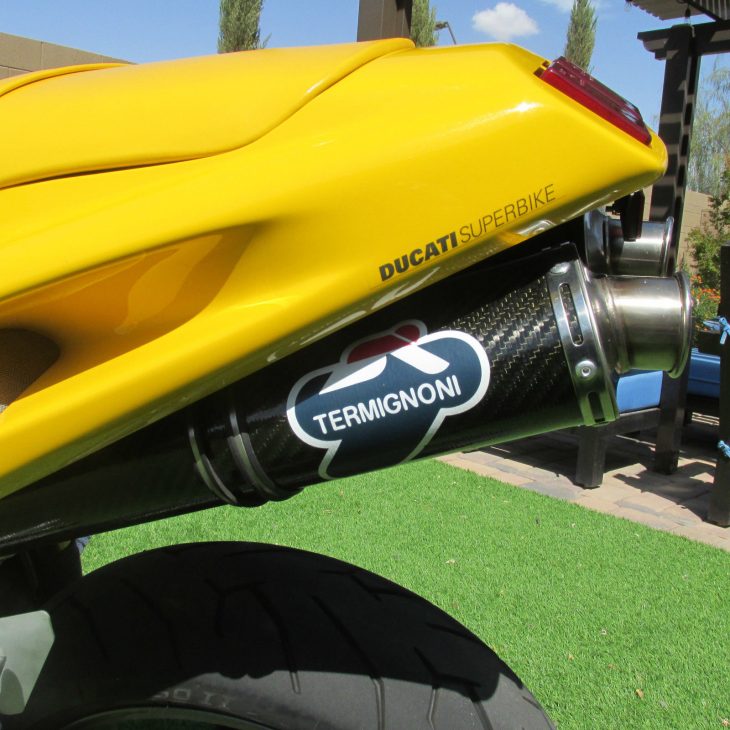 The 998 reviewed as outstanding performance with better quality control, maybe the result of Monster money rolling in, or the new private-equity stockholder's insistence.  15 years on, it's nice that the build quality competed with the design in those years.  Combined with the previous owners' care of this uncommon 998, it should reward the new owner.  The fairings, nicely smoothed out with less venting, have a tiny note "testastretta" under the Ducati name.  For the impact on the 998 and the succeeding testas, it should've been 8 inches tall…
-donn