Even by today's standards, the numbers are impressive… a claimed 95hp to go with a dry weight of just 340lbs would have this little 500 hanging right with the best of the modern 600s.  And they don't sound nearly this cool!  The RG500 or "Gamma" was a legitimate monster back in it's day.  Yamaha had similar offerings in the RD500/RZ500, but they claimed right around 80hp (give or take).  The Suzuki's 95hp was the big number on the block.  Suzuki had a fair amount of success with the RG500 in Grand Prix racing, taking 4 Championships in 10 years and allowing numerous privateer teams a real shot at dethroning the factory Yamaha and Honda teams.  It's no wonder that the Gamma has such a rabid following among both vintage race fans and those determined to terrorize the streets.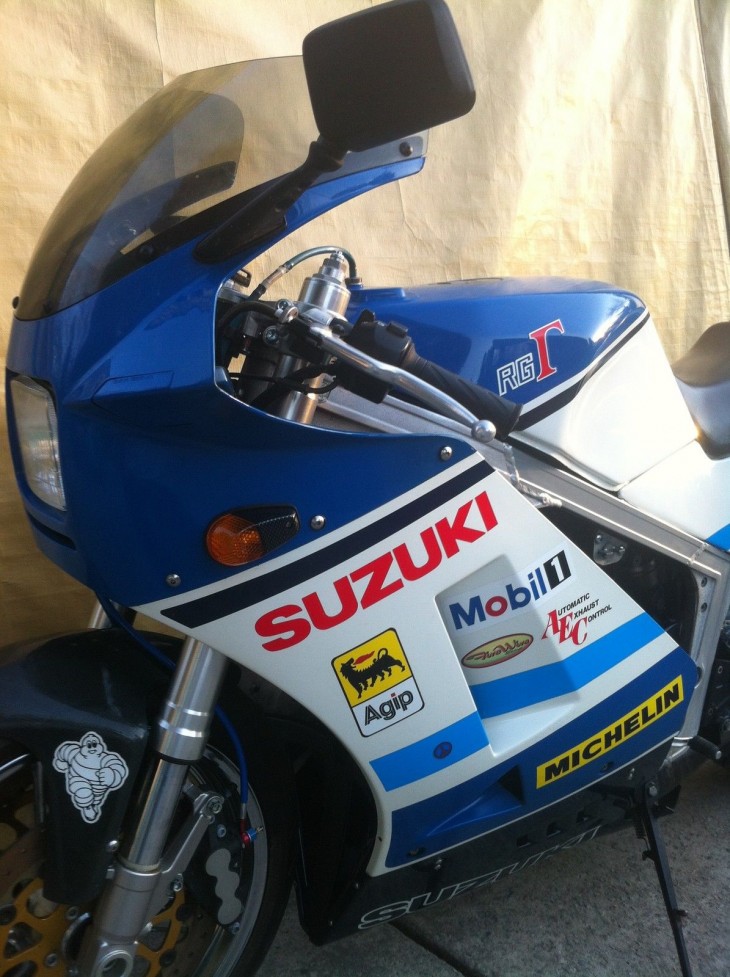 This isn't a museum piece, but it's still in very nice condition with a few modifications, including fitting more modern Suzuki GSXR-750 suspension both front and rear.  We all know that suspension and braking technology from the early years was a limiting factor, so this RG should be even quicker around the track and a little less scary on the street.  Suzuki only made about 1400 RG500s in 1986, so it may be a while before you see another one for sale.  The seller is very descriptive and has even been kind enough to include a video of a one kick start that you can see here: 1986 Suzuki RG500 on eBay
For sale a very hard to find 1986 Suzuki RG500 in good overall condition with lots of modifications to improve the handling and the power plus also change the look of the bike a bit.

If you are looking for something unmolested and something that looks like it came out of the show room this bike is not for you. Keep in mind it is a  29 year old bike and they are known for having a lot of cracks to begin with.

I am selling this to Canada, USA, Mexico and any other countries too but I could not get it to change it when I listed the bike.

I had this bike in my collection for 15 years and I never even rode it once. I figure why not let someone enjoy it instead of keeping it in storage.

They will only go up in value so when I do sell it I would get way more than now.

The bike is not mint and it has it's shares of small cracks here and there mostly on the upper and tail section, but there are also some cracks on the lowers that are very hard to see. It also looks that the paint was touched up here and there but as you can see by the pictures the bike still looks very, very good for a 29 year old bike.

The front end and rear end were replaced by the previous owner who was a mechanic and he did all the modifications and fabrications of what needed to be done to bolt the 1999 GSXR750 front end and rear end on to the bike.