1988 Ducati 851 Tri-Colore Strada on eBay Italy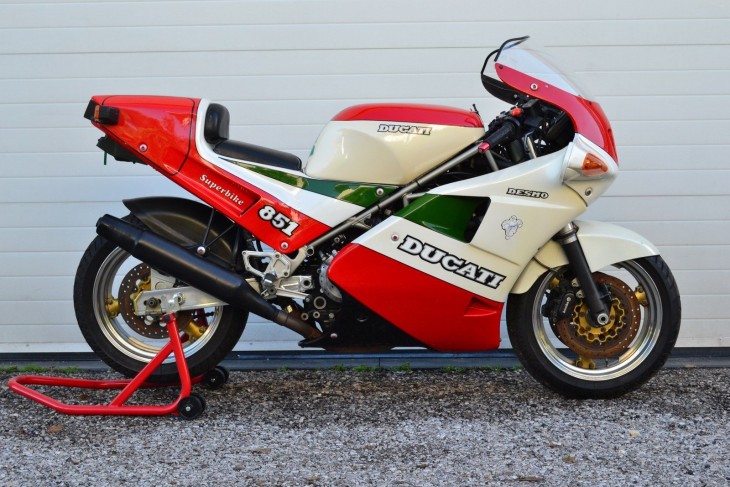 Here's one for our European visitors (or those ambitious enough to attempt the import process)…  an all original 1988 Ducati 851 Tri-Colore Strada up for auction in Italy.  The 851 was the introduction of Ducati's "desmodronic" four valve heads and a big leap forward in an attempt to catch the Japanese manufacturers.  The 851 featured the signature Ducati steel trellis frame, Marvic wheels, Brembo brakes and those funky side pod mirrors.  Ducati's work paid off quickly in the form of a World Superbike Championship in 1990 with Raymond Roche in the saddle and Ducati was officially back.  The 851 would be the forefather to the very successful 888 and 916 models.
Now, this one IS located in Italy, so our US readers might throw up their hands in frustration, but surely somebody in Italy is reading this and will give her a good home, no?
The seller is upfront in stating that the bike is in "average condition" with some typical wear and tear that's to be expected as it's nears it's 30th birthday.  So, again, this would either make a good restoration candidate or a really cool classic to actually get out and ride.  Check it out here: 1988 Ducati 851 on eBay in Italy
Bike is 99% original, paintwork is average as the general conditions, still with all the original rare parts as the 16″ wheels, original silencers etc. 

Mechanically is very sound with just 25500kms from new (a lot of documentation to prove). Original UK sold bike, all history present.

Ride and collect!

Bike is currently located in Italy, 33080 Roveredo in Piano (Pordenone) but i can get them delivered all around the World at cost, no problem.