Though big red dominated, Yamaha's FZ750R / OU45 regularly appeared as the best of the rest in mid-eighties AMA Superbike.  Here's a collector which has somehow escaped the suburban Dallas heat, and dodged a lifetime's worth of garage elves.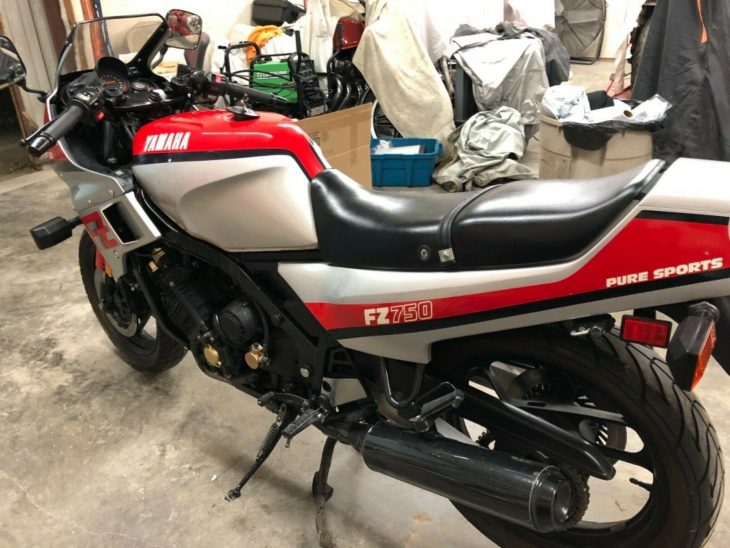 Yamaha had reportedly toyed with as many as seven valves per cylinder, but settled on five for the Genesis engine.  Laid forward to straighten the path through the 34mm Mikuni's, 105 hp was the result.  The four was wedged across a double cradle chassis, with right side up forks and a monocross rear.  270mm brakes are period correct but seem undersized for the mission, and the 16/18-inch wheel stagger would be seen as under and over-sized just a few years later.  Riding position was a pretty good tuck and helped the rider get behind the upper-only fairing.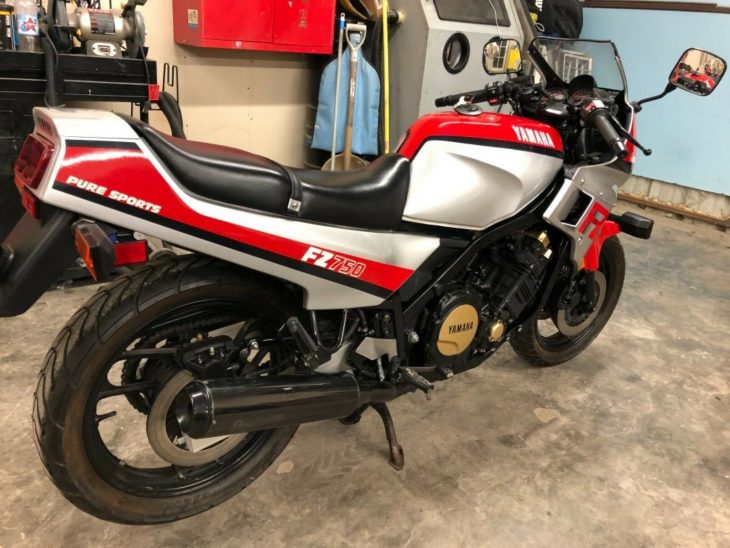 The comments say the bike has been in the back of the garage for a generation, so this might be the original owner.  Condition is hard to believe with none of the usual bumps, bruises, or mods that might be expected.  A fork brace is visible and a Fox shock is hidden.  Otherwise it looks original right down to the tires.  Notes from the eBay auction:
This bike has been in a controlled environment for the past 35 years. The 80's motorcycle market is getting hot and this is a perfect opportunity for a collector or lover to own an iconic bike. It runs and rides like a new bike with a couple of original 80's upgrades remote adjustable rear Fox Shock and a fork brace. The miles are original, I was putting it in my collection but it needs to be ridden and because of my age and old racing injuries I can't manage the low bars. The value will only increase as this is the only FZ 750 I have seen come on the market over the last 2 years. One sold in January of 2019 for $9,000 with 39,000 miles on it and needed attention. This bike is as good as the day it came off the ship.
Part of the design concept was the five smaller valves which didn't require double valve springs, allowing higher revs and an easier life for the cams.  Yamaha stuck with the Genesis for several years, attesting to the idea's success.  The conventional auction ( high reserve though ) reflects the almost super-stardom of these early superbikes.  It might take a re-list, but interest in an FZ in this condition will come.
-donn