Hmmmmm, the text from the listing for this Ducati 900SS FE looks strangely familiar… One of the surprising things about having been writing these posts for the past few years is how often my words show up in sellers' listings. I probably shouldn't be encouraging folks to use my writing for free but, to be completely honest, I'm still more flattered than offended at this point. The main problem is that it means I have to come up with some other theme for my post…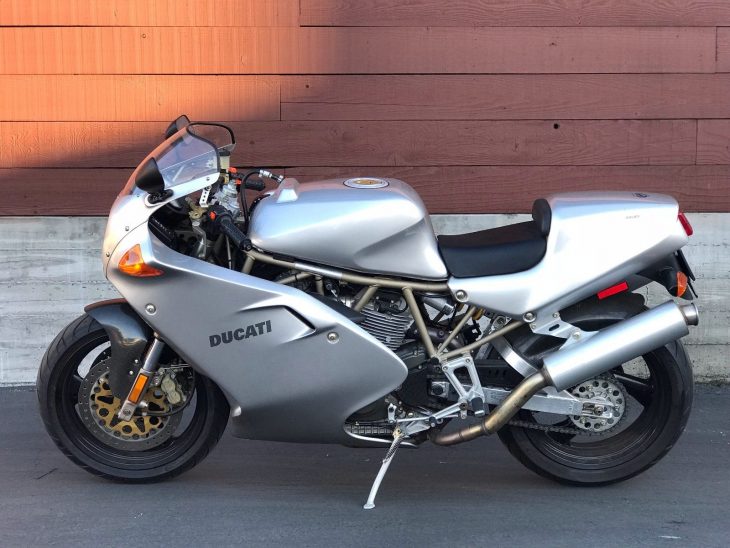 Up until Ducati's most recent iteration, things were always pretty dicey for them financially and, on more than one occasion, they were reduced to trading on nostalgia to make ends meet. By 1978, Ducati's bevel-drive twin was massively outdated, but a lucky win at the Isle of Man TT by Mike "The Bike" Hailwood meant they could flog some fully-faired and gloriously red and green Hailwood-replicas  and keep the lights on. It's a very cool machine in retrospect, but on the eve of the GSX-R750's introduction, it looks like a dinosaur. A very cool dinosaur, but a dinosaur nonetheless. Similarly, by the late 1990s, Ducati's air and oil-cooled Super Sport bikes still had plenty of charm and charisma, but offered little to appeal to modern sportbike fans.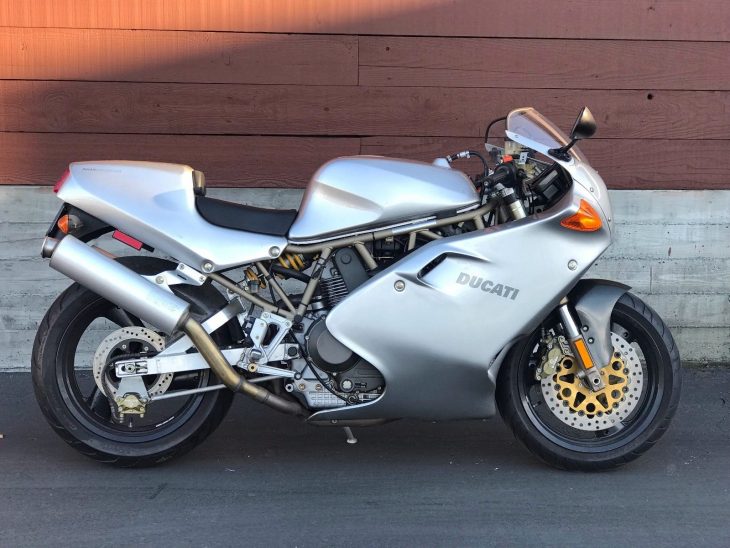 Even when new, the 900SS offered minimal handing advantages compared to a Japanese sportbike that would leave it for dead in a straight line. But Ducati obviously couldn't sell enough of their expensive, exotic liquid-cooled models to make ends meet, and the design soldiered on for riders who wanted to pretend they preferred the "mechanical honesty of a classic, air-cooled engine" [it does sound better than the liquid-cooled version] or those who were more honest about the fact that they were terrified of the four-valve Ducatis' expensive service requirements, but still wanted a genuine Italian motorcycle.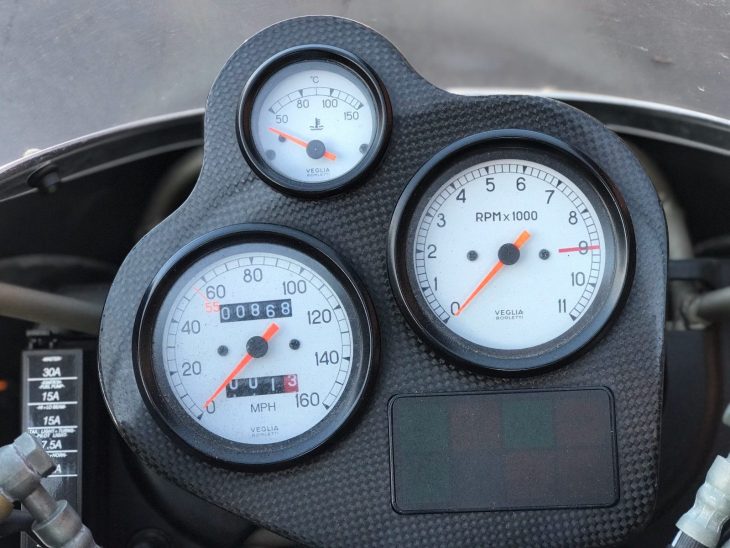 It's a bit disingenuous to try and capitalize on nostalgia for a bike that would obviously continue in a newer, better form. But right before the 1999 release of heavily-revised, fuel-injected version styled by Pierre Terblanche Super Sport, Ducati released the "Final Edition" of the earlier, chunky, rubber-cambelt v-twin sportbike to cash in on the looming demise of the well-loved but obsolete model before it was replaced. Although when you consider the critical reaction to the updated model, it makes a bit more sense. The FE featured a solo tail to save weight and allow the fitment of upswept exhausts for better cornering clearance. Adjustable suspension front and rear was decent, and the standard two-valve engine in standard tune was good for the standard 80hp. Ergonomics are very humane for anyone weaned on late model sportbikes, and the seemingly limited power is plenty to have fun with on canyon roads.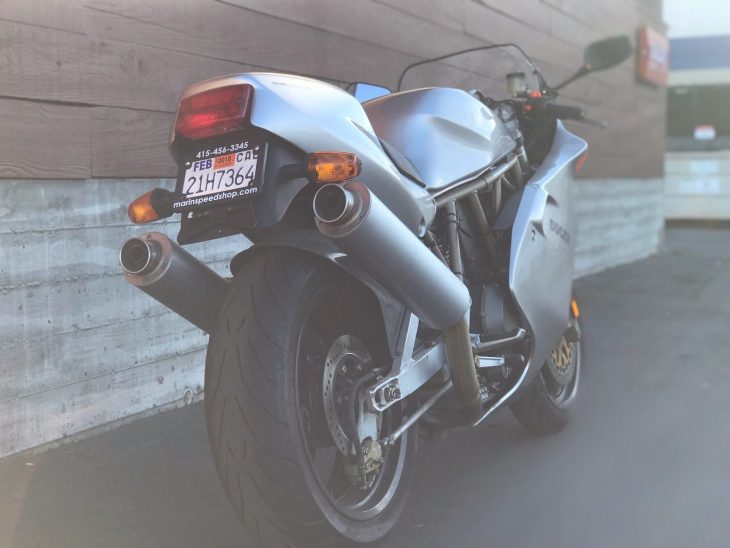 From the original eBay listing: 1998 Ducati 900SS FE for Sale
Time Capsule! Mint Condition, Torque For Days, Beautiful Ducati! Only 867 miles… yes you read that right. #288 of only 300 made

The 90s iteration of Ducati's famous SuperSport wasn't exactly a fast bike, even by standards of the day. And by the time the Ducati 900SS "Final Edition" rolled around, it likely appealed mostly to die-hard Ducati fans and collectors. Which is a shame because, although the 900SS didn't offer cutting-edge performance, it did offer plenty of charisma, great handling, and accessible real-world performance.

The chase for abstract performance numbers has always obsessed the world of motorcycles and cars. But the truth is that peak horsepower numbers are often pointless. Since these machines are only fully exploited by .01% of riders, and what works in ad copy isn't always all that useful on the road, it's not always the most powerful bikes that make the most rewarding bikes to ride, especially on the road. Look at the endless praise heaped on the K5 GSX-R1000 by modern reviewers and see how this year's Brutale 800 actually produces less horsepower than the previous version to make it a better roadbike, and it becomes easier to see why this Ducati might win your heart, even if it won't win any bench-racing sessions…

Powered by Ducati's long-lived two-valve Pantah engine, the FE featured a solo-seat tail that allowed upswept pipes for increased cornering clearance and some carbon-fiber parts ostensibly because of their light weight, although the savings on a front fender are probably negligible… With a claimed 80hp on tap and a big fat midrange these are very rewarding to ride stock and a huge range of aftermarket support means you can modify the bike to suit if that's more your thing.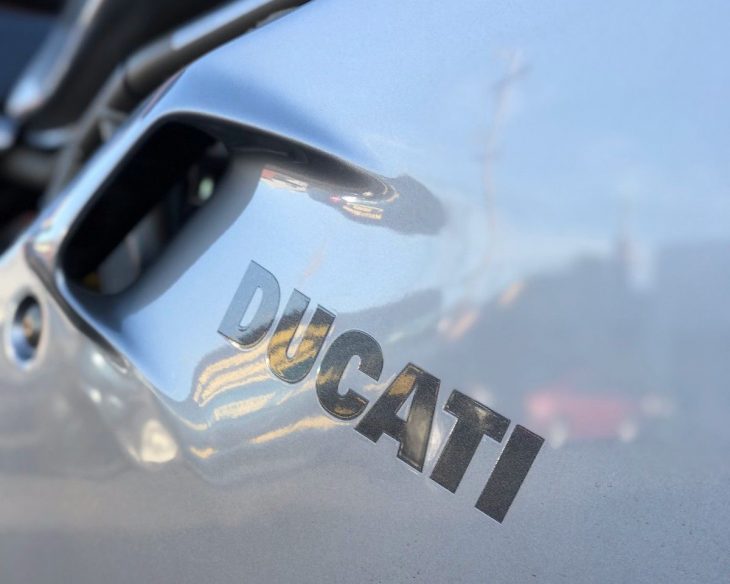 This thing appears to be bone-stock, with under 1,000 miles on the clock, and bidding is up just north of $6,000 with very little time on the auction. It might have been laughable just a few years ago to consider the FE particularly collectible or desirable, but these have definitely increased in value in recent years, and this very low-mileage example should get the attention of collectors. It's sad that such a usable sportbike has been basically accumulating dust, but I'm glad examples like this exist for folks more interested in displaying their bikes than riding them.
-tad