Here's one from Craigslist in South Carolina, a Honda NSR250. The NSR250 was a roadgoing two-stroke v-twin sportbike that's been largely forgotten here in the Land of "Bigger is Better," where two-strokes have long since vanished from the road. But among those in-the-know, they're much sought-after by collectors and fans of the two-stroke Moto GP era, and riders looking for a light, fast track day machine that stresses finesse over brute power.
250's are often associated with the derogatory "learner bike" epithet, but it's obvious at a glance that this is no commuter or toy: triple disc brakes, aluminum frame, and single-sided swingarm scream "high-performance" and the six-speed cassette gearbox obviously offers no real benefit for a street bike… The NSR's little 249cc v-twin featured about 45bhp stock, but can be tuned to make as much as 60 without breaking a sweat, and that makes for a potent package in a bike that weighed in under 300lbs dry.
In addition, this example features a host of tasty, high-spec upgrades to the bike's components, swapping in lighter, or higher-performing items to increase racetrack prowess, although it still has road-legal lights and signals. It looks to be in great shape, but there's a bit of a fly in the ointment… From the original Craigslist posting: Honda NSR250 for Sale
Honda NSR250 titled and street legal in SC. Bike is in very nice condition, but it is not 100% original so I am pricing accordingly at $8500 obo with SE wheels and stock credit card PGM, or $10.5k obo for SP wheels and PGM with stock and HRC credit cards w/ other HRC upgrades:

1) Titled in SC as a 2008 ASVE NSR250 w/ an assigned VIN# different from the original. That means the bike was reassembled in 2008, and I could not use Honda's name. This has nothing to do with salvage, so everything is perfect with the paperwork, and both VIN's show on the bike and coincide in the DOT computers in TX and SC. I originally titled it in TX in 2008, and then moved to SC in 2010, and titled it in SC in 2014.
2) Frame is not original 1995 SP since original frame was altered by first US owner in Washington State, therefore I have a different frame that does not have the '95 SP series VIN #, but I suspect it was a '94 or '95 frame.
3) I sold the original SP forks and it now has SE forks on it. They look great and were rebuilt recently.
4) I do not run oil injection and I do not have the parts, but they are available on ebay cheap.
5) 1995 SP Dry Clutch Motor is fully rebuilt with less than 50 miles on it. It is awesome, pulling small power wheelies in partially restricted mode/stock carbs in 1st and 2nd gear. Wiring is stock and not spliced yet.
6) JHA aftermarket pipes with Tyga silencers
7) HRC airbox with Hi-Flo reeds, stock carbs, and Uni-filters
8) HRC single core radiator, hose, lower head conversion, and overflow system with no thermostat – continuous flow and works great
9) Penske Rear Shock that was rebuilt/sprung by Thermosman
10) Very nice 1995 SP bodywork with an excellent OEM spare upper fairing
11) 1995 SP Tank was repainted with original OEM decals and then cleared over – looks very good.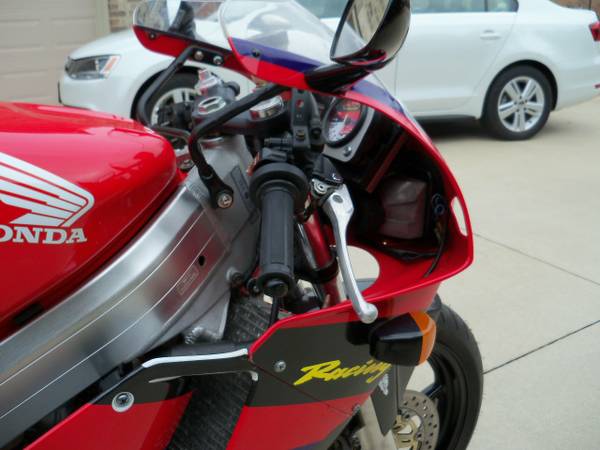 The list goes on, and includes modifications and updates. Those modifications destroy the originality a bit, but it uses appropriate, high-quality parts that should improve performance and look very trick… Unfortunately, the price seems a bit on the high side, considering those title issues that the seller mentions. Whether or not this will present a problem for you will depend on where you live and your intended use: many state DMV's have relatively lax rules, but the iffy status could cause problems if you try to register it in someplace like California or New York… So, caveat emptor.
Of course, if you buy this as a track bike, a role for which it should be ideally suited, you can sidestep that whole problem.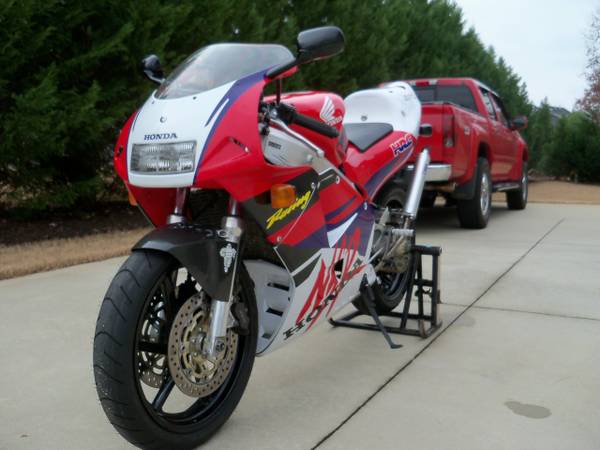 So: a great-looking rider, not a collector. A really, really nice "bitsa" as the Brits say. If your local DMV doesn't object to the funky title, this will be the perfect tool to terrorize your local back roads. If they do object, sell the lights and street bodywork on eBay, fit some lightweight panels, and have yourself a grand old time passing much bigger machines on the brakes and in the corners at your local race track.
-tad