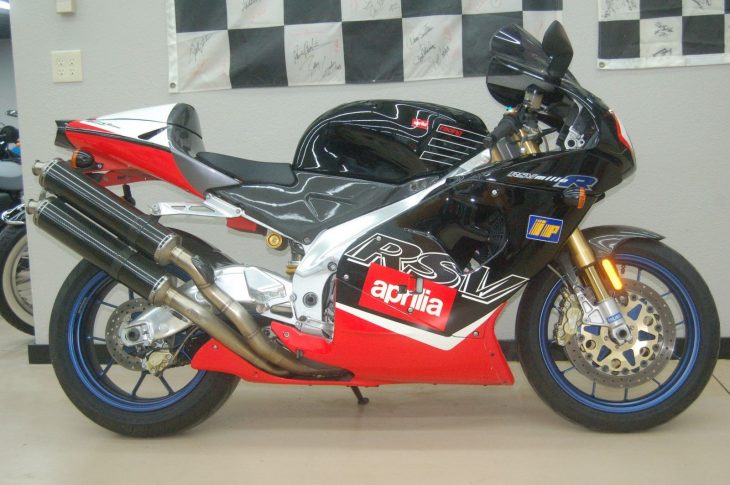 Update: it looks like the listing for this bike was pulled early. Not sure why the seller took it down or if the bike sold, but this post was already scheduled so I let it stand. Interestingly, this month's Fast Bikes has a feature on the Aprilia RSV Mille, and they describe the bike as a sort of middle-ground between the Ducati 996 and one of the four-cylinder Japanese sportbikes of the period, with v-twin character and Japanese handling that was far more agile, compared to the very stable Ducati. Likely this was due to the unusual 60° layout of the Rotax-developed eight-valve v-twin that allowed a shorter wheelbase and longer swingarm that mirrors an inline-four.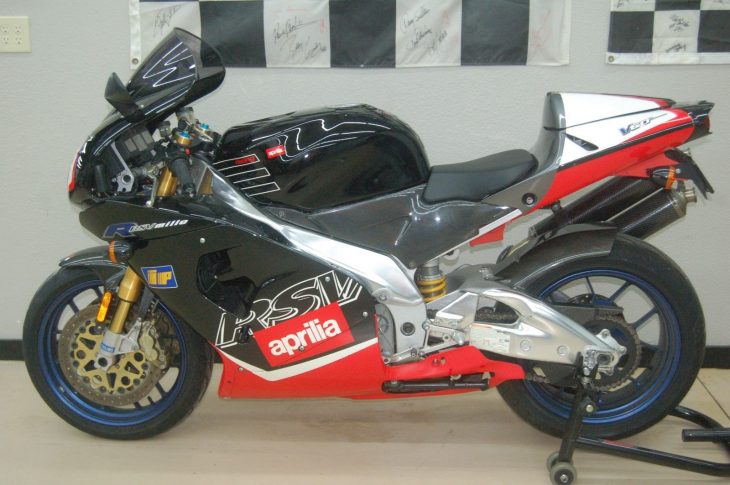 Before the era of  balance shafts, the best way to get your v-twin to rev was with a 90° layout for perfect primary balance and relative smoothness. No mater what, you feel those big power pulses, but the effect is more soothing than numbing. The unfortunate side effect is packaging issues, since a longitudinal v-twin like Moto Guzzi's isn't very aerodynamic and has ergonomic conflicts between the rider's knees and the cylinder heads, while a transversely-mounted unit results in a long wheelbase like the Ducati, or leaves little space for rear suspension, as seen on the Suzuki TL1000R.
So the narrow-angle Aprilia unit is shorter front-to-back than the Ducati "L-twin", while a pair of balance shafts let it rev smoothly. The result is an engine with the distinctive character of an Italian v-twin, but with very uncharacteristic reliability, and handling qualities familiar to anyone used to Japanese sportbikes. A bike designed to appeal to a much broader group of riders than might normally consider an Italian superbike.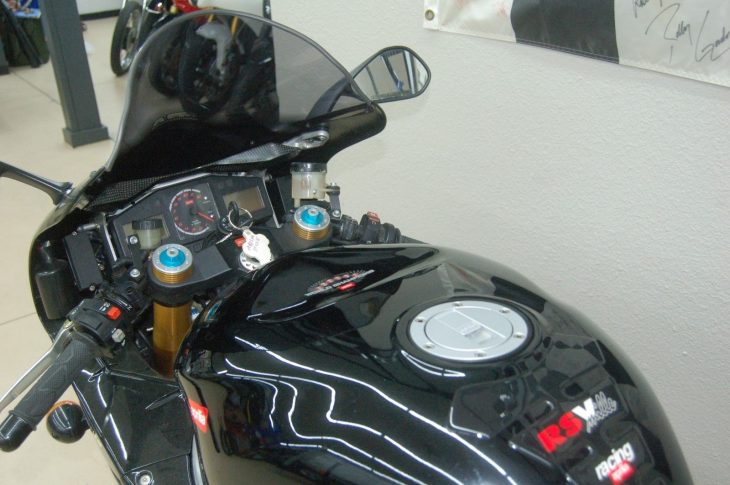 Unfortunately, the styling was less universally appealing and it's hard to describe the Mille as "pretty," although there is a method to the madness and the bulbous plastic is very functional, and the intentionally anti-Ducati lines offer surprisingly comfortable ergonomics for a v-twin superbike. I've never been a huge fan of the styling of the RSV, or of any Aprilia really, other than the RS250. The frame on the Mille was supposedly based on the RS250, so I wonder if that bike's sleeker bodywork can be persuaded to fit…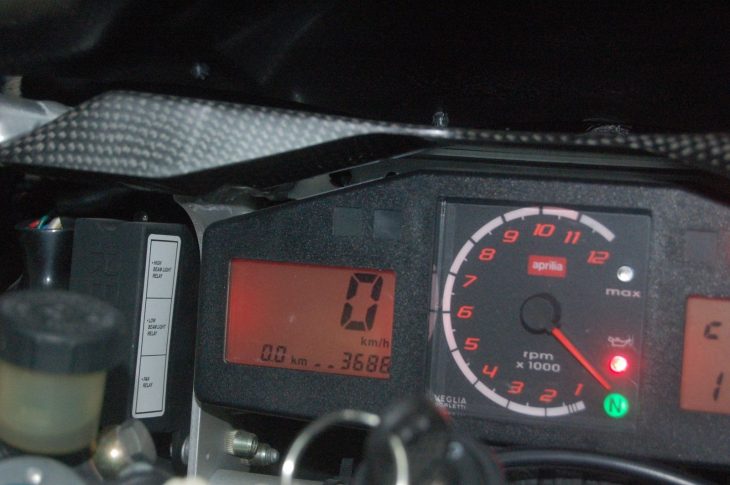 The seller does mention what was apparently a common issue for the RSV Mille and later RSV1000R: minor crashes can ding the swingarm if the exhaust or rearsets is bent in a crash, and that appears to have happened here. That's obviously going to result in a salvage title if you report it to insurance, but it wouldn't bother me much if I was looking for a solid bike to ride or track.
From the original eBay listing: 2000 Aprilia Mille RSV for Sale
Here is your chance to own one of the famous Italian Sport-Bikes in a great condition and with low miles.

The RSV-Mille R is a lighter, higher spec version of the standard Mille which was introduced in 1999. It features Öhlins suspension, an Öhlins steering damper, forged aluminum wheels, carbon fiber front fender and a shorter subframe for single seating only.

The motor was produced by Rotax for Aprilia.

998cc, 60-degree V-Twin, 2-cylinder, liquid-cooled DOHC 8-valve 6-speed

Bore x Stroke 97×67.5mm  Compression 11.4:1 110HP 92Nm at the rear wheel, 

This Mille RSV-R starts right up and runs great. It is not 100% stock and has a few aftermarket items.

It will need to have the fluids changed and looked over before you take it on the road, because it was parked as part of a collection for a while.

It was used on the track once and had a minor mishap where it low-sided. The exhaust was pushed against the swingarm and scratched it up. The brake pedal was pushed against the engine cover and marred it a little. The exhaust was replaced.

Look at all pictures

This is not a rare or collectible bike but will make a great street performer or really nice bike for track days.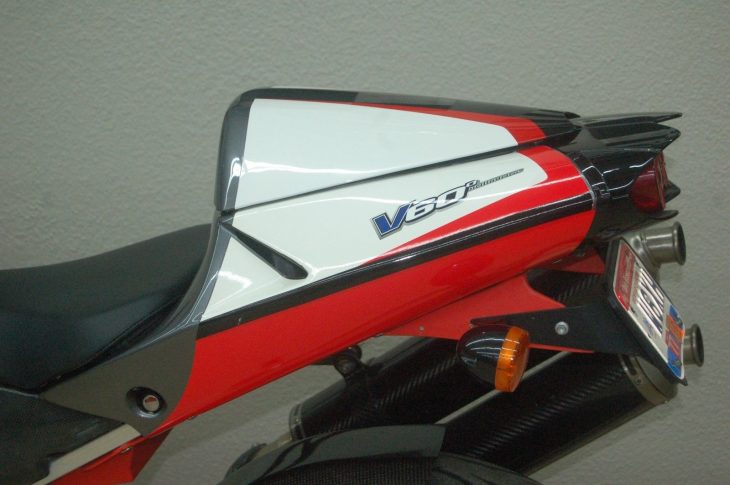 Swingarm damage aside, the bike does have a clear title, very low miles, and the R-spec components like the Öhlins fork and shock, making this is a very useable example of Aprilia's first foray into the superbike market. These are great bikes to ride, but will anyone wax poetic about them in the future? I expect some will, but to me, these are bikes to ride the hell out of, not admire in your living room.
-tad