Modern supercars and superbikes have too much power. There, I said it. The only thing keeping 95% of owners from launching themselves into the scenery are the sophisticated traction control systems that do their best to interpret your inputs and give you what you think you want, instead of what you've actually just asked for. Purely analog superbikes with more than 160hp or so are a pretty serious handful for anyone without a racing license. That doesn't mean they aren't plenty of fun though, and sometimes "too much" is just enough: insane bikes like the MV Agusta Brutale 1090RR are the kind of excessively-endowed exotica that make motorcycling so enjoyable.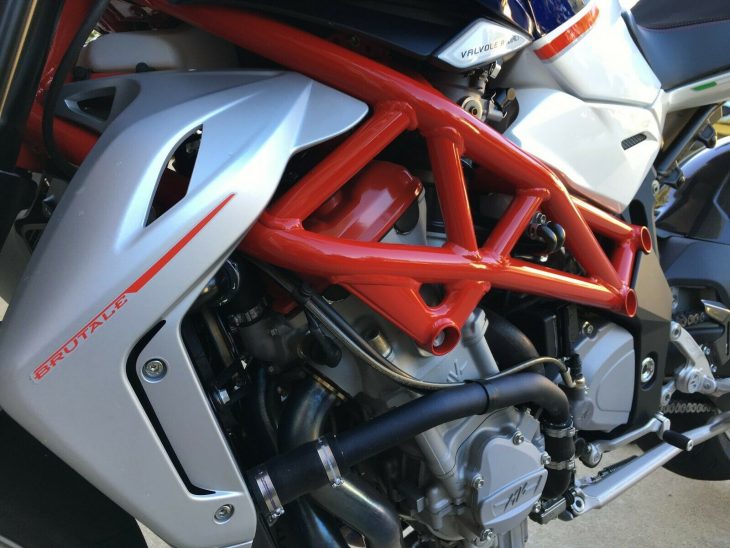 What do I mean by "excessively-endowed"? The Brutale's upright position hangs the rider's upper torso out in the wind with nothing to hide behind unless your chin is flat on the tank, making even 80mph freeway blasts a bit exhausting, unless you've got steel cables for neck muscles. And the 165mph top speed is frankly ridiculous, unless you plan to use high-speed runs as some sort of core isometric workout…
Powered by an evolution of the F4's radial-valved inline four and cassette-style gearbox, the 1090's designation helps differentiate it from the F4, although it shares the 1078cc displacement. The 1090RR's 158 claimed horsepower is down a bit on the previous version, although the Brutale is "tuned for more midrange" so it's probably the torque we should be looking at, and the bike's 83lb-ft is pretty significant for an inline four. That is at least a nod towards practicality and should make this a monster on the road, although it's actually very suited to the track as well.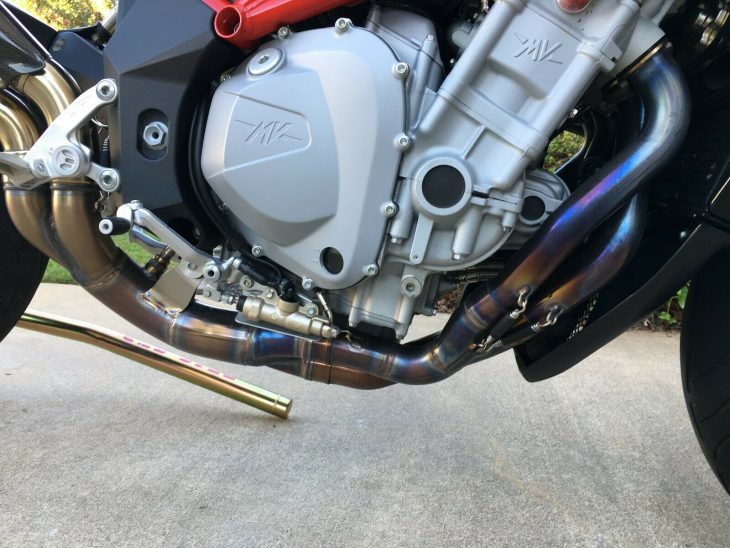 Brembo Monoblock calipers are mounted to the bottom of MV's typically beefy 50mm Marzocchi forks and matched to a Sachs rear shock provide a good foundation, while 8-level traction control and RLM "rear-lift mitigation" and a hydraulic slipper-clutch function let you exploit those powerful brakes. If you're lacking serious threshold-braking skills, available ABS will help you make good use of the available stoppers, and offer peace-of-mind if you live in places where it rains things other than fire and ash…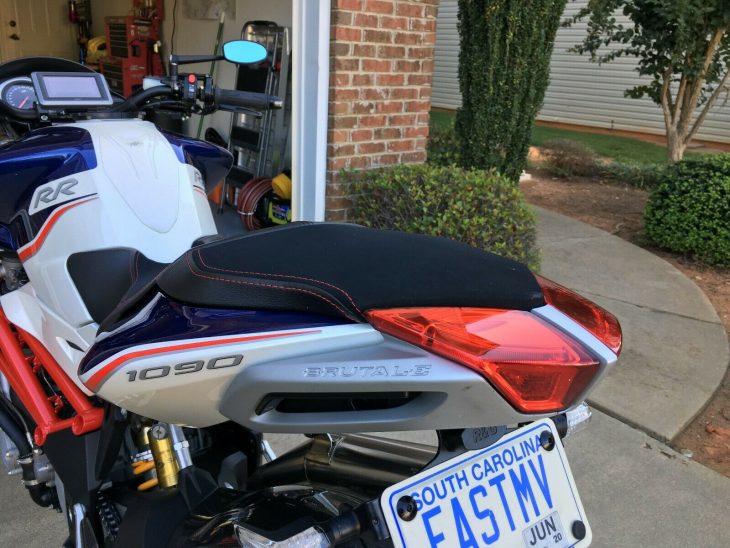 Other improvements compared to the earlier Brutale include a longer swingarm and wheelbase to help tame the bike's brutal character, along with a larger fuel tank looks pretty much identical, but has additional capacity and offers better ergonomics for track and canyon cornering histronics. The original Brutales did suffer from somewhat primitive ECUs, but this updated version had better fueling from the start, combined with the aforementioned electronic trickery.
Personally, I prefer the earlier gauge cluster, but time marches on and the additional electronic aids available on this model more than make up for a small area of the bike you likely won't spend much time looking at anyway when you're desperately trying to keep this thing from flipping over backwards and laughing your head off. Yes, the F4 is prettier, but it's hard to argue that the original Brutale isn't one of the best-looking unfaired bikes of all time. The asking price for this one is $8,850, which is a lot of exotic motorcycle and raw performance for the money. I'm constantly surprised that they don't command higher values, but that just means that riders of ordinary means can actually afford to buy them, although I wouldn't recommend owning one as your daily ride if you're not prepared.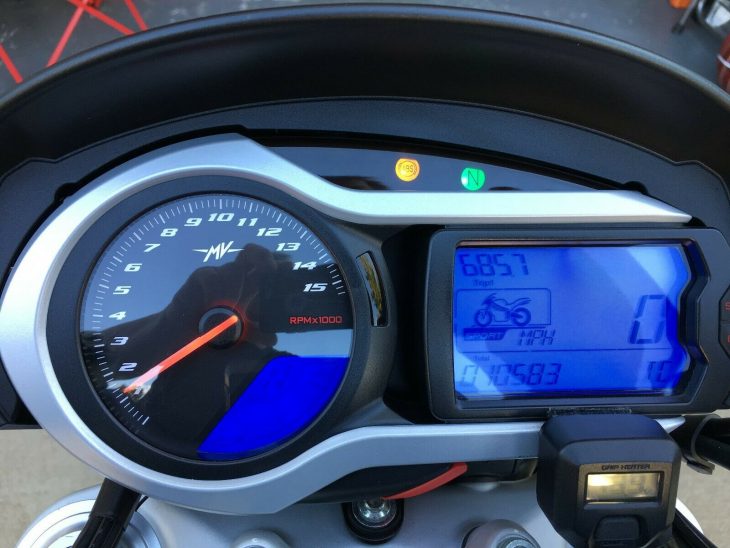 From the original eBay listing: 2014 MV Agusta Brutale 1090RR for Sale
Here is my pristine MV Agusta Brutale 1090RR up for sale.

This bike is almost like new and had all the factory services and an oil service every 3000 miles.

This beauty gets attention everywhere and it's a blast to ride it. The handling, power and sound are outstanding.

Upgrades are:

Header from Arrow (Sound makes you addicted)
Beautiful Mufflers from a 2012 Model. (I have the pristine stock ones)
MV-Agusta Corse Seats. (I have the new stock seats)
Heated Grips
Rizoma Mirrors (I have the stock Mirrors)
Rizoma Bar End Turn Signals.
New Brembo Mono Block Calipers in Black. ( I have the stock calipers)
R&G Fender Eliminator with beautiful LED Turn Signals. (I have all the stock parts)
Garmin Zumo GPS
LSL Superbike Handle Bar with Rox Risers. ( A lot more comfortable and better handling. I have the stock parts.)
LED Head Light. (Very Bright)

This bike is ready to go everywhere without any issues.

I didn't washed this beauty for the pictures, so you can see some mosquitos but there are no scratches.

Please don't send me low ball offers because I will ignore them. This is almost a collector Bike and hard to find in this color combination and conditions..

The stock parts are not included in this price.

Questions? Text 864-607-5845
The red/white/blue "America" colors aren't my favorite, but they look good here, owing to the careful choice of individual colors and the fact that they're draped across an MV Agusta. Overall, the bike is very clean, with just a shade under 11,000 miles on the odometer. It might seem disappointing that the bike doesn't include aftermarket mufflers, but the gorgeous titanium Arrow headers and link pipe that deletes the catalytic converter should liberate all the noise you'll need, and there are very few aftermarket setups that effectively duplicate the slash-cut shotgun-style originals that look so good, excepting the tiny openings themselves. These are sexy, sexy bikes and continue to be available at rock-bottom prices and, although they can be more troublesome than your average Japanese bike, are relatively straightforward to maintain and pretty durable when properly maintained. Just don't drop that headlight unit…
-tad