As the sun gets ready to shine on another riding season in the northeast, a nice example of a liter Bimota has become available.  Looks like this YB11 has undergone a careful riding restoration over the past few years.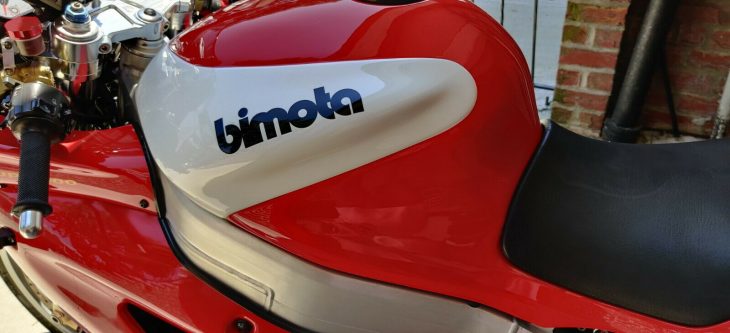 Bimota took a shine to Yamaha's twenty-valve 1000 early on, and had a nice success with the YB6 and YB8.  With Bimota's airbox and exhaust, the new ThunderAce engine was good for 145 hp and had a fueled weight in the mid-400's.  The chassis was twin alloy beams connected with some of the nicest CNC machinings anywhere, with outsized 51mm Paoli forks with accompanying monoshock.  Brembo supplied their typically excellent 320mm brakes, and the exhaust on this example has been updated to an Arrow.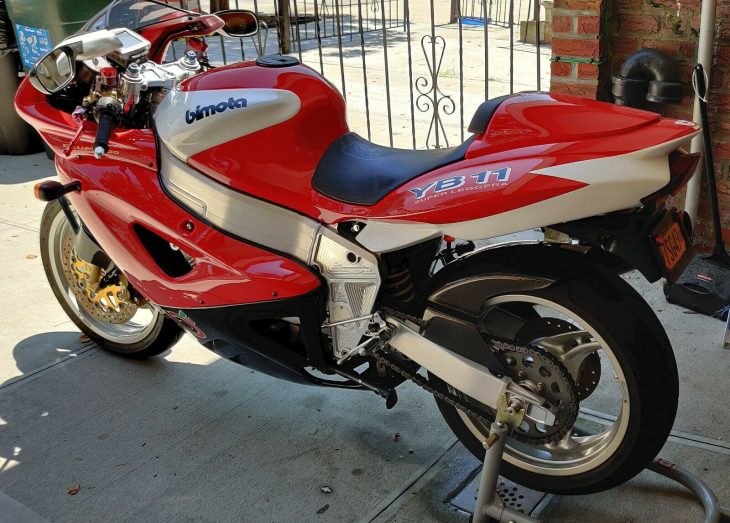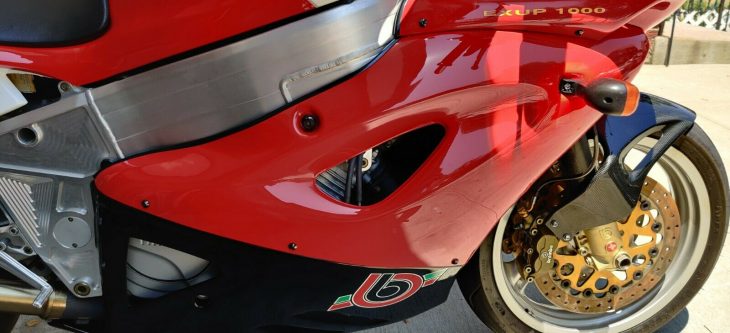 This owner caught the Bimota bug a few years ago, and went through their YB11 with an eye on the future.  The fuel system was refreshed from the filter to carburetors, and the forks got new seals.  The glass bodywork was reinforced and re-finished, and my favorite mod of replacing every appropriate fastener with stainless ensures that service will be easier next time.  From the eBay auction:
Summary of maintenance/upgrades
Paioli forks fully serviced
Fairing restored and ALL screw holes strengthened with Carbon Fiber backing to prevent future spider cracks
All original screws are replaced with hi grade Pro-Bolt Black stainless steel and 318 grade Stainless steel bolts
New Spark plugs
Carburetors rebuilt and Dynojet Stage 1 kit installed
New Fuel filter
New Fuel Pump
Rear turn signals replaced with sleek and super bright LED blinkers
Radiator replaced
New Radiator cap
New water pump
New OEM Yamaha hoses
Spiegler Steel Braided brake and clutch lines replaced original rubber lines
New brake pads
New brake/clutch reservoirs with billet covers
Beautiful billet levers with larger range of adjustments replaced original cheap levers
Bikes comes with both rear seat cowl and the rear seat
Arrows CF Exhaust
The YB11 reviewed as responsive for a big Yamaha, and almost cushy for a Bimota.  This one has been updated and maintained for the long haul, or a brilliant long weekend.  Just plan extra time for a little Q&A at every stop.
-donn