The 1992 Yamaha FZR600 Vance and Hines was little more than a garish factory-applied graphics package to celebrate the two manufacturers' AMA Supersport partnership. We've covered a few of these things over the years, and I might be the only person on the RSBFS team who legitimately digs heinous '90s graphics packages.
There is something so appropriately in-your-face about two heinously bright colors jammed together on a machine that was never designed to make you the Kiwanis Club's favorite Eagle Scout. If you're gonna be antisocial, you might as well be ugly and hard to miss.
This bike is number 331 out of 600 such machines made, and carries the de rigueur Vance and Hines exhaust system, along with the fairly rare Powerpak CDI box. The seller makes no mention of the CDI, or whether the bike has been jetted to accommodate the mods. If it has, it will positively scream. (Side note: I owned a standard '90 FZR with this exhaust setup. Absolutely the loudest machine I have ever owned or ridden. Period.)
Vance and Hines 331 is in good shape, but has a scratched engine cases and needs its choke lever bolted back on. The seller lists a bunch of recent easy maintenance, so it should be a pretty reliable ride, even with the imperfections.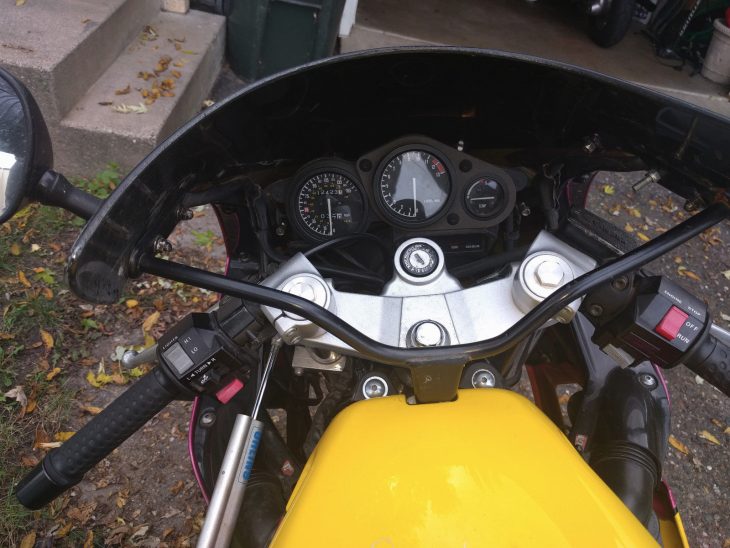 From the eBay listing:
So I have been debating selling this for a while now. It just sits and is extra insurance costs. It is a 1992 Vance & Hines one of only 600 ever made. These are getting more and more rare all the time but because of the color maybe not as popular. Personally I think this screams early 90s and I love how it stands out. This is an excellent running machine and could be driven daily easily. This summer I have changed the oil, spark plugs, brake pads, brake fluid and radiator fluid. The carburetors have been run through recently cleaned and synchronized as well. The bike made 87 hp at the rear wheel which is unheard of for the year. It's quite a great running bike. I have been paying way too much for insurance though as I love bikes too much. I have so many that this is just one I don't use. The bad, well it has scratches on both sides of the engine not the plastic and the front fairing has cracks in it. Also the choke is not bolted on and it has a fan switch. So nothing major for a bike this old. When changing the spark plugs I checked everywhere and the engine is clean, spotless no leaks anywhere.

I have extra bar ends, the actual plastic that goes under seat, extra rear lights, the book and of course you can't have this without the poster. 😉 I also have a video of this running on youtube I can share from last year.
The auction has seen little activity yet, and the starting bid is low enough to make this a great entry point into a bike that might not have the provenance of some of its peers, but will always be desirable to the right person.