- Sold on the buy-it-now while this post was being scheduled, hopefully to a sharp RSBFS reader !

Like a back-lit tinsel tree in its hometown Santa Monica, this rather red Paso is all dressed up for Xmas.  The last-generation desmodue was a fuel-injected 9th inning home run, which unfortunately couldn't extend the Tamburini model into extra innings.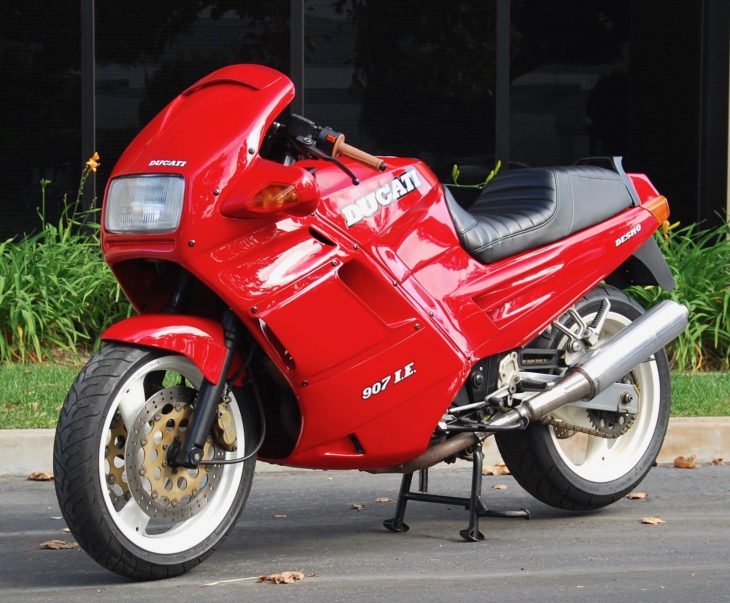 The all-enclosed Paso was one of the first Ducatis under Castiglioni stewardship, intially as a 750cc and later a 904, both with a single Weber.  More linear electronic fuel injection and 90 hp came in 1991, transforming the ride.  Hiding under the soap-bar is a peculiar square-tube frame, and Marzocchi suspension peeks out.  Brembo made both the four-piston calipers and wide 17-inch wheels.  Intakes and vents are arrayed over the fairing with the aim of funneling cold air to the airbox and radiator, and warm air out and away from the rider.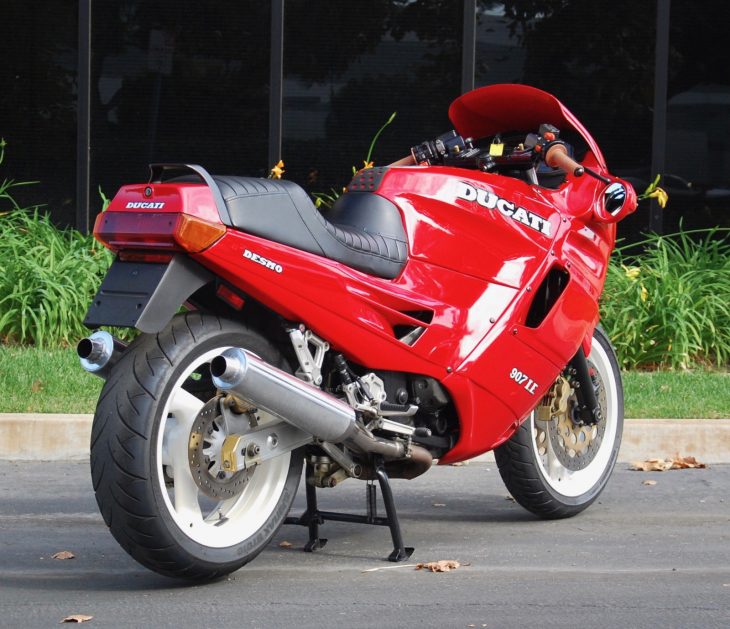 With nearly 48,000 miles, a full rebuild and restoration is likely in this Paso's past, and though there's no mention of it in the auction, the buy-it-now is in the upper end of the range.  No evident damage and it's spotless all around.  Nothing out of the ordinary except for a missing turn signal lense and a nicer seat cover.  From the eBay auction:
This final year example of the 907ie is offered in the classic Ducati red livery. Showing an astonishing 47,926 miles, the bike looks like it has a fraction of that. Regular servicing by a local independent shop has kept the bike in fine riding condition. A recent trip to the shop ensured that the bike was ready for sale.
The 907 I.E. got high marks for its torquey delivery, spot-on fuel injection, hydraulic clutch and 17-inch wheels.  The all-encompassing body was an acquired taste though, and production never really got much over 1,000 per year, ensuring its rarity.  This Paso would have some stories to tell, about some long sporty tours and that season getting a makeover.  And a super previous owner...
-donn