Update 4.15.2018: Now listed on eBay for $18,500. Good luck to buyers and seller! -dc
These days, Moto Guzzi is pigeonholed as the Piaggio Group's resident bearer of the sporty retro banner, building the Italian equivalent of Triumph's classic Thruxton, Speed Twin, and Bobber. Which is a damn shame, given Guzzi's history of legitimately competitive racing machines in a wide variety of classes. Of course, they almost always seemed to have that classic "speed through comfort" thing going on, even with their single-cylinder racebikes. But with very nice, but unintimidating fare like the current V7 and brutish retro-crusiers like the Griso and El Dorado, it's easy to forget that the original Moto Guzzi 850 Le Mans was, at the time, a very serious sportbike.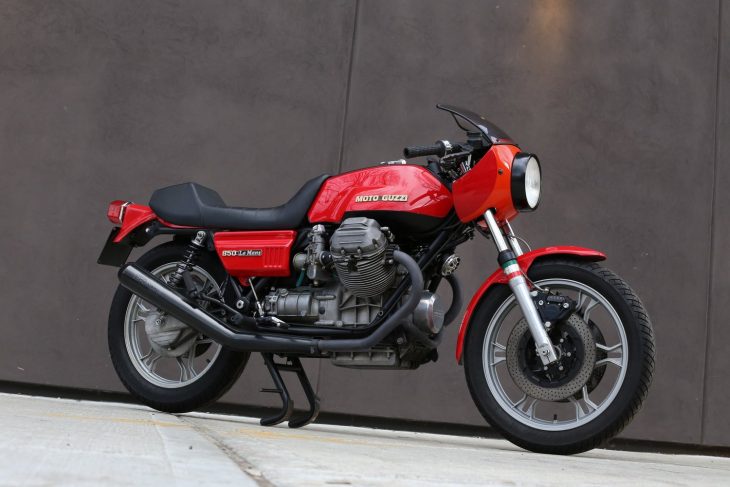 With distinctive styling that looks a bit like some sort of sleek, antediluvian racing tractor, the Le Mans was an update of the earlier V7 Sport and 750S, and used the same Lino Tonti frame and longitudinal v-twin, here punched out to 844cc and fitted with high-compression pistons in chrome bores, along with a hot cam, bigger valves, and larger carburetors. The resulting 71 rear-wheel-horses were corralled by a five-speed transmission and routed to the ground via Guzzi's now familiar shaft drive. Stopping was managed by a trio of disc brakes, and the Le Mans used a simple linked-braking system that sometimes causes sportbiking purists to turn up their noses, but is very effective in practice.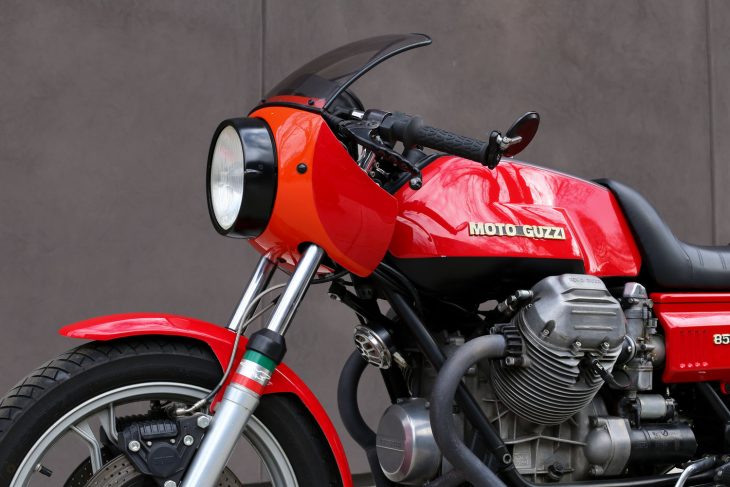 Obviously, "two-valve," "pushrod" and "shaft-drive" aren't words generally found in the description of a sportbike, but the Le Mans most definitely was one. It wouldn't likely impress anyone used to modern performance bikes, but in 1976, a top speed of 130mph meant the Le Mans was a legitimate player in the high-performance world, and a direct comparison to the contemporary Ducati 900SS suggests the simpler, pushrod Guzzi motor is actually revvier and the Le Mans handles just as well.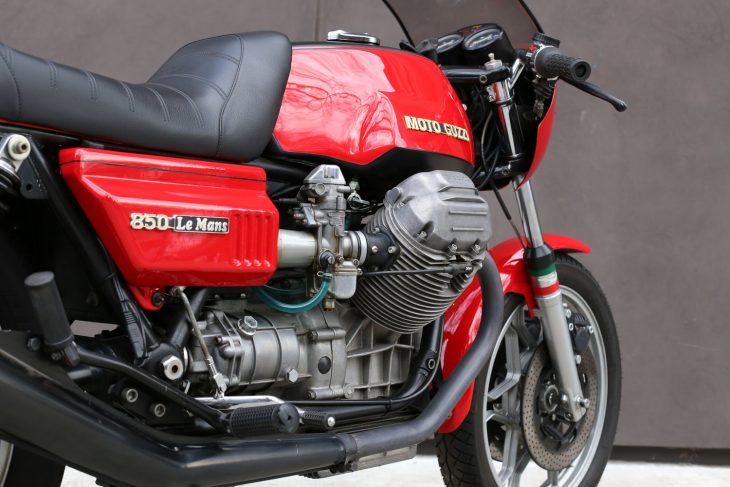 In spite of the fact that Lino Tonti's frame made for a very effective sport and street motorcycle for an impossibly long time, motorcycle frame design and suspension geometry have come a long way since the early 1970s and although the Le Mans is famously stable, it does, according to at lease one magazine article, "turn like a plank in a swimming pool." But who cares about agility when you're running tires this skinny and looking this good? Tonti-framed bikes are especially beloved of the cafe crowd due to their naturally low overall height, due to the jutting cylinders: even before you start modifying one, it's already impossibly low and lean. The downside of the Le Mans' widely-used frame and desirability is that they're pretty easy to fake, with most of the unique parts pretty easy to source, so verifying that you're looking at the real article is key before you make a purchase.
Moto Borgotaro did a pretty good job describing the bike themselves, as you can see below… The seat isn't the original part, but that's not really all that surprising, considering the originals used a newfangled closed-cell foam in their construction… that promptly disintegrated in many cases. This one looks like the earlier 750S style, so it certainly has the right character and seems a popular replacement part for Le Mans that have suffered catastrophic seat failures. Other than the modern, folding bar-end mirrors that some might not like, this thing is in pretty immaculate shape, down to the US-spec protruding headlight that is accurate, but something I'd personally try and swap out for the European version.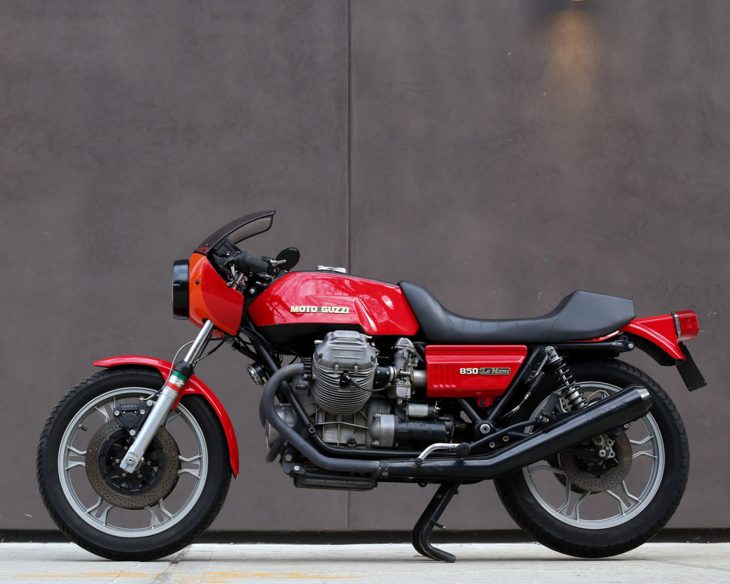 From the Seller: 1976 Moto Guzzi 850 Le Mans for Sale
THIS MOTORCYCLE'S STORY

— By Peter Boggia and Tim Parker

Tonti, essentially a "frame man" made a plan to meet De Stefani's goal of "200 kilometers per hour, 200 kilograms, and five speeds."

That's 125mph, 440lb and 5-speeds in American. His plan was the V7 Sport first seen in 1971. Sure it met the goal but it was also a looker, and the frame was masterful, low, stiff and with good ground clearance, and tight to the engine – but with the lower frame rails removable. Watchword: balance.

"While the specially prepared Guzzi 750s were roaring round and round the Monza speed bowl in October 1969, breaking the records Moto Guzzi had set in June, Chief Engineer Lino Tonti, Managing Director Romolo De Stefani, and President Dore Letto were discussing how Moto Guzzi could follow up the new records."

"Beautifully restored paint, original brakes, upgraded suspension, all original switch gear… this is a three owner Le Mans"

MOTO GUZZI 850 LE MANS 1 DETAILS:

VIN VE 070505
19,781 miles
First year 850 Le Mans, not designated as the first series until the advent of the second series.
Repainted by current owner at 18k mi
Lafranconi exhaust 
FAC front fork upgrade
Velocity stacks
Excellent rims and newer tires 
Serviced 
Newer seat
All original switchgear in perfect working order 
Ikon shocks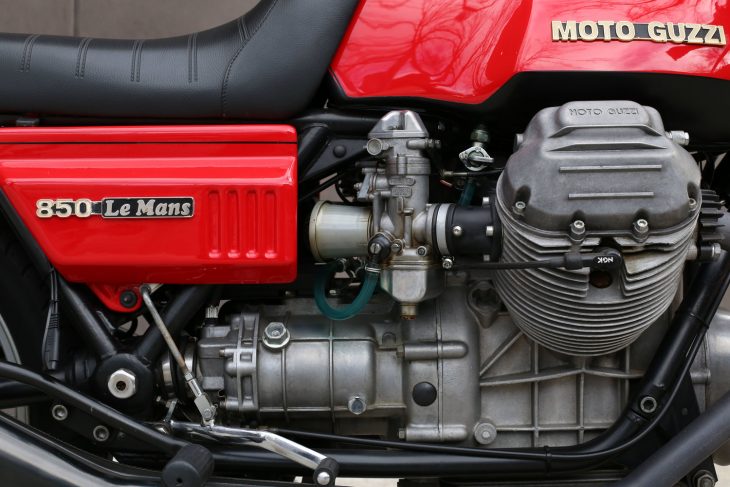 Piaggio at least seems invested in Moto Guzzi's success, but dreams of a modern sportbike like the one that was rumored in the 90s will have to remain on hold for the foreseeable future. Fortunately, bikes like the Le Mans are still around to rally the faithful and keep the dream of "what could have been" alive. Sadly, the Le Mans is no longer an affordable classic, although it still is a very practical classic, with the speed to comfortably keep up with modern traffic and parts available to keep one running. It's a comment on Guzzi's famous reliability that this 20,000 mile example could probably be considered "low mileage." The crew at Moto Borgotaro aren't the usual bike-flippers, or a modern dealer looking to liquidate an estate-sale collection: classic sportbikes are their stock in trade, and this Guzzi appears to have the expected quality.
-tad