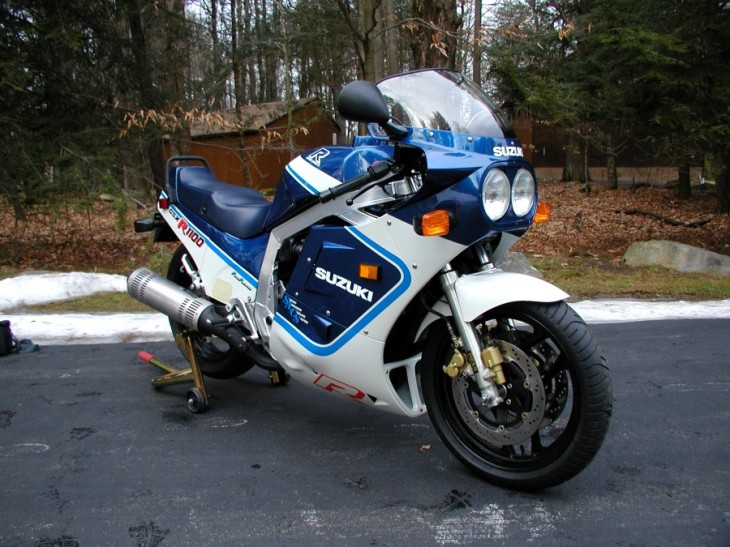 Well-loved GSX-R 1100 models don't come around often, yet here we have two 1987 models within days of each other. Like this one we posted last week, today's Gixxer is an original slabbie and is claimed 100% stock. Interestingly enough, the buy it now price is the same as the last 1100 – which surprised our readers when it was snapped up within the day of being posted. With the same happen to this bad boy? Read on.
From the seller:
I know that I will regret this, but here is your opportunity to own one of the last CLEAN & ORIGINAL 87 GSX-R 1100's on the planet.
Garaged its entire life, and completely stock with only 12k miles.
Runs perfect, inside of the tank is spotless and yes, still has the original chain and sprockets! Never dropped or tipped over! Only cosmetic flaw is crack in upper fairing where screws were overtightened (way back when) which you can see in my pictures and VIDEO.

When I purchased it many years ago it still was on the original tires which I changed, of course. Been sitting on the carpet in my office (drained) for the last 5 years. Just gave her a service and new battery and she fired right up. Well, my wife wants new kitchen cabinets and has requested that I thin the herd, to which I replied just write a check! Why must I sacrifice one of my toys, I could care less where you put the dishes! Long story short, here's my bike for sale. You might want to use the BUY it NOW option before I change my mind because the fight isn't over yet.
This is a very clean looking bike. It is clear that there is tremendous interest in these classic model Gixxers based on RSBFS readers and the speed in which these bikes tend to sell. If you are looking for an iconic game changer for your collection and missed last week's all original gem, check out this one before it sells!
MI