Occupying the top line of the Suzuki catalog is a real balancing act, with performance and reliability up against MSRP. The newly water-cooled 1100 kept it all in perspective, and this Texas survivor looks great in retrospect.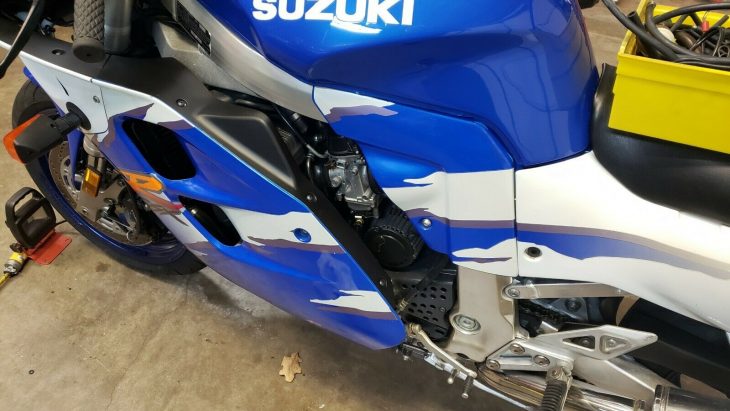 Suzuki traded the oil cooler for a big coolant radiator, and more stable temps in the new engine allowed an increase in compression to 11.2-to-1, with 156 hp at the bottom line.  The chassis was similar to the '92 but beefier, with multi-adjustable Kayaba dampers front and rear.  310mm Tokico brakes grew an extra pair of pistons in each caliper, helping haul the slightly increased weight down quickly.  The fairing was just a bit fuller, and the windscreen offered better protection from the gale-force wind.  Powertrain dimensions stayed trim and lean-angle clearances were as generous as ever.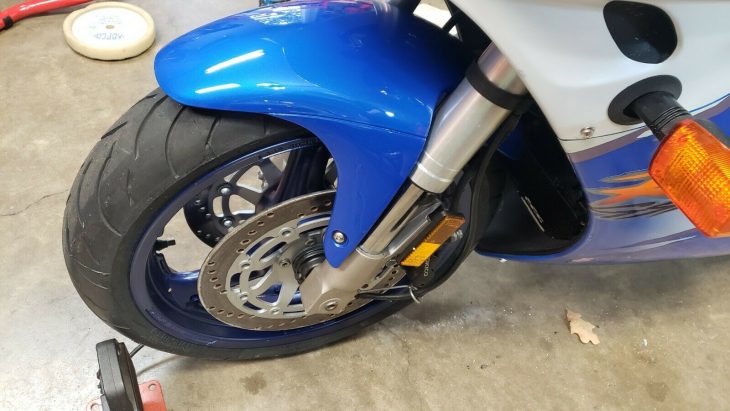 Ownership history was interrupted along the way, but with almost 22,000 miles it was somebody's favorite at some point.  With a very limited collection of road rash, it was a great candidate for the new grips, windshield, rebuilt carbs and calipers, and any expendables.  Comments from the eBay auction:
The 1994 GSXR series was the next evolution after the Slingshot era.  They share many design characteristics with the Slingshot, but a departure from the air/oil cooled era.  Suzuki figured that they could make more consistent power by adding liquid cooling yet trying to offset the extra weight of the liquid cooling.

Today these bikes are quite rare.  This bike is a beautiful example that was rescued and completely gone thru.  Every system and every surface has been attended to.  Most of these bikes were modded but this one is a true survivor, still has factory exhaust and airbox – it is one one the most original 1994 1100s out there, possibly the only unmodded one.

FRESH OIL/FILTER CHANGE
NEW SPARK PLUGS
NEW AIR FILTER
CARBS REBUILT AND SYNCHED
ALL BRAKE CALIPERS REBUILT WITH NEW FLUID
BRAND NEW TIRES
NEW CHAIN
NEW F/R SPROCKETS
REBUILT CLUTCH SLAVE CYL
REBUILT F/R MASTER CYLS
NEW WINDSCREEN
NEW BLINKERS

Bike is absolutely gorgeous, no rust in tank.  Starts stops and handles like a brand new bike. Needs nothing.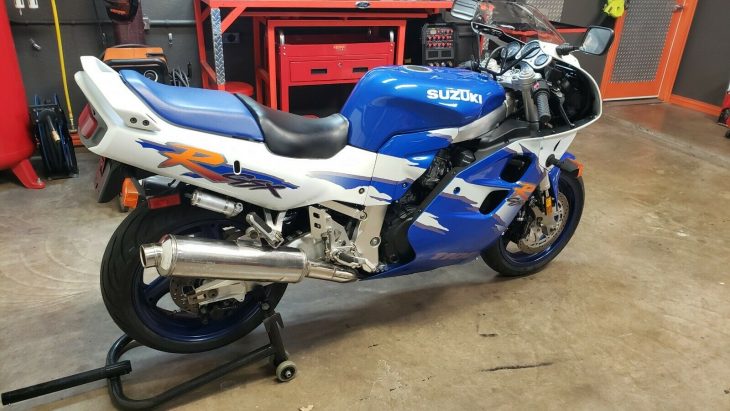 As the oil-cooled era wound down, Suzuki wanted to keep the liter-plus power but increase reliability while lowering emissions.  Couldn't get the weight to the Fireblade neighborhood, but had a nice advantage against the Kawasaki and Yamaha GT's.  Rebound damping was overdone but could be adjusted to suit.  Long term fans might be ready for a steam locomotive in this kind of condition.
-donn