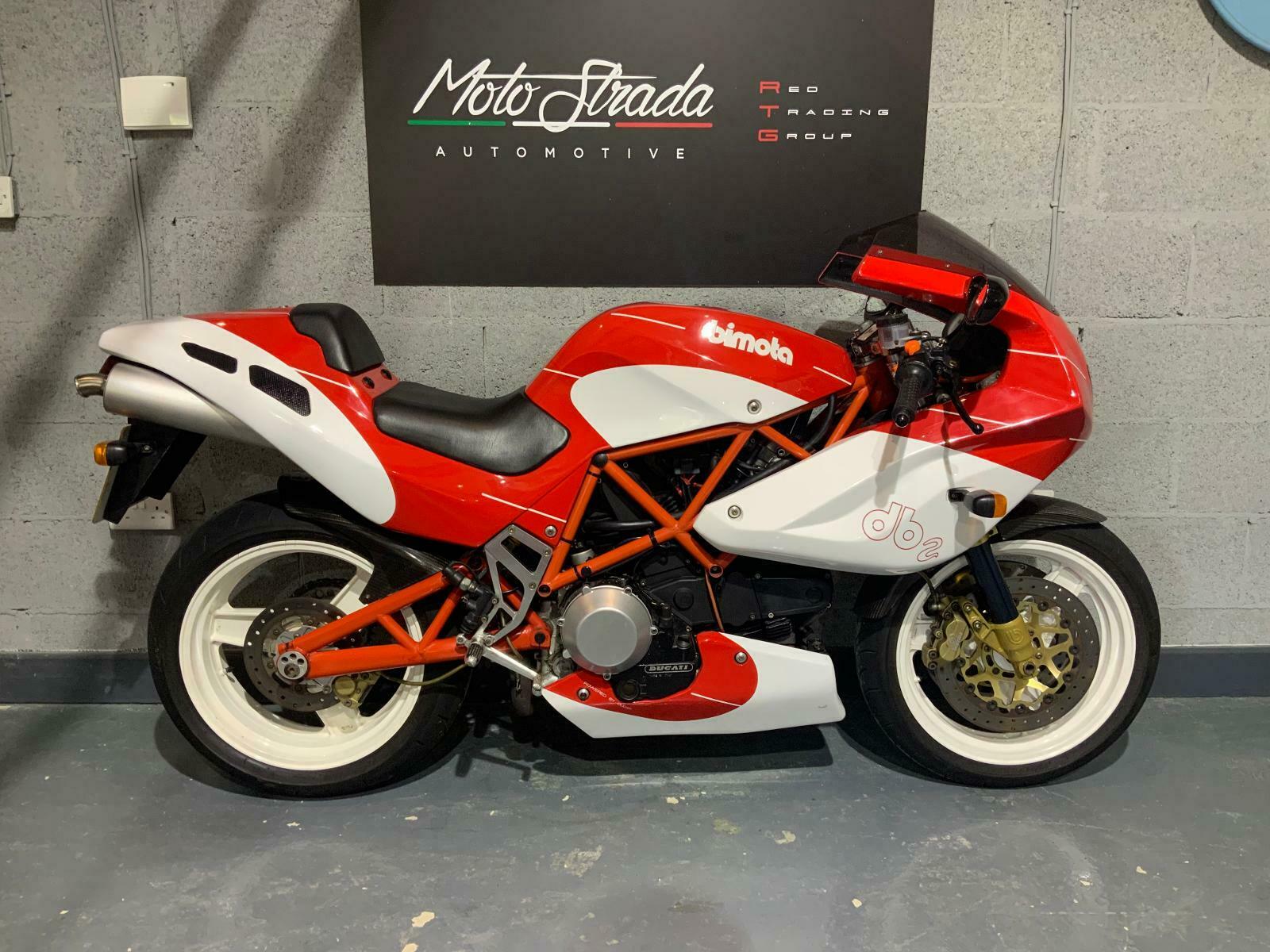 Less is often said to be more.  Less weight means better handling.  Less power can mean the rider can extract more from the machine and end up having more fun.  Less complications translate to lower service costs.  If someone was going to email the RSBFS crew and want a recommendation for a bike that embodies this mindset, most of the time the answer would be a first generation Ducati 900SS.  We love that bike, and for good reasons.  But today lets explore a bike that is both very similar to the 900SS and very different.  The Bimota DB2.
The Bimota DB2 is powered by the venerable air cooled L twin two valve Ducati engine.  Producing about the same horsepower as in the Ducati.  Quotes range from 82 to 86 horsepower, on average about a 2 horsepower bump over the Ducati.  Maybe that is real, maybe it is marking fluff.  The number that stands out is 30 pounds.  That is roughly how much less weight the engine in the Bimota has to lug around.  That is a hugely impressive achievement when you consider that the 900SS was not exactly a tank to start with.
The uprated suspension and Brembo calipers ensure confidence when the rider is pushing the limits either on the road or the track.  Service costs are kept in check as the Ducati is know for being a reliable and easy to live with power plant.  Components are easily sourced.  This is not a bike that is going to consume brakes and tires like a modern superbike.
1993 Bimota DB2. Ducati Bimota 904cc
these were only produced in very small numbers using Bimota's Lightweight trellis chassis and running gear mated with the tried and tested Ducati 904cc V twin engine
( A perfect Combination) This is a very collectible lightweight V Twin that is fantastic to ride especially on B roads, just 20309 km equating to 12,619 miles.
A total of only 408 DB2s produced worldwide, out of these only 123 came with the half fairing seen on this bike.
Fitted as standard with an Ohlins rear shock, Paioli Forks and Brembo Brakes, which make for an exceptional ride.
Worldwide and nationwide delivery available.
Was surprised to see that the But It Now was only 7,500 Pounds Sterling .  Traditionally there is a fairly even world wide demand for motorcycles like that, and with the prices of the 900SS examples ever rising, this really feels like a bargain.  Only 408 were made, and only 123 feature this split fairing bodywork.
Guess the real question is:  "Would you save a couple of bucks and buy a 900SS, or would you splurge and take the DB2?"