Here is a bit of carbon wrapped exotica for the holidays, a Bimota Tesi 3d Carbon version located in Australia.
The Bimota Tesi hub centered steering effort began in 1991 with the 1D and continued with the 2d in 2005 and the 3d in 2007.   Each evolution of the Tesi design improved both the function of the bike while also making it look more and more like a piece of art.
For the Tesi 3D, the reviews were mostly in the vein of "epic design, merely good bike".  The major complaint was that the Tesi 3D came equipped with an engine that offered only 95 horsepower.  Even so, reviewers gushed about how the suspension offered outstanding cornering stability which allowed the 3D to change direction quickly with the front end always feeling planted.   The hub centered front fork design also offered improved braking due to their being no front-end dive and minimal pitching which meant almost no  weight transfer went onto the front tire.   The suspension design allowed the Tesi 3D to handle any road surface changes separately to the braking forces and the layout/seating position was more upright than the previous Bimota Tesi designs (which  resulted in more comfort and excellent ground clearance).
Here is what the seller has to say:
"This Tesi is new with only 1.2 kilometres showing. It is a limited edition model from 2008 with carbon fibre bodywork. It has never been ridden but the engine has been started however. I don't need to go into engine and frame details as if you have read this far you know what this bike is about. Both keys, owners manual and Bimota bike cover are on hand.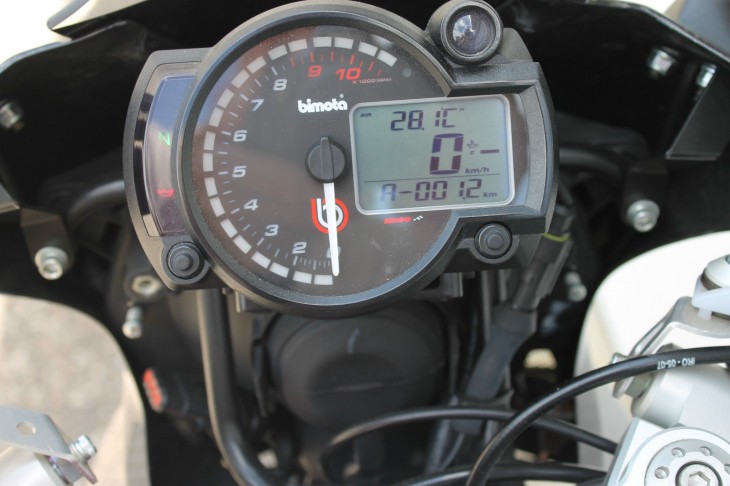 So lets get to it – whats this piece of unobtanium worth?  Well like most Bimota models, the 3d was only made in small number.  Pics on the auction seem to indicate some dark brake and clutch fluids so a bit of haggling might be acceptable but the cost when new was 30,000 euros/about US$40,500 and given that this one only has 1.2 kilometers the price will likely be somewhere close to that.
-Marty/Dallaslavowner