Happy Father's Day to all once and future Dads !
Emerging from the shadows of bankruptcy, Bimota introduced a supersport based on Ducati's air cooled dual-spark engine, penned by Tamburrini disciple Sergio Robbiano.  This second generation DB5R has the 1078cc engine, premium appointments, and an exciting and award-winning design.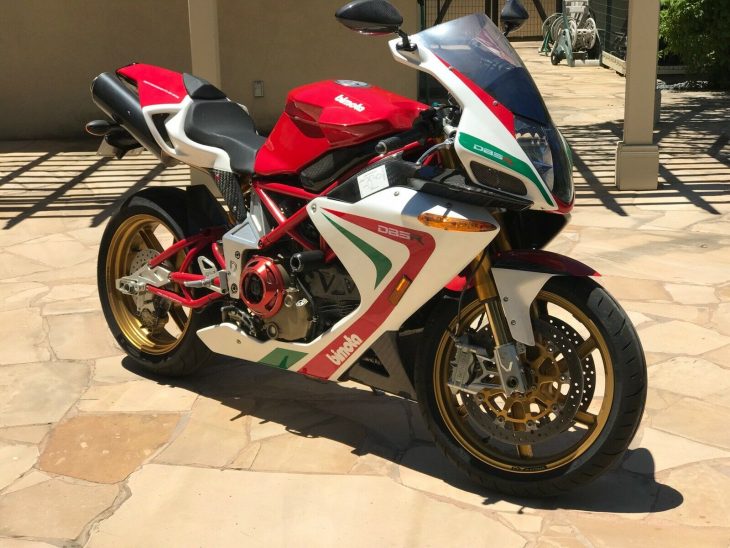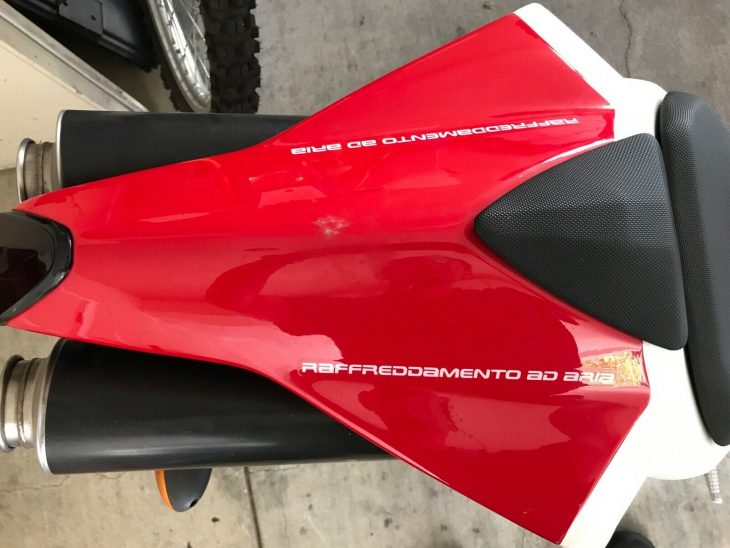 The core of the DB5R is Ducati's 1078cc L-twin, with Marelli fuel injection tuned for Bimota's exhaust good for 95 hp and a nice 76 ft.-lbs. torque.  The lines of the chro-moly trellis frame echo through the seat sub-frame and fabricated swingarm.  Frame connectors show off Bimota's CNC machining as the bodywork and accessories showcase their carbon fiber technique.  Premium Öhlins and Brembo components complete the luxurious but sporty picture.
Straight out of Silicon Valley, this DB5R is engaging even with the signs of a minor low side, the seat console more easily corrected than the scratched engine case.  Not many miles but the new owner might be in for belts and tires.  The aftermarket mirrors aren't a bad match but stock would be my choice, plus a little reflector-ectomy.  The first order of business would be more pictures.  Comments from the eBay auction:
Original owner, bought from Scuderia West SF ( no longer sells Bimota but they can service it ) and original cost was around 40K.

It's a beautiful and great winding road machine, but selling it as I don't have much time to ride, and feel sorry for the machine.

Only rode casually around the Saratoga Mountain.

4046.8 Miles

Ducati 1100DS engine ( any Ducati shop can service it )

Updated with STM slipper clutch, Carbon mirrors ( so you can see the back )

'DB5R' number plate

Minor scratches on tail cover and engine cover. Repaired areas on edge of tail cover.

'Service Required' indicator always on ( the dealer could not figure out how to turn it off )

Comes with the owner's manual, racing stand, and a battery tender.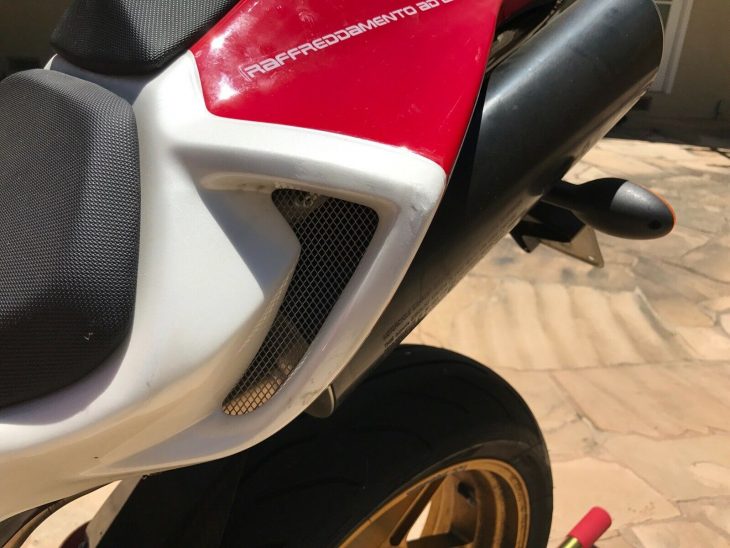 The DB5R reviewed as a fine handler even if the dual-spark 1100 wasn't too exotic.  A pair of tank pads might be in order, as the winged tank was maybe a little too skinny for a good grip.  Each Bimota model has its place on the peacock – rhinoceros spectrum, and the DB5R seems to be right in the middle, with a very together design built on a modern but uncomplicated powertrain.  With just a few hundred sprinkled over the globe each year, you won't see yourself coming and going.  Just right to ride to the bike show, collect a ribbon, and ride home.
-donn