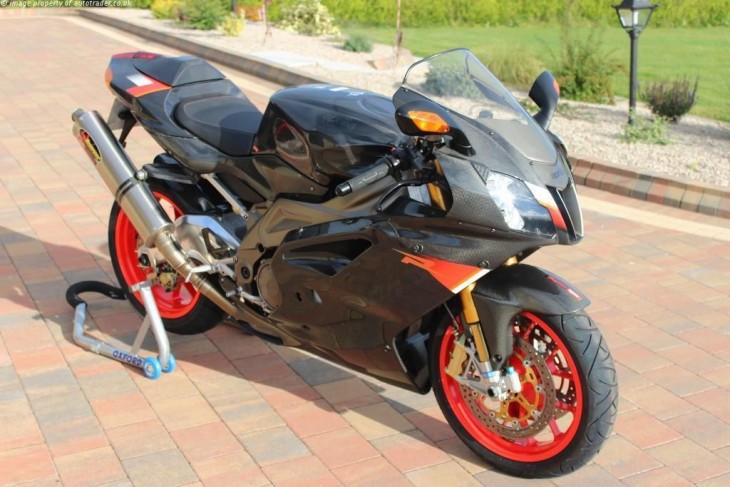 Here is a bit of carbon fibre dreamery from Italy, an engineering flight of fancy if you will…a 2004 Aprila RSV 1000 Nera.   Listed for sale on gumtree but apparently located in Ireland near Belfast, only 200 of these beauties were built back in 2004 during a time when Aprilia dreamed of launching an ultra-exclusive "dream series" of bikes.   Carbon fibre everywhere, Ohlins suspension, Brembo braking, lightweight titanium used not just for the exhaust but all the bolts and fasteners, magnesium wheels…it all came together in what was to that point the most light-weight (under 400 lb) and powerful RSV1000 Aprilia had ever offered.
Personally I don't think the pictures of this bike do it justice…the full carbon fibre bodywork with just a hint of glaze looks incredible in the sunlight and in person the bike looks incredibly purposeful….kind of like a stealth fighter, very function oriented but not raw.
The Nera was was marketed as a bike for the "cognoscenti', for people who knew how rare and special is was intended to be.  Aprilia even offered a dream package with its dream bike; on top of the $30,000 USD sales price buyers could plop down another $10,000 for an invitation to attend a MotoGP track session in the country of your residence, exclusive memorabilia, and a customized set of leathers.
While Aprilia was aiming high with its $40,000 dream package, it soon found out that aiming high and hitting the mark are two different things. Despite the first bike going to actor Matt LeBlanc of Friends TV show fame and overall excellent reviews, rumor has it that not a single buyer took Aprilia up on the additional "dream package" and that many of the bikes languished on the sales floor for more than a year. Perhaps its not surprising that the company soon ran into financial difficulties and in 2004 Aprilia and Moto Guzzi were acquired by Piaggio who quickly put an end to engineering flights of fancy like the Aprilia Nera/dream series and Moto Guzzi MGS-01.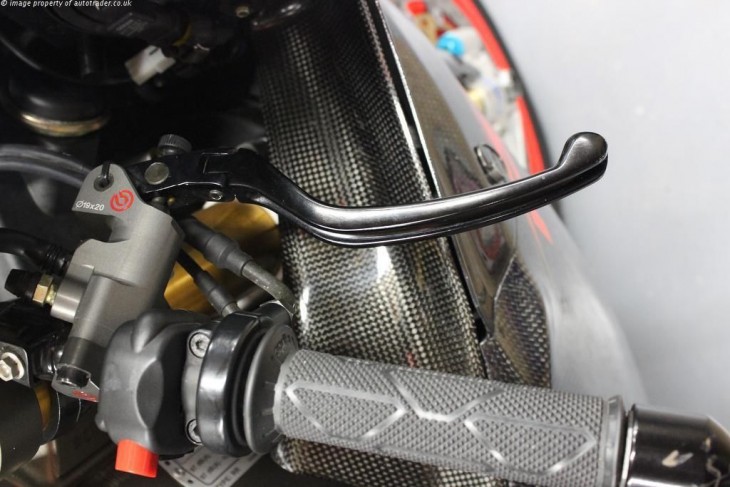 The base Aprila RSV1000 has proven to be a very reliable motor and this particular product of Noale is listed as having only done 5000 miles so its barely broken in but no service information on this bike is offered.  Realistically fluids and fresh rubber would have to be factored into the price.
Speaking of price, the last few of these we have been fortunate enough to have on RSBFS seem to have gone for prices around 6000 GBP/$12,000 USD so while the asking price of 7250 GBP price is about double of a standard RSV its still right in line with the price trend on these and is actually the lowest price I have seen for one of these to date.  Perhaps that's due to its location.
If full on carbon, exclusivity and italian-ness are what you crave, you probably cant do much better than a Aprilia Nera; the 200 unit production number already qualifies the Aprila RSV 1000 Nera as a Rare Sportbike. But I have to be honest say I don't think the Nera will be a bike that undergoes dramatic price appreciation anytime soon. It is undeniably beautiful and rare but its not based on a true race bike, didnt herald the launch of any major technology and the performance wasn't significantly different from the standard RSV1000 it was based on.  The Nera is instead a bit of designer dreaming that I doubt we will likely see again soon…then again so were the Delahaye and Henderson motorcycles so you never know..
-Marty/Dallaslavowner