2004 MV Agusta SPR F4
Location: Sugarland, TX
Mileage: 7200
Price: $10,000.00
So you're not into flashy Italian hardware or you like to do fly by's like a Stealth Bomber? This MV Agusta SPR should fill your needs nicely..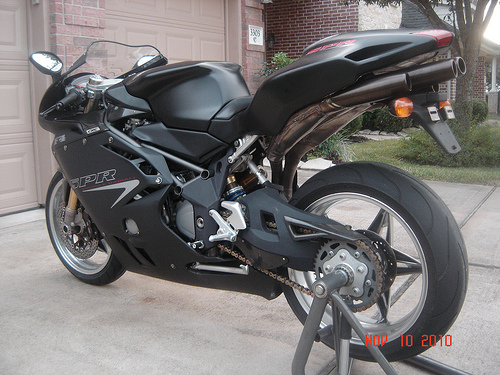 SPR's are loaded with Caron Fiber and this one has a few tasty upgrades as well. The 749cc MV F4 SPR pumps out 146hp and only weighs 414# dry. I'm going to guess that this baby not only looks the part, but is all business when called upon.
Make no mistake- MV's are purpose built machines are meant to be ridden and with 7200 miles on the clock this one is broken in. I personally love the matte black finish coupled with the 5 star aluminum alloy rims and I can only imagine the cored exhaust note is a little obnoxious- But, would we want it any other way?
From the seller:
-Number 235/300
-DynoJet PCIII USB Power Commander.
-Cored exhaust.
-Muzzy aluminum radiator fans.
-Ferracci bar risers.
-AFAM 43 tooth rear sprocket.
-HID headlight.
-Recently serviced with oil changed, fuel tank flush with acid wash with new fuel pump and fuel lines.
-Metal fuel connectors replaced.
The SPR's are a limited run of 300 and when new had a MSRP that bumped $23,000.00. This one looks to be in great shape and ready to carve up a canyon road near you.
We've featured several MV SPR's on RSBFS.com before and this one seems to be right in line on pricing at $10k.
I've talked to the seller several times and he's always willing to answer any and all questions in a timely manner. Click here to get in touch with the seller.
Good luck with the sale-
Cheers-
dd