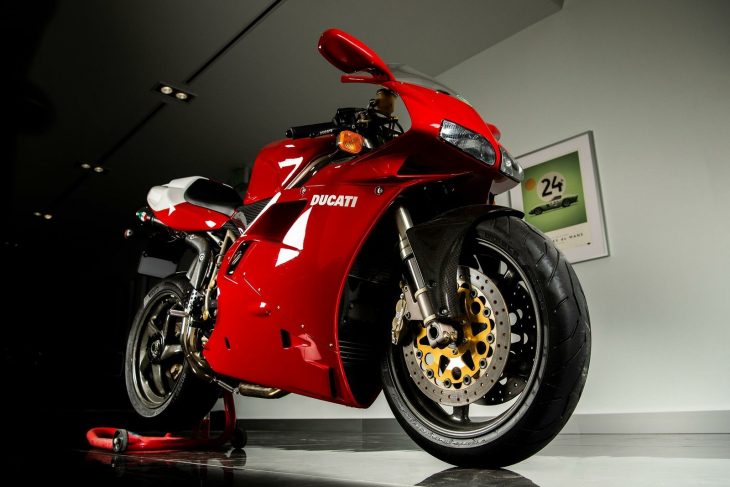 We've been a little Ducati-heavy this week, but there's no way I was going to skip this one: an Eraldo Ferracci-prepped and tuned Ducati 916 SPS. Sure, this might look like yet another boring 916, but the SPS is one of Ducati's fire-breathing homologation specials, and this example has been endowed with a highly-tuned stroker motor from one of the era's premier tuners.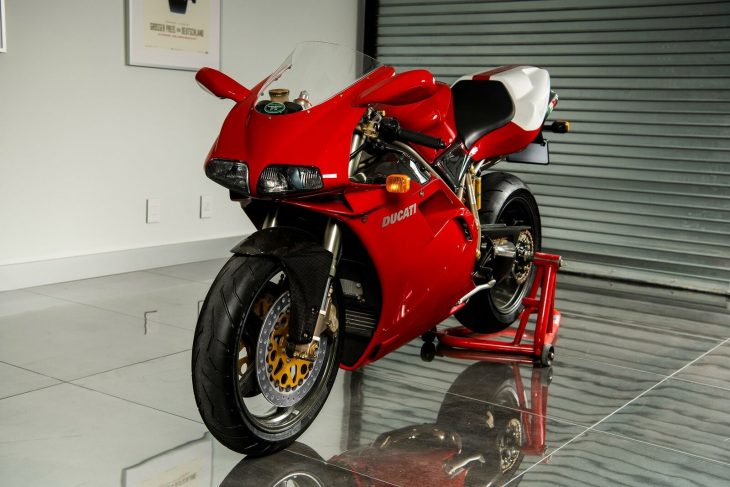 If you're not familiar with Ferracci, he was an east coast Ducati tuner whose bikes won several World Superbike and AMA titles. He eventually opened a well known Ducati/MV Agusta dealership, and the company still sells high-performance Ducati parts on their site, although the brick-and-mortar dealership itself is closed.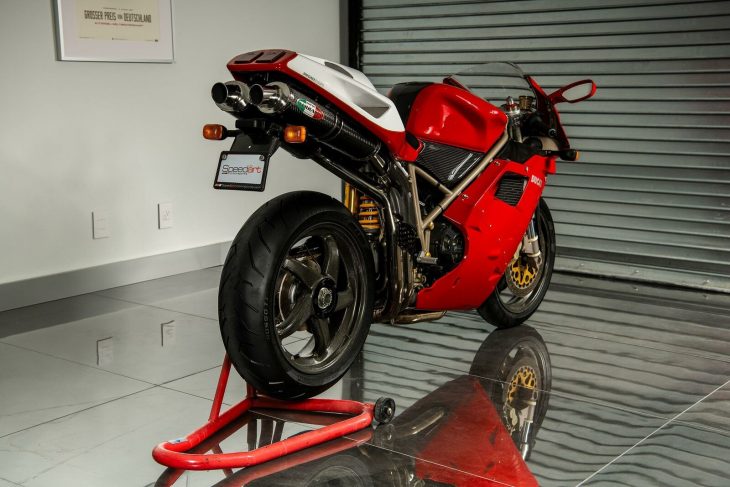 The SPS or "Sport Production Special" was basically a way for Ducati to begin racing their stronger, larger-displacement 996cc v-twin before the 996 was introduced. As with all the bikes in the 916/996/998 series, it might look like a regular 916, but featured extensive, evolutionary upgrades to the Tamburini superbike that was introduced way back in 1994. It used the close-ratio box from the smaller 748, along with updated suspension that included an Öhlins shock and a lighter frame.
But of course, the heart of the matter was the updated 996cc engine that included titanium connecting rods for 1998. Ducati found that the functional limit for their original Desmoquattro was 955cc: any bigger, and the cases tended to crack under racing stress. The new engine was a comprehensive redesign that saw the inclusion of new heads, barrels, pistons, injectors, and a lighter crank.
Combined with the usual tuning tricks that didn't make it over to the regular 996, the changes all added up to an engine that was more than the sum of its parts, with a savage and aggressive character. It was very expensive, but made testers at the time struggle to find enough superlatives to adequately describe the lust it inspired. The seller borrows a good chunk of his description from a very nice history of the SP/SPS Ducatis over at OddBike, and it's worth a read if you've never checked that site out.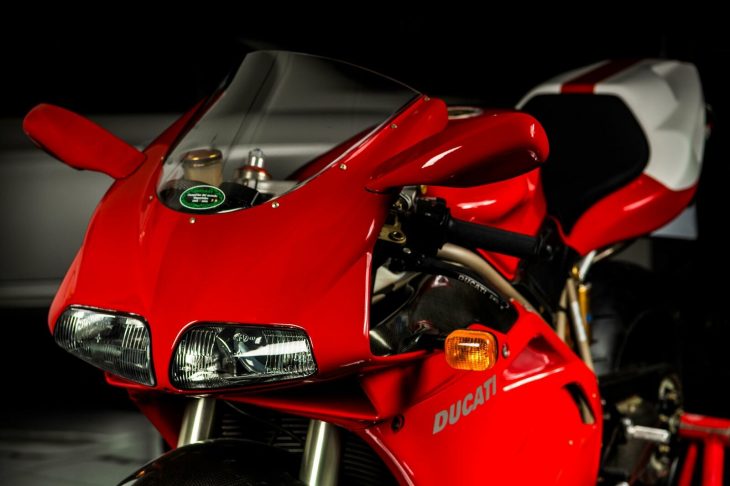 From the original eBay listing: 1998 Ducati 916 SPS for Sale
About This Motorcycle:

"The primary reason of building the 916 SPS was to homologate the new 996cc engine for Superbike competition but fortunately for bike fans, the installation of the 996 engine into the 916 setup produced a bike that was described as legendary, astonishingly good looking and a true Superbike. Only 404 examples were built with less than 50 of those imported into the States.

The SPS was released to homologate the new 996cc engine for Superbike competition. The previous 916 crankcases had been maxed out at 955cc, and had problems with cracking and stress fractures under racing conditions. So in 1997 Ducati tried again by taking their new 996 engine and putting it into the 916 frame. The result was the 916 Sport Production Special (SPS).

New reinforced crankcases were needed, and to accommodate a displacement closer to the 1000cc limit for twins in Superbike the case mouths needed wider openings and wider stud spacing to match. Thus the barrels and heads were new, made wider to match the new cylinder stud spacing. Bore was now up to 98mm, with the same 66mm stroke as before. The heads had larger combustion chambers and bigger valves. Compression ratio was now 11.5:1 inside a lighter crankshaft with tungsten plug balancing. The high pressure double injector fuel setup with P8 ECU was carried over from the SP.

Press reviews of the 996 powered SPS declared it to be something quite special, with some testers being able to crack 170 miles per hour with the Termignoni exhaust and ECU kit fitted, a pretty stunning speed for a twin with 'only' 120-odd horsepower. The new engine gave a much wider power delivery band but this together with neck-snapping torque was enough to push the limits of the chassis. The 916 models in general did not respond well to ham-fisted riders, so it is not surprising that the SPS and its significantly wider power band resulted in a bike that could be dangerous for even skilled riders.

Despite its somewhat dangerous reputation the SPS was still sexy as hell with a sound like the apocalypse, especially if the Termi pipes were installed. Price tag new was almost $25,000 USD, a significant amount above the $16,500 Biposto and nearly double the price of a 748 model. Most reviewers declared that despite its dangerous nature it was worth the extra investment and there was a lot of demand for the SPS but since these bikes were built for homolgation, just 404 examples were built and only a small number of those brought into the USA."

Among these rare breed of motorcycles there is something even more special and quite possibly one of the most spectacular, modern era homologated Ducatis. Now that would be tough to believe except this is a FBF bike, but for those who know about Eraldo Ferracci and his relationship with Ducati will easily justify the aforementioned statement.

Speedart Motorsports acquired this motorbike few years back and it has been a highlight of our Ducati collection ever since.

The first owner of this stunning example took delivery in November 1998 from Mr. Ferracci and he commissioned FBF on November, 11 to transform the SPS in to one of their 1,026 cc stroker fire-breathing monsters at an exorbitant cost.

The following is a partial list of the work performed by Eraldo Ferracci with an FBF serial number stamped on the case, further attesting to the pedigree of this extravagant Production Special.

Renthal quick change rear sprockets carrier
Ferracci billet lightweight flywheel
High pressure fuel regulator
Ported and polished heads
Stage-3 Eprom chip
Corse rearsets
37mm Intake valves
31mm Exhaust valves
54mm Ferracci Forza full stainless system
Ohlins shock revalved
Hyperpro spring
Ferracci billet clip-on handlebars
98mm 12:1 Compression piston Kit
FBF power crank 68mm stroke
Ducati Performance carbon fiber under-seat oil vent tank
MS Production carbon air intake runners
Stage-3 cams
Pankl Racing titanium rods
Carbon fiber MS Production swingarm cover

During our custodianship at Speedart Motorsports, further enhancements were performed including Dymag carbon fiber wheels, ultra-rare Ducati Corse RS slipper clutch with DP carbon cover, NCR sprocket carriers, Poggipolini titanium fasteners, Samco hoses, Spiegler cables with fittings and much more.

The sale of this legendary Ducati is accompanied by extensive documentation, owner's manuals, all Ferracci build records including Dyno sheets, fastidious maintenance receipts, stands, cover, etc.

Speedart Motorsports invites all serious inquiries of what is believed to be the most extraordinary 916 Sport Production Special in captivity, freshly serviced, in spectacular form both cosmetically and mechanically.
The high-compression pistons match the original 98mm bore, but the new crank's 68mm stroke is up 2mm from the original for a total of 1026cc, compared to the original 996. That might bother some collectors, but it looks like only the very best parts have been used to upgrade and tune this very special SPS. Other than the gold plugs that don't match the frame paint, this is a very nice, very trick bike, and one of just 1058 built in 1998. A nice SPS will generally sell for much less than the $34,500 asking price seen here, but they usually haven't had as much attention lavished on them.
-tad