Ducati made a some purely sporting mods to the 904cc Supersport which eliminated the pillion and a added a few lighter components.  A previous owner undid some of the weight savings but this is still a quite original and very good example.
With all the goodness built in from the 900SS, the Superlight's single seat and higher exhaust were the icing on the cake.  Air-cooled 78 hp accompanied improved braking and adjustable Showa suspension bits, and Marvic wheels with aluminum rims married to magnesium hubs reduced mass in the right places.  Carbon mudguards and clutch cover imparted extra lightness.  Sure can't argue with the race number prep on the tailcone and edition number plaque on the triple tree.  Chrome yellow paint controverted Ducati rosso purists.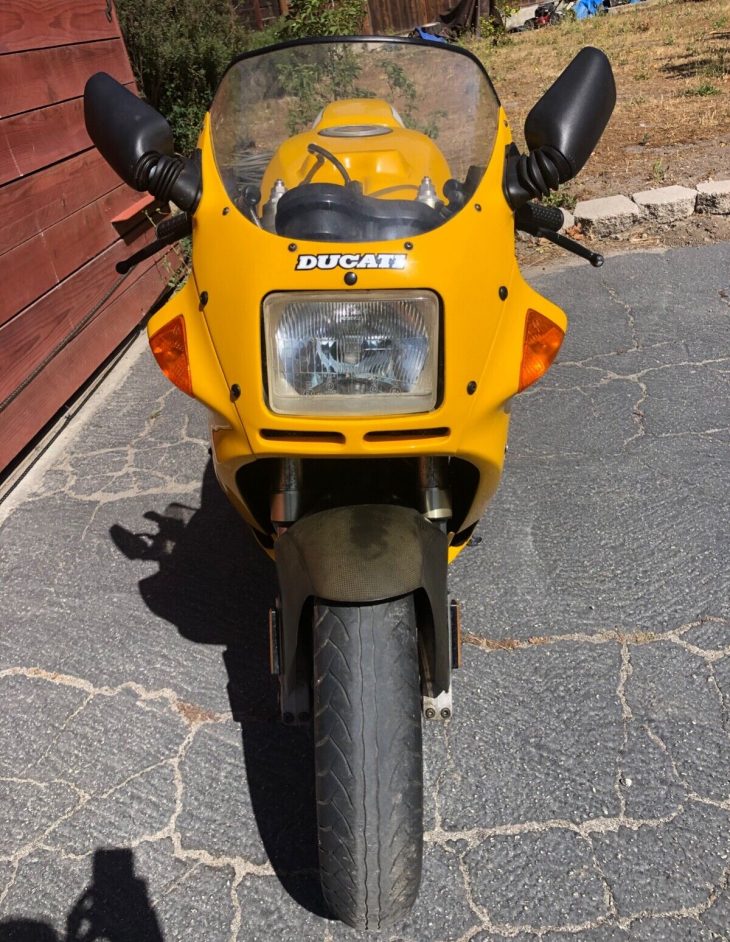 With a shade under 30 years and just over 26K miles, this Superlight has a few imperfections, but looks all together and original in places where many aren't.  Presuming the previous owner wanted wider rear rubber, the next owner will want to keep an eye open for a correct rear wheel to go with new tires.  Notes in the eBay auction wander a bit but hit all the important points –
I've had it for a few years and barely rode it, I mainly just stared at it. LOL   This is a beautiful bike and an absolute head turner when it's out. They are rarely seen out and about.

Here's the service history since I've had it, all work done by one of the great Ducati 900SS experts in the country, Bobby Weindorf. He has extensive experience from working at Pro Italia and as a mechanic and curator for the Moto Talbot collection and more. 

June 2021

-Check valve clearances- all good
-Install new belts, check tensioners and rollers 
-Flush and bleed brakes
-Flush and bleed clutch
-Replace spark plugs
-Clean and adjust carbs, clean jets, clean out idle circuit

June 2022

-Disassemble carbs, cleaned all jets
-flush front brake system, installed braided steel lines

Fairings are in really great shape and yes they still have the black spongy lining on the inside. I believe this lining is original. This stuff is so brittle it flakes off to the touch, I'm not kidding, it's a mess when you touch it, but I'm not removing it because I understand some collectors want that intact for originality.

Some of the bolt holes on the seat fairing have "spiderweb" cracks from a prior owner over-tightening. See pics. Common but unfortunate. I've seen body/paint shops lightly touch these up to hide them. I'll leave that up to you.

Tank looks gorgeous, no dents dings or scratches, one very small touch up paint spot.  Probably a few minor nicks here and there, as expected for a 30 year old bike.  The engine/metal parts could use a thorough cleaning with some q-tips and a good cleaner to get into the crevices.

The front wheel is the original Marvic. The rear wheel is not. Previous owner swapped for a wheel off a 1997 916. You may be able to find an original replacement on eBay or overseas, I've seen them come up for sale.


Bike fires right up, I mean really fires up! First touch of start button! I'm happy to send you a video.
Probably the Make Offer will get some action on this Superlight, with its miles, recent maintenance and appearance asking for a bit more attention.  Superlight worldwide production looks to have been just over 1,300 in 1992, then a little over half that in 1993-95.  Since the profit engineers stepped in after the first year, earlier bikes are choice.  This example checks a lot of boxes and hopefully the next owner will buff it up to a high lustre.
-donn