Ducati's 1198 got the last 100cc that the 1098 promised, and the S's 170 hp made traction control standard ( and required ) equipment. This Limited Edition #50 comes to you in Corse colors and excellent condition.
Ducati returned to the 916/996 side-by-side headlights with the 1098, in a slightly swept-back and cat-eyed way.  The 1198cc testastretta EVO adjusted valve angles which improved running and allowed valve adjustments to be extended to 12K miles.  Some interesting race-derived parts are on board, like the magnesium valve covers, eliptical throttle bodies, and short-skirt pistons.  The 1198 kept the dry clutch while the more streetable 848 went wet.  Brembo brakes are XL at 330mm, and Öhlins suspension is multi-adjustable.  Electronics are track-oriented with an on-board data analysis package and eight-level traction control.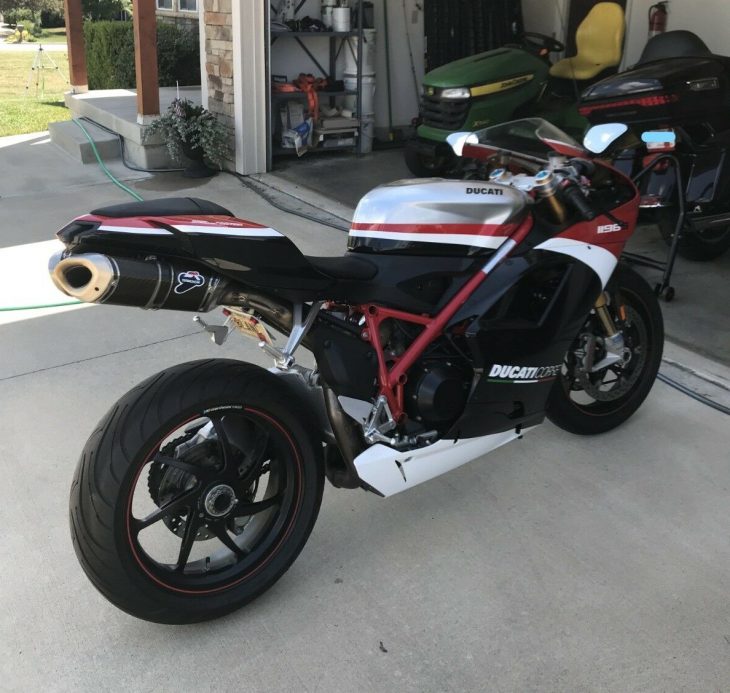 With just over 4,000 miles, there isn't a great deal of history for this KC native, though it's not a one-owner machine.  The pictures aren't great, but beside the tail-neatening, no farkles or damage are apparent.  From the eBay auction:
In mint condition. Adult ridden.  Always garage stored. New battery. If you have never owned a Ducati superbike, let me assure you they are the most powerful and "torquie" machine you will ever ride.  I have owned many metric superbikes over the years and none come close to the amount of fun and power this bike possesses.  Italy has a reputation for incredible cars and motorcycles and this one will not disappoint.  No test rides, but Ill be happy to run her and show you everything works great.  This is the special edition with all the bells and whistles offered. It comes with factory alarm system, tons of carbon fiber, aluminum tank, racing adjustable suspension, Ducati 7 step traction control, original manuals, the list  goes on and on.
The monocoque Panigale was right around the corner, so for a trellis-frame superbike, the 1198S can be considered a high peak.  If an inspection bears it out, this one is basically just broken in.  And while it might be a hoot on just the right road, a track day is really a better place to learn the intricacies of a Ducati Corse.
-donn