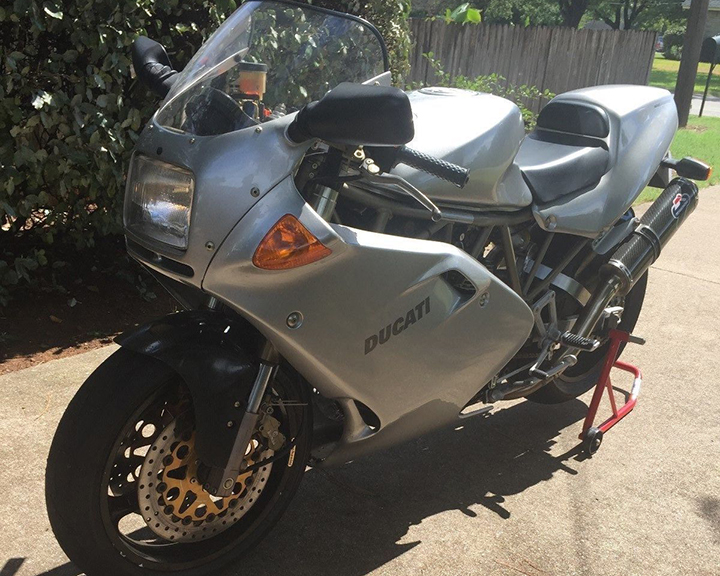 I appreciate simplicity. Simple HVAC knobs on a car's center stack. Black coffee. Bikes like the Ducati 900SS FE. Modern technology is great, but if you've seen the new Ducati Panigale V4 with the bodywork removed, you realize that the cost is massive complexity and the knowledge that, if something goes wrong once the bike is out of warranty, things could get expensive really fast… And while TCS and cornering ABS are really great ways to keep even experienced motorcyclists safe, some of these bikes are so powerful that you need electronics just to rein in the wild performance. But bikes like the 900SS manage to be both entertaining and very simple, suggesting that maybe we've gotten lost somewhere along the way.
"FE" stands for "Final Edition" and was obviously a way to sell a few blinged-up examples of the stone-axe simple Supersport before an updated version arrived in 1999 that used bronze in place of chipped flint. The bike is almost painfully basic: it's powered by Ducati's 904cc air-cooled two-valve v-twin, fed by a pair of Mikuni CV carbs and backed by a six-speed gearbox, now with extra Dry Clutch Rattle™. There are no variable power modes. There is no traction control, no ABS. No electronically-actuated exhaust flappers or phased variable cam lobes, heated grips, GI Joe Kung-Fu Grips, or cellphone charging ports.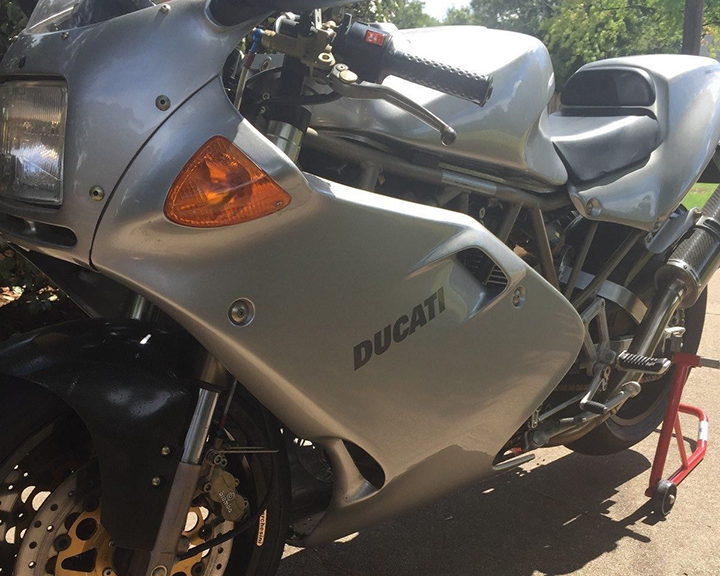 What you do get is Ducati's charismatic 900SS with a solo tail, upswept exhaust pipes that increase cornering clearance, and a numbered plaque on the top triple clamp. Just to show that you're one of 300 very special people. Obviously, the 84 claimed horses aren't going to impress anyone these days, and honestly they didn't even when the 900SS was brand new. But the bike is relatively light, the geometry race-bred, the brakes relatively strong, and the engine flexible and fun. A bike like this is never going to win in a spec-sheet bang-for-your-buck competition, and anyone who dismisses this bike as being "overhyped and slow" is probably missing the point.
From the original eBay listing: 1998 Ducati 900SS FE for Sale
Ducati 900 SS FE, 1998. #193/300. 12,804 miles, bike is in excel cond. Serviced at Ducati Dallas, valves adjusted, timing belts, Motul oil and filter, fuel filter, K&N air filter, etc.

Bike has 3 spoke Marchesini magnesium wheels, braided stainless hydraulic lines, Termignoni carbon high mount mufflers, carbon tank protector.

These bikes are getting hard to find in this cond, this is a nice running and riding Supersport.

Crating service available.
This one appears basically stock, with the addition of magnesium wheels, stainless brake lines, and Termi pipes. All of which are things I'd want on my very own 900SS, and upgrades that are generally acceptable among collectors. Note that the pictures appear to show the stock FE wheels, which I don't believe were magnesium, as the owner claims. Miles aren't barn-find low, but very reasonable for a machine this old, and should give a new owner room to add some without decreasing the bike's value significantly. Because the point of this bike is to ride it.
-tad