In the early 80's a few manufacturers experimented installing a Turbo on a motorbike. While on cars the added complexity proved to be a very efficient way to boost power, on the 2 wheelers this wasn't as successful. In 1983 Suzuki launched the XN 85: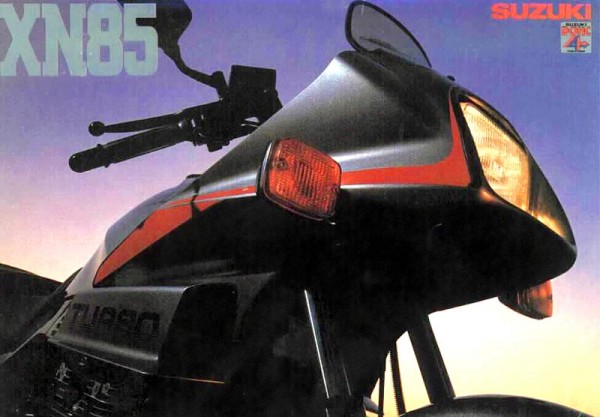 but after 1153 models were produced it replaced this with a more conventional high revving 4 cylinder inline motor with increased capacity from 670cc to 750cc (Suzuki GS750ES). This short production run, only adds to the exclusivity of such a motorbike. I mean look at those dials:
With the Turbo kicking in at (just) 5000 rpm this made the ride quite smooth. The following example is part of a private collection (a Katana is also available) and is sold on eBay in Germany (check out the link at the bottom of the page). The bike seems in excellent condition, with some minor damage on the left side fairing as you can appreciated on the bottom picture below.
The seller describes this old-timer (translated by Google):
Often here on EBAY "rarities" offered …. I offer here from my collection (unfortunately) a true rarity – to Suzuki XN 85 Turbo of 1983. Of this motorcycle world only slightly more than 1100 units were built!

When you buy this bike, you can be sure that it only increase in value, unless you take it to the wall.

The Suzuki is running great and is technically sound. A few minor blemishes on the tank (really small) and on the left front panel (see photo) are available, but do the really great impression no Abbbruch.

The bike comes from a collection in the Netherlands and has Dutch documents with export declaration.

With a TÜV "full acceptance" gem. § 21 StVZO it is immediately ready for registration and ready to drive! At a retail price from 6300, – €, I hand over the bike with a new full TÜV approval!

Here's a general info page: http://www.gs-classic.de/modelle/650/gs650tb.htm

and a video: http://www.youtube.com/watch?v=lk4CpNedTYM&feature=g-upl

Gladly I can email more photos. I also have a great 1100 Suzuki Katana leave (see mobile.de) questions by email or on 0177-7524342.

To protect myself, the auction is subject to the exclusion of any guarantee, warranty and return policy. Since this is a private sale, I can not guarantee under current EU law apply. The Bidder agrees and acknowledges this with his bid. Under current EU law must be sensitive under any online auction, otherwise, the seller is liable as a private person for a whole year for the goods sold.

On tank no dents or bumps only very minor paint damage, sure ausbesserbar with paint pen. Paint is still very nice! Interior is rust free.
He also include of video of the actual motorbike on sale where you can appreciate the special sound including the Turbo wine:
http://www.youtube.com/watch?feature=player_detailpage&v=lk4CpNedTYM
The starting price is just below 6000 EUR (not cheap, but I guess there are not many around in good conditions) and with 6300 EUR (about 8500 $) a full inspection certificate form the German authorities will be included.
Claudio