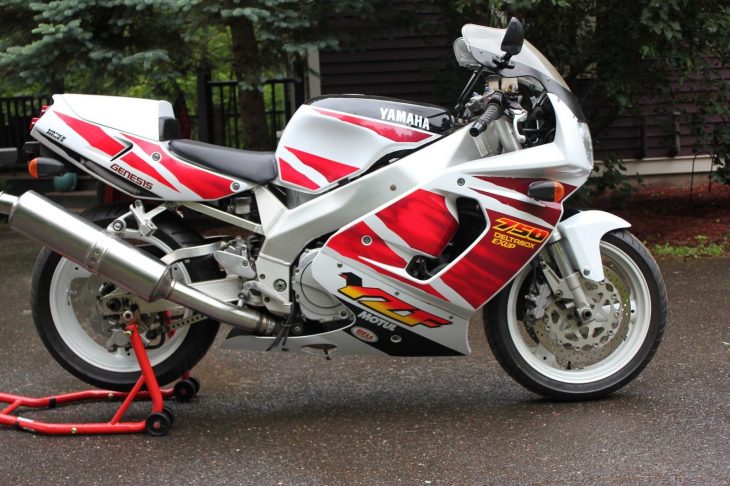 Back in the mid-1990's the main way most sporbike fans learned about the latest and greatest developments was through a subscription to a motorcycling magazine.   For me, the magazine was Cycle and I can clearly remember reading discussions about the different development philosophies of each major Japanese manufacturer.   These philosophies are reprinted below (or at least as best I can remember them) and I think most people who are fans of sportbikes from this period will agree these are still accurate for the Japanese mid -1990's machines.
The Honda Philosophy

–  Strong in engineering and build quality but would sometimes over-engineer or develop something without a proven market.  The model line was refreshed in a phased approach over time instead of all at once.  Styling could be bland/conservative.

The Kawasaki Philosophy

–  Great engines but suspect braking.  Not really an innovator but decent build quality.  Not as extensive a model line as Honda or Suzuki.  As for styling…well I hope you like green.

The Suzuki Philosophy

–   Seemed to have a "try-everything-and-see-what-works" mentality resulting in a confusing model lineup.  The lower part of the lineup would sometimes have bikes with lower component quality in order to meet a price point.  Styling varied widely based on the model.

The Yamaha Philosophy

–  Similar to Honda with great engineers but build quality not quite as strong.   Timeframe for innovation was longer than Honda and seemed more along the lines of trying to improve on a proven/existing concept rather than being a true innovator.  Model lineups were mid-sized but fortunately major components were common across the model line.  Styling choices were hit-or-miss and could sometimes be eye bending (cough-Vance-and-Hines-edition-cough-Marty).
The philosophy review above is relevant to today's post, a 1996 Yamaha YZF-750R. While the YZF-750R was the base version of Yamaha's YZF 750 lineup and wasn't as exotic as it's lineup siblings, it still had the same basic design. Yamaha tuned the R to be good for both street riding and canyon carving and the R actually won the 1996 Sport Rider magazine bike of the year.. While it didn't sell in the same numbers as the Suzuki or Kawasaki 750cc machines, he R version still has a very active fan base as evidenced by the EXUP Worldwide forum.
Here is what the seller has to say about this particular 1996 Yamaha YZF-750R.
12,202 miles

all original plastics & graphics

spotless stainless exhaust with functioning EXUP valve

original windshield, blinkers,rear plastic fender

No aluminum ever polished or chromed

Some new parts  include battery, rear rotor, all brake pads, chain & sprockets, oil & filter.

few tiny paint chips on bottom edge of tank & one crack in top of right mid fairing 
In case you are wondering what the YZF would be like to live with today, there's some good buying advice available on VisorDown here.  I also found a previous post on the RSBFS archives which a nice video of a test of a few older bikes with the Yamaha being one of them (embedded below)
So now we come to the question of the value of this mid-90's middleweight.  Well a close inspection of the pics show some wear and tear and the spelling errors in the ebay listing are a bit of a concern.  Also given its level of components and condition, its not really a bike that will be likely to appreciate over time.  
That being said, the current bid price is below $1600 which seems stupid low (although reserve has not been met). And even though the 1996 Yamaha YZF-750R is the lowest spec model of the 1996 Yamaha 750cc sportbike line, the Yamaha philosophy means that this is probably an opportunity to experience 75-80% of the performance of the legendary OW01 at a fraction of the cost. Perhaps this one is best suited for our more senior RSBFS readers to experience or relive a bit of the 1990's 750cc sportbike experience, someone who wants to finally experience a EXUP machine without a huge outlay of monies. And I would be willing to bet you won't see another one anytime soon at your next bike night.
Marty/Dallaslavowner