In the last couple of years there as been an undeniable increase in demand for 80s and 90s sport bikes.  Collectors are keen to achieve childhood dreams and this era motorcycle has seen a sharp increase in pricing.  Another trend has been that the highest demand is for bikes with the lowest miles.  There have been a few notable sales of brand new, zero mile 30 and 40 year old motorcycles recently.  This 1986 Suzuki RG500 Gamma is titled in CA and shows just 800 miles.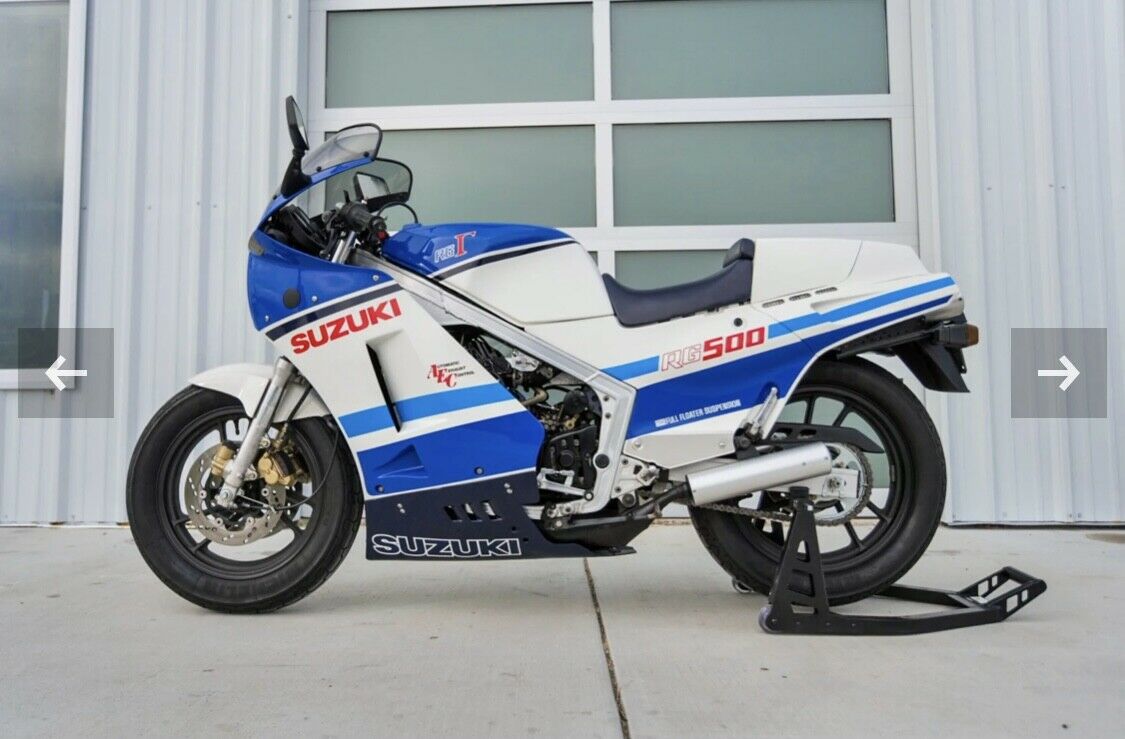 The tree production years saw 9284 of these 500cc, two strok, twin cranked, square four cylinder machines made.  Many were raced, or just well used.  It is uncommon to find a clean example, and even less rare to find one already in the USA.  This bike also has a California title, that will certainly widen the appeal.
Factory rated at just under 100hp and rev'ing to almost 12k RPM, this was an serious performance machine in the day.  Sub 11 second quarter mile times are still fast in the automotive world today.  There were many outlets to modify these bikes, and some options could net almost 120hp.  Weight for the RG was reported to be in the 400 pound range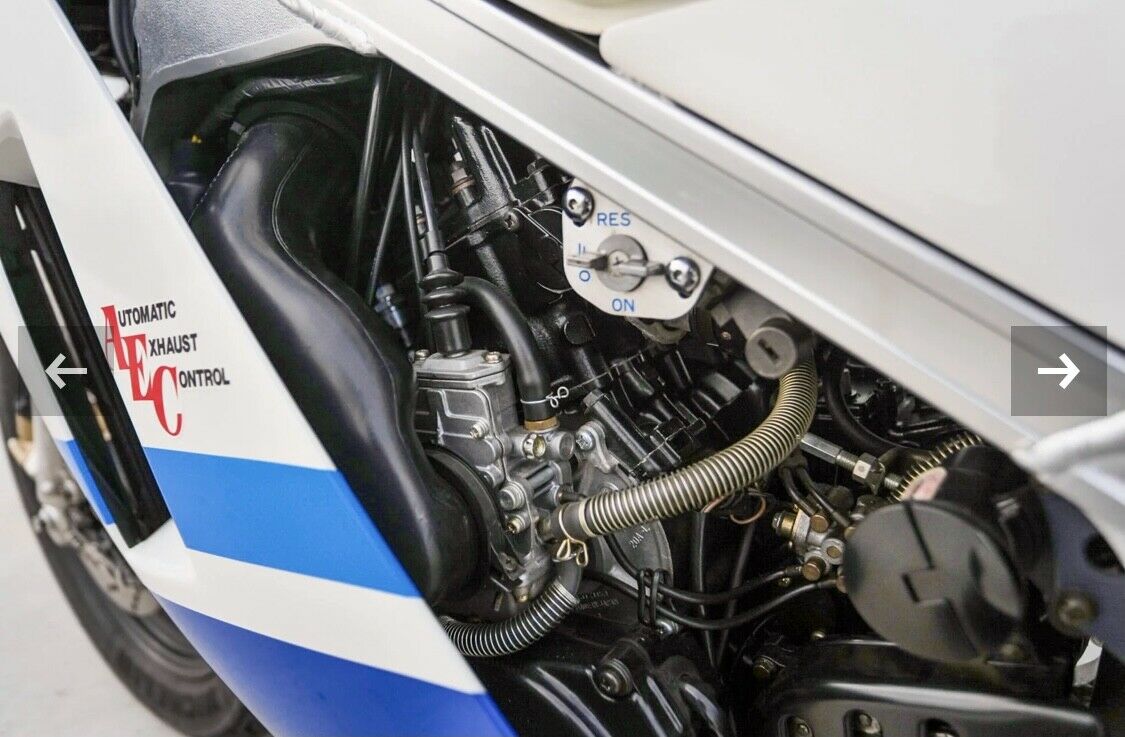 A near perfect fully tuned Suzuki RG500 Gamma 1986 model. Only 800 original miles and still on the original tires. Sold new in California this Canadian Spec bike spent its entire life with one owner until his passing. In a twist of fate the original importer who sold it got a phone call and bought it back. He had it fully serviced and then help it 5 years. The bike has a California title on non-op registration. Sold with a bill or sale and the pink if you so desire to register it. It came with the manuals tool kit and a full assortment or spares like a head gasket set and the stock Canadian turn signals and the rear seat. The bike currently has the euro turn signals on it. One small stain on the lower right corner of fuel tank from something leaning on it looks to be a rust stain. It's reported the owner road the bike one summer then put it into his collection and never road it again. Great article about this motorcycle in pictures. Or Google Carrillo Suzuki RG500 Gamma.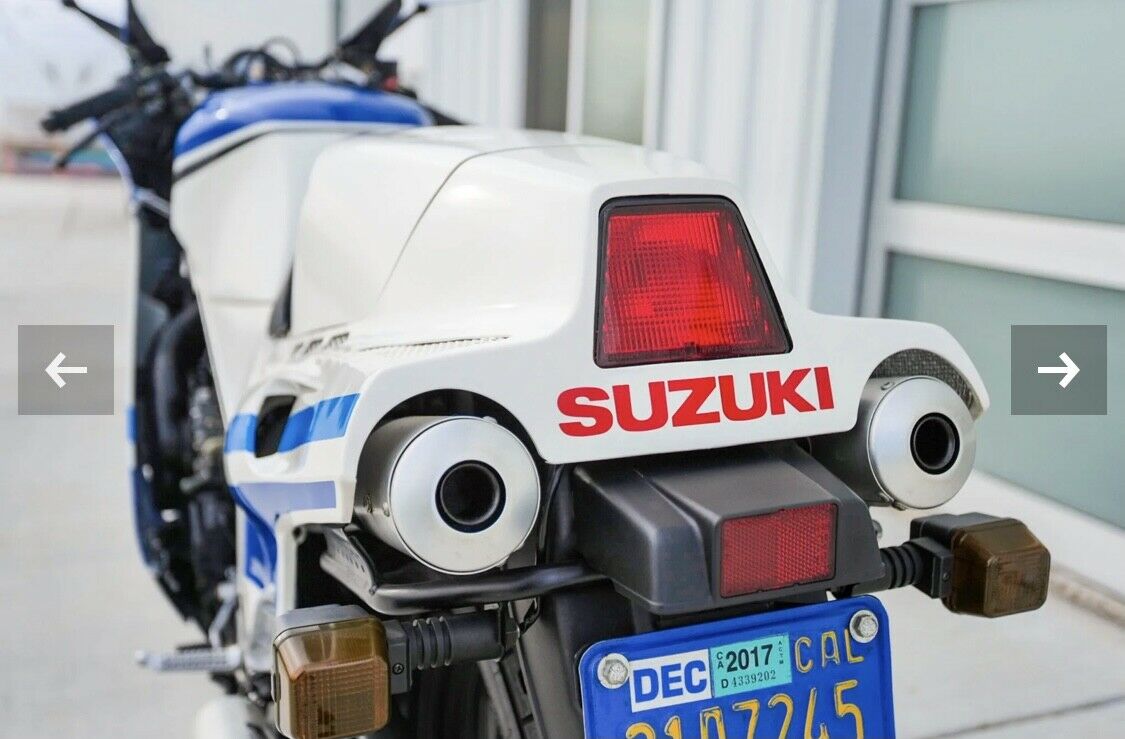 Commanding a $60,000 Buy It Now price, this bike is priced aggressively.  But with so few miles and preserved in stunning original condition there are no comparable bike to benchmark pricing.  This truly is a case that the seller can ask any price and hope to find a collector that wants to add one of the nicest RG500s to their garage.
Odd that the seller used pictures with arrow watermarks for the listing, and did not provide detailed images of the noted tank stain.   What can clearly be seen is that this is a very clean example and includes many extra parts and details that make this package very appealing.