Welcome to the long weekend – RSBFS style! Since long weekends are all about projects, here are a pair of 400cc collectables in need of a little loving. While not the pristine fare that normally graces our pages, these two micro rockets deserve a good home if only to remind us that bigger is not always better!
For Sale: 1996 Honda NC30 VFR400R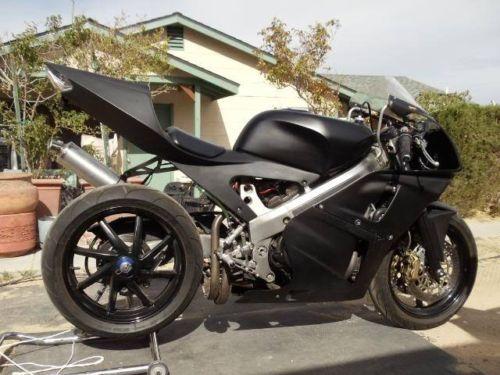 Here is what we usually find in the 400cc class – a rare and undeniably cool bike, but one that has passed through a few hands and received its unfair share of modifications. While most of these mods will improve handling or performance, the hit on collectability cannot be denied. Still, the NC30 is one of the most popular bikes RSBFS readers hunt for, so flaws and all here is another one to drool over.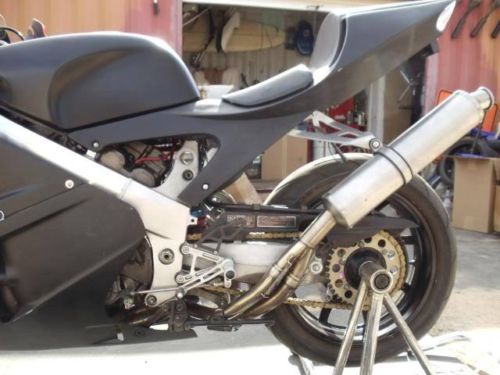 From the seller:
HERE'S A NICE NC30 HONDA – SELLING OFF ONE OF MY FATHERS BIKES..

bike is dusty /dirty from storage, could use a good clening, but is in nice condition, ready to rip..

NOW ITS PRICED AS A LOSS..
I have a Black CA. plated 93 HONDA NC30 VFR400R, approx 8,500 miles, Extremely rare trick bike which is a identical smaller copy of the famous RC30. This bike will out handle any new production bike and is famous for its reliability and bullet proof engine, this bike is trick, it looks like a 2005 or newer bike!

Note… no front turn signals included, rear turn signals and intregrated into the tail light assembly mirrors are not mounted, but a new pair of mirrors are included, we were running a CRG billet bar end mirror, which is no longer on the bike. includes stock gas cap- gas cap and ignition keys are the same.. Tyga endurace upper and lower with single headlight on the left, Tyga RCV211 tail and rear sub frame new 520 gold chain and renthal sprockets, HRC IGNITION UNIT, Ethoes race exhaust with freshly repacked/rebuilt can( fiber glass high temp mat, stainless steel screen around the core, and stainless steel wool, which cost over $100.00 in materials, a better than factory repack which should last forever, factory jet kit, SP2 calipers and billet adapters, TYGA TRICK REAR SETS, RVF400 17″ REAR WHEEL, steel braided front lines, new sintered ft pads, new pilot powers TIRES 120/160 CT2 APPROX 400 MILES, aftermarket Sachs shock, revalved ft forks, billet blue rear wheel collar, recent tune up, NEW SPARK plugs, oil change/FILTER, valve adjustment, All fluids replaced 7-1-11, Fresh clutch plates, steels and frictions…

*******The only bad- windshield is cracked.***
CA plated, current tags
oem body is been sold off years ago,
Extras included- the oem 2nd headlight and OEM rear subframe, stock black front calipers, new rear rotor(not installed), also two rear stands one a trick chrome LP stand, the other a stout home made unit, Very nice stock type fairing kits are available on ebay for $500.00 shipped with custom paint jobs..

tires 160/60/17, ft takes a 120/70/17 tire,

stock derestricted this bike puts out 60hp, with the pipe and jet kit I am guessing around 63-65 hp, Its a strong runner and surprisingly quick for a 400cc bike! you wont find another bike on the road like this! this is the only one like it! a real head turner! incredible sounding bike, 16 valve V4 400cc, it sounds nothing like the inline four, more like a inline 4 and 2 stroke combined sound.

*******sold as is******** in nice condition
this bike is ready to go , professionally tuned, no carb issues. battery tender pigtail installed, tender not included, engine fires right up.. engine on these should be choked until operating temp is reached, then its ready to go. no flat spots in the power band, fully adjustable suspension, this bike is bad ass… hate to see it leave..
This bike is available now, and has a BIN price of $4,500. This is not the first time we have seen this bike on eBay, but the good news is that the price is coming down with subsequent auctions. It is always hard to pull modification dollars out of a collectable bike; stock will always bring the highest price for the most part. This bike is priced a little high for the condition, but if you are intersted it wouldn't hurt to contact the seller. Click the link to jump over and see!
For Sale: 1988 FZR 400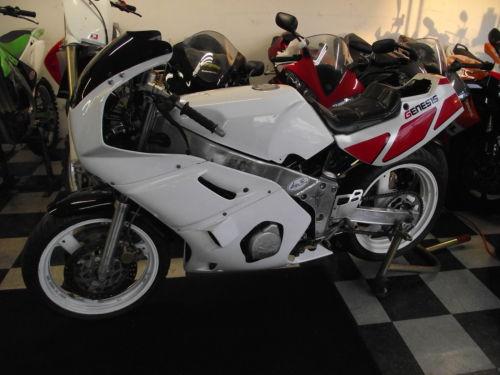 This is yet another variation on the 400cc theme. Instead of a hot-rodded streetbike, this particular example is a track day hero. If you are looking for that perfect balance between weight and performance for the track, this might be the right way to go for you. The FZR400 is well known and loved as a tracker, and this particular one might be priced right for the task!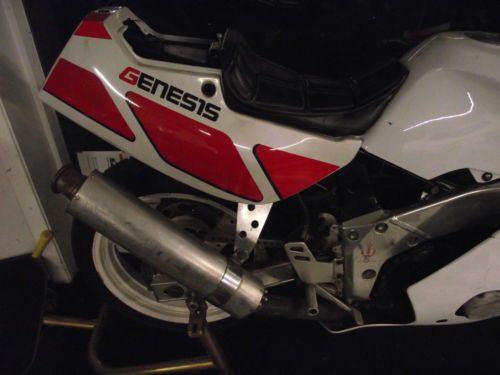 From the seller:
Good running hard to find Race bike. Fully serviced and carbs just rebuilt. Aftermarket parts include: Front Fairing, sides and Tank cover are Brand new old stock Fiberglass. Motor Side covers are aftermarket extra thick for racing (have rash), Steering Damper, Fox aftermarket rear shock with air adjust, Aftermarket Bars, Forks have been worked over internally with adjustable tops, Modified High-exit pipe. Steel front brake lines. Carbs are fully jetted. Bike is wired throughout for track use. Unfortunately the rear seat is AWOL. Tires are in great shape. Operational Tach and aftermarket coolant display.. The harness is complete and uncut. Bike could be put back on the road if desired.
This particular bike is being offered for a BIN of $3,000 OBO. This is very realistic money for a great track bike, and also a fair price for something worth restoring. You don't need to be reminded that it will cost many times the purchase price of the bike to bring it back to perfect, stock condition, but it is at least priced well for what it is. For more info and details on this little Fizzer, click the link and jump over to the auction.
Good luck to buyers and sellers and enjoy the weekend!
MI