Coming off 1988's major re-vamp, the GSX-R750 for 1989 had the new frame, upgraded engine with slingshot carbs, revised fairing from the previous year along with a couple of tweaks to improve cornering clearance.  Would that it were an R or RK, but the base K model was a great ride, and could be very quick if suspension set-up was done individually.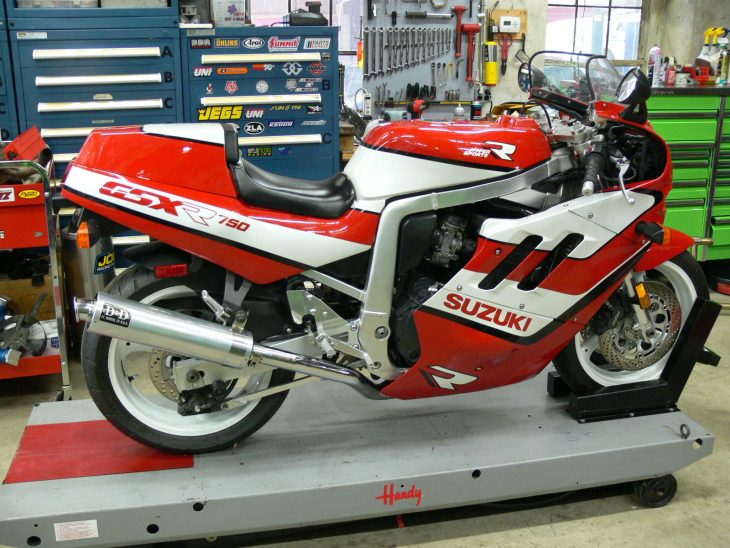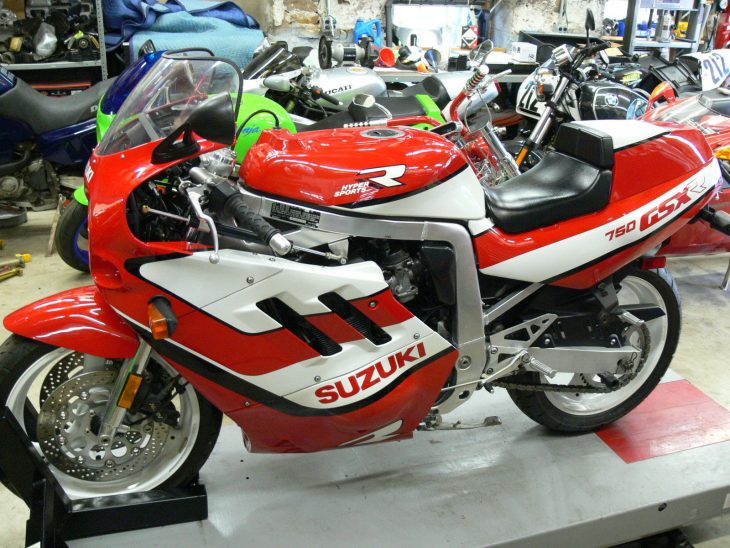 Sporting the SACS ( Suzuki Advanced Cooling System ), the 748 cc motor uses a two-stage oil pump with oil routed past the combustion chambers and piston squirters to help maintain its composure as 13,000 rpm and 112 hp quickly approach.  36mm Mikuni flat-slide carburetors are helped by a shorter intake path, fed by ports beside the headlights.  The perimeter frame is welded up extrusions and forgings of aluminum, as is the swingarm.  Right side up cartridge forks are without anti-dive but adjustable for preload and rebound damping, as is the Full-Floater monoshock.  Stainless 4-1-2 exhaust is new for this year, though this bike has been fitted with a D&D 4-into-1 system.  Brakes are Nissin 310 mm fronts with four-piston calipers, with 230 mm rear.  Steering damper on the left frame is standard.  Though available set up for a passenger, this GSXR has the matching monoposto seat fairing.
Offered by a New Jersey dealer, this GSX-R750 looks excellent or better and claims only 1,407 miles.  Sharper eyes may see mods but I'm not.  None of the body faux pas look like accident damage.  From the eBay auction:
Incredible find.  1989 GSXR 750K, its an ICONIC sport bike and becoming highly collectible.  Its not only incredible that this bike still exists but its in really great condition too.  

Bike is ready to ride with fresh oil/Filter, brake flush, New Tires.

Bike comes with factory (VERY RARE) solo seat cover with bump pad and also included is the stock seat cover/tailight surround.

I have tried to detail most of the defects in the paint but certainly can not get them all so i concentrated on the most obvious ones.  I have not noticed any cracks at all in the body, even all the small tabs seem to be intact.  The wind screen is a bit marked up and most of the scratches can be polished out but I opted to put an original windscreen on the bike verses a flimsy cheap aftermarket one.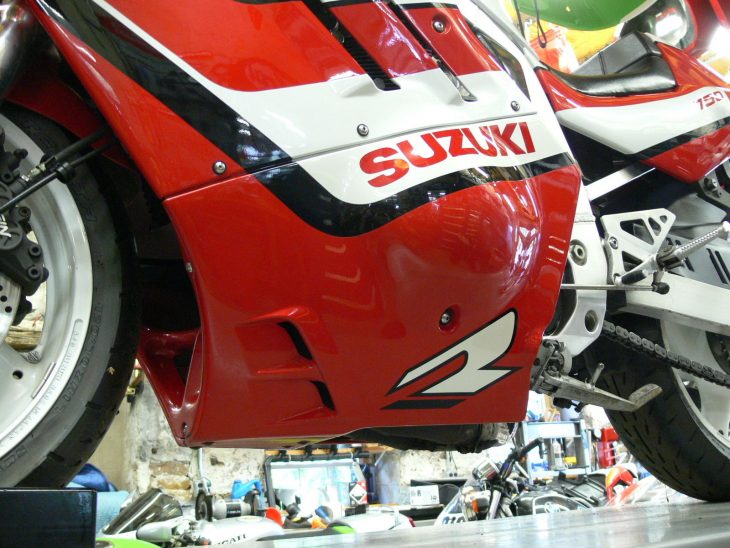 Though a production machine and not a rarity at the time, a road registered original like this is not seen often.  Claiming a substantial horsepower advantage over its competition, the factory made some ride-height adjustments and re-shaped the exhaust collector for 1989, resulting in a sharp handling powerhouse.  Since summer is here, any number of aftermarket windshields would serve the purpose while you polish the original or search out a new-old-stock part…
-donn