Wrapping up Honda's FireBlade legacy was left to the CBR954RR, with the engine closest to the full liter and the lowest weight of the series.  Here's a Colorado example that looks carefully tended, despite the gravelly background.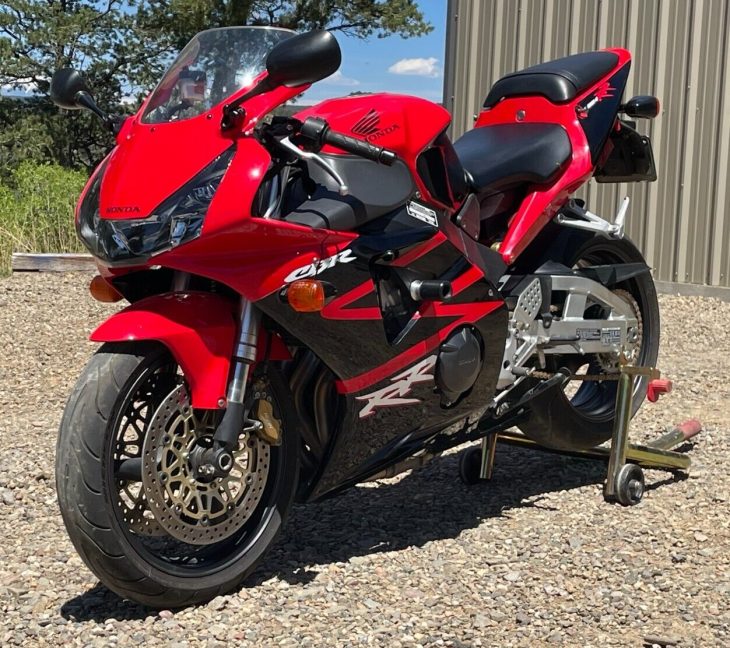 The 2002 'Blade might look a little chunky with its twin alloy chassis spars, massive-looking fabricated swingarm and 330mm brakes.  But its 154 horses were given less resistance by trimming weight wherever possible – the crankshaft and engine cases are lighter, titanium was used for the exhaust plenum valve and muffler, the valve cover is magnesium, and even the starter motor magnets were made of a new material to lose almost a pound.  PGM fuel injectors used laser-drilled holes to maximize dispersal of the go-go juice, and the curved aluminum radiator cools with less frontal area.
Though it has extra-sized frame sliders, this CBR hasn't challenged that rocky driveway.  Just 8K miles over twenty years, with just a magnetic tank pad, Micron muffler and trimmed rear fender to show for it.  Very good pictures allay most fears.  Enjoy the few comments in the eBay auction –
Exceptionally clean Honda CBR954RR FireBlade Sport Bike.  Always garaged; always covered; always loved. Great, fun ride! I just don't ride it anymore. Micron exhaust – Mag Knight tank cover – always used synthetic oil. Needs tires. One small chip in front fairing. Pit Bull Rear Wheel Stand and Battery Tender will go with the bike. Comfortable ride! Very smooth! Personalized fairing. We have the book and the tool kit.
A 1000RR took the took spot soon after, but made the upstart 900's all the more special.  Just up I-25 from Santa Fe, this RR might benefit from an owner with access to more paved back roads.   Still several days to run, but consider your choice of new rubber and get going.
-donn