Some have said the Daytona is Guzzi's last real sportbike, but the factory could change that with a new model.  This Ohio example hides its age phenomenally, and hasn't been stored long term – the owner claims a couple of gallons of super every six months or so.
Moto Guzzi dropped a dime on gentleman racer John Wittner, and took his suggestions of four valves, monoshock swingarm, and clip-on controls to heart.  Power was snappier than the Guzzi's of recent memory with 95 hp, and found a home in a chassis design with Dr. Wittner's tweaks.  Premium adjustable suspension paid dividends, and floating cross-drilled brakes didn't complain.  Guzzi lifers will appreciate shaft drive, stable wheelbase, and sporty upper fairing.  Even regulators were pleased with Weber-Marelli fuel injection and catalytic converter.  Production amounted to just a few hundred per year but attracted a lot of attention in the showroom.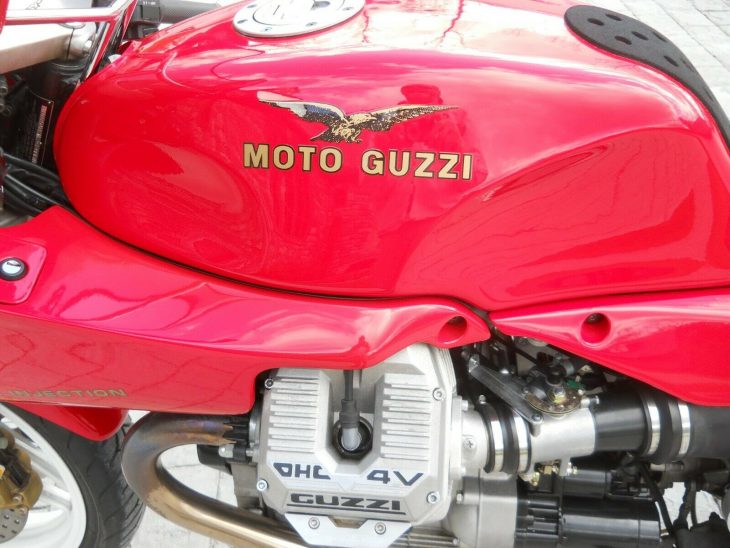 Evidently in the care of a more recent second owner, this Daytona looks barely used.  Mileage works out to about 125 per year.  Comments from the eBay auction:
This is a two owner bike purchased by me from the original 27 year owner. Always fastidiously maintained as part of an extensive collection and ridden just once or twice yearly to keep everything flexible. Mechanically and cosmetically in mint, original unaltered condition. Very few were made and I would guess there are very few in this condition. Purchased originally by a collector, it was always stored in an inside, climate controlled environment and serviced by a private technician that came onsite to keep all parts of the collection in excellent working order. Ridden a couple times a year for enjoyment and keep everything limbered up. Completely stock and original, auction also includes the biposto seat assembly which has never been installed. Very few scuffs or blemishes in the paintwork, check out the pictures closely. Bike starts, runs and rides like a new one.
The four valves and belt driven cams on the Daytona make the ride-by sound less sedate and more Ducati-esque, and might lead to an irrational exuberance citation.  This Goose could go either way, certainly roadable or feed those headers into the vibratory polisher and put it back on display for a while.  A great looking classic which would be a shame not to see ( or hear ) going by occasionally.
-donn