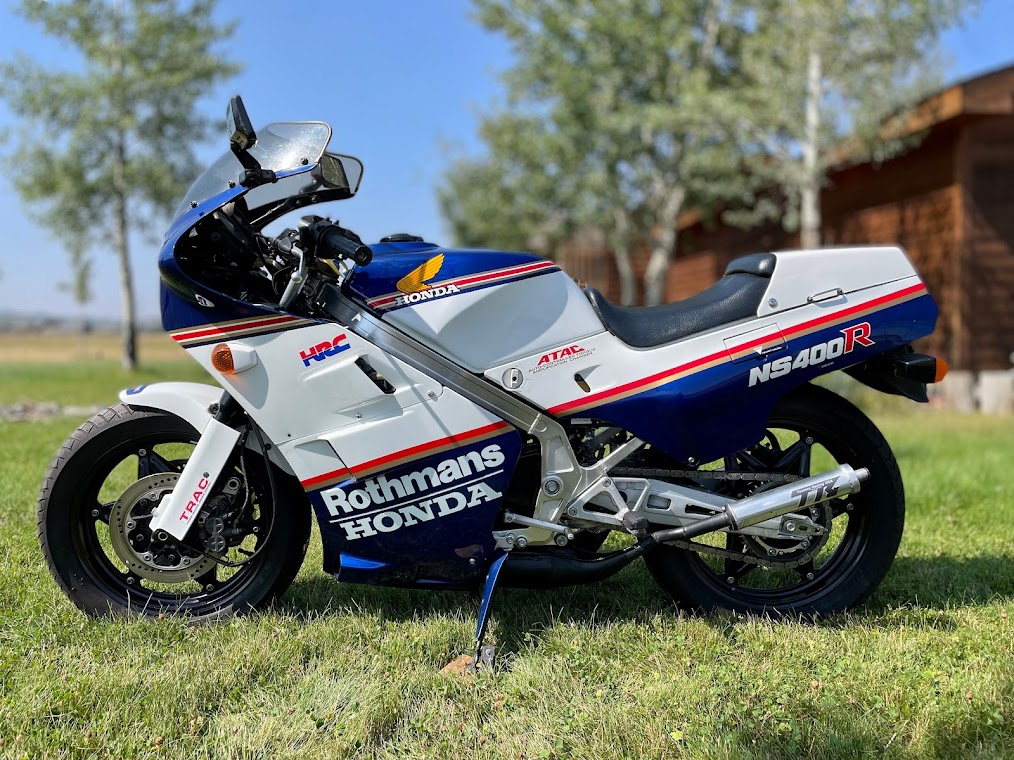 First things first- Donn, Mike, Tad, Bill, Bob and Larry have all done a great job documenting the NS400R specs over the years and you can re-read those techy numbers HERE if you like. If reading isn't your thing you can always go back and look at the pretty pictures- like me 🙂
Secondly- THIS is how you photograph a rare motorcycle that you'd actually like to sell . . . with an iPhone . . . in portrait mode . . . with too much artificial bokeh. In all seriousness, well lit, detailed and in focus is what you're after. Pretty straight forward.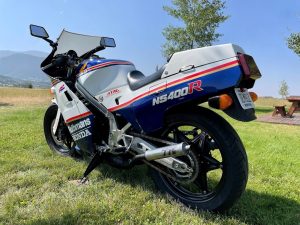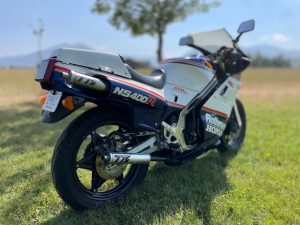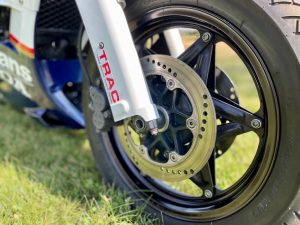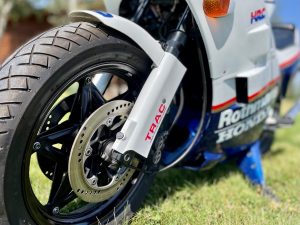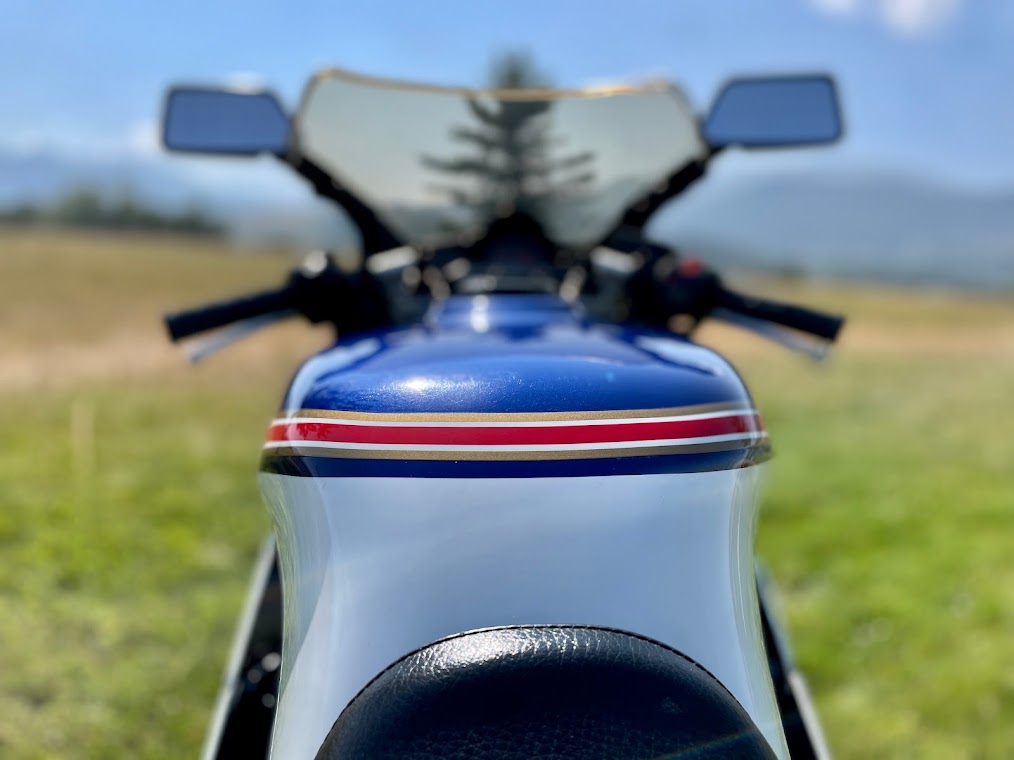 Looking back at 1985, Honda was starting to transition from upright cafe racer style bikes to the CBR (1987) and from the upright alienish looking NS to the more angular and pointy NSR250's we all know and love. The general public hadn't received full floating or even semi-floating brakes yet and we were still rolling around on tires with sidewalls as tall as the Hoover Damn.
In 1985 hi-tech motorcycle bits consisted of Honda's TRAC anti-dive forks and ATAC- Honda's Auto-Controlled Torque Amplification Chamber. ATAC was Honda's answer to help the 400cc 3 cylinder produce some low end torque. Perhaps the simplest and most innovative bit of the NS400R (and this might be a shocker) is Honda's engineers rotated the little 3 cylinder engine forward putting two in the front and one in the rear, helping to keep the weight low, balanced and with a slight forward bias. An easy and functional solution- Right?
Apparently, Honda's engineers got it right because it's not uncommon to see NS400R's with decent mileage on them- meaning, they were easy to ride and reliable machines.
Check out what the seller has to say about their NS-
1985 Honda NS400R V-3 Two Stroke. 23,800 km. Clean title with Montana registration and license plate. Really clean bike. Starts first kick and runs great. There are a few flaws, its missing the chain guard and a chrome fairing mount screw. There is a very slight and shallow dent on the left side of the fuel tank. I believe a good dent guy could massage it out. Oil pump has been removed, so its premix at the moment. I will include the oil pump and reservoir so it can be re-installed. Overall, I would call it a 9 out of 10 condition. With the bodywork off, it looks new underneath. None of the corrosion and rust typical of bikes imported from Japan.
The seller made a quick VIDEO for your viewing and listening pleasure. If we only had Smell-O-Vision!
If you desire a little more visual information- the seller has a very nice gallery of photos you can browse
HERE.
If you're still not stimulated enough- this one is located in beautiful Montana. Road trip anyone?
Cheers!
dd