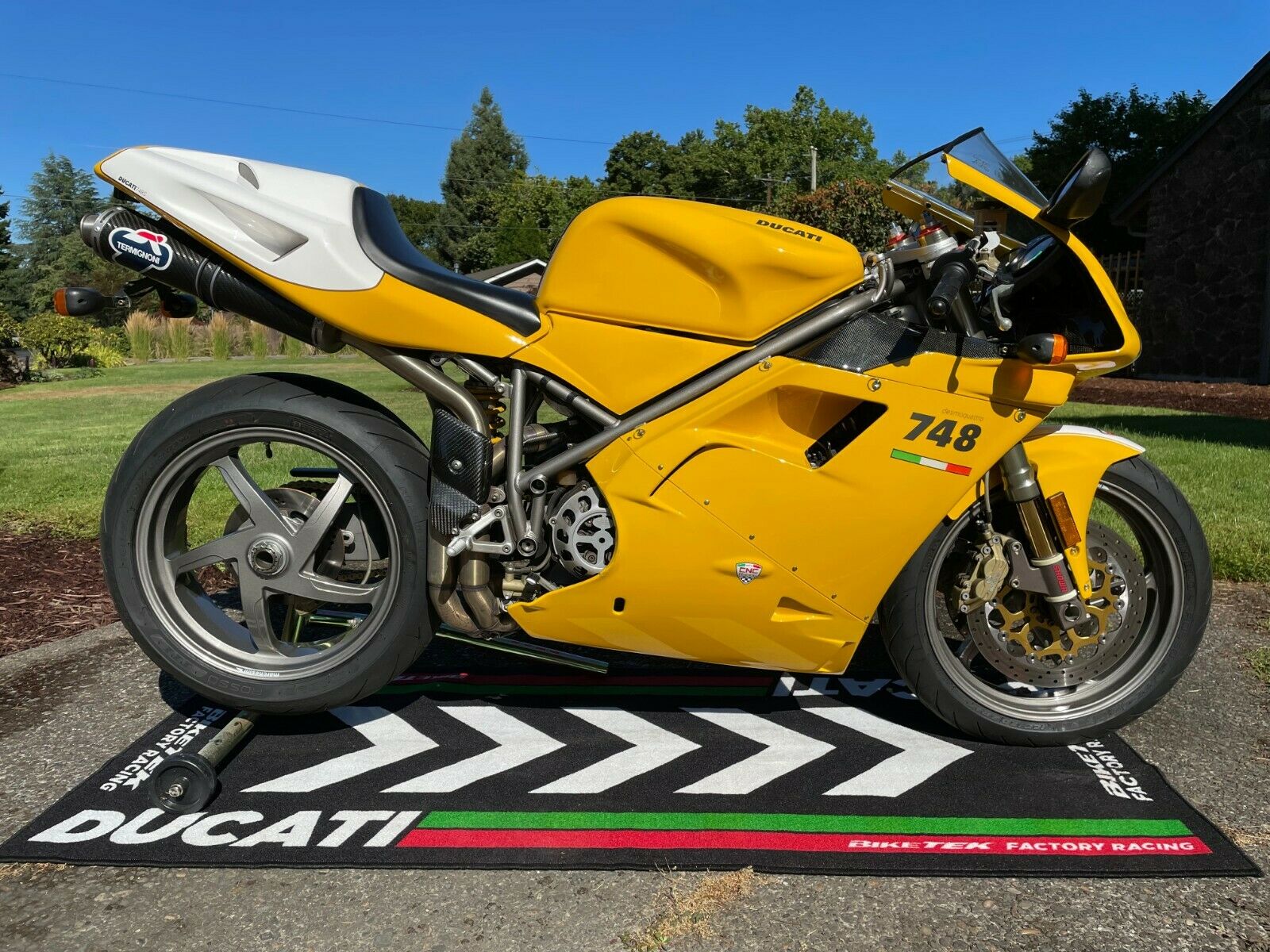 Hot on the heels of the original Italian supermodel, the Ducati 916, came a smaller sibling: the 748. At the time there were a lot of writers who could not understand the exorbitant cost of a 750cc sport bike that could almost run with the 600s of the day. Think of this as a slightly quieter, a little less powerful, just marginally less expensive 916 – keeping in mind that all the rest of the 916 goodness is baked right in – and you might start to see the 748 in a different light. Every bit as capable as the milestone 916 in the corners, equal on the brakes, it is really when you whack the throttle open that the differences are clear. Otherwise, the 748 is the spitting image of the bigger bike, with advantages when it comes to ownership.
Let's get it out in the open: The L-twin powering the 748s as pictured was good for just shy of 100 HP when released. It tipped the scales at 430-ish pounds dry. Compare and contrast the same year Honda CBR600 inline four, and you will find 110 HP pushing a mere 370 pounds. It's no wonder that many folks did not understand the 748. Even the "S" model as we see here did not receive a performance gain, but rather upgraded suspension, adjustable steering geometry and snazzy wheels. But what this bike does – and it does it all day long – is look damn good. And even if you're not reeling in your buddy on the straights, there is simply no sound like a desmoquattro hammering out to redline. It's the kind of soundtrack that sticks with you, the experience that you remember, and the feeling that you are always going fast, even if you are not.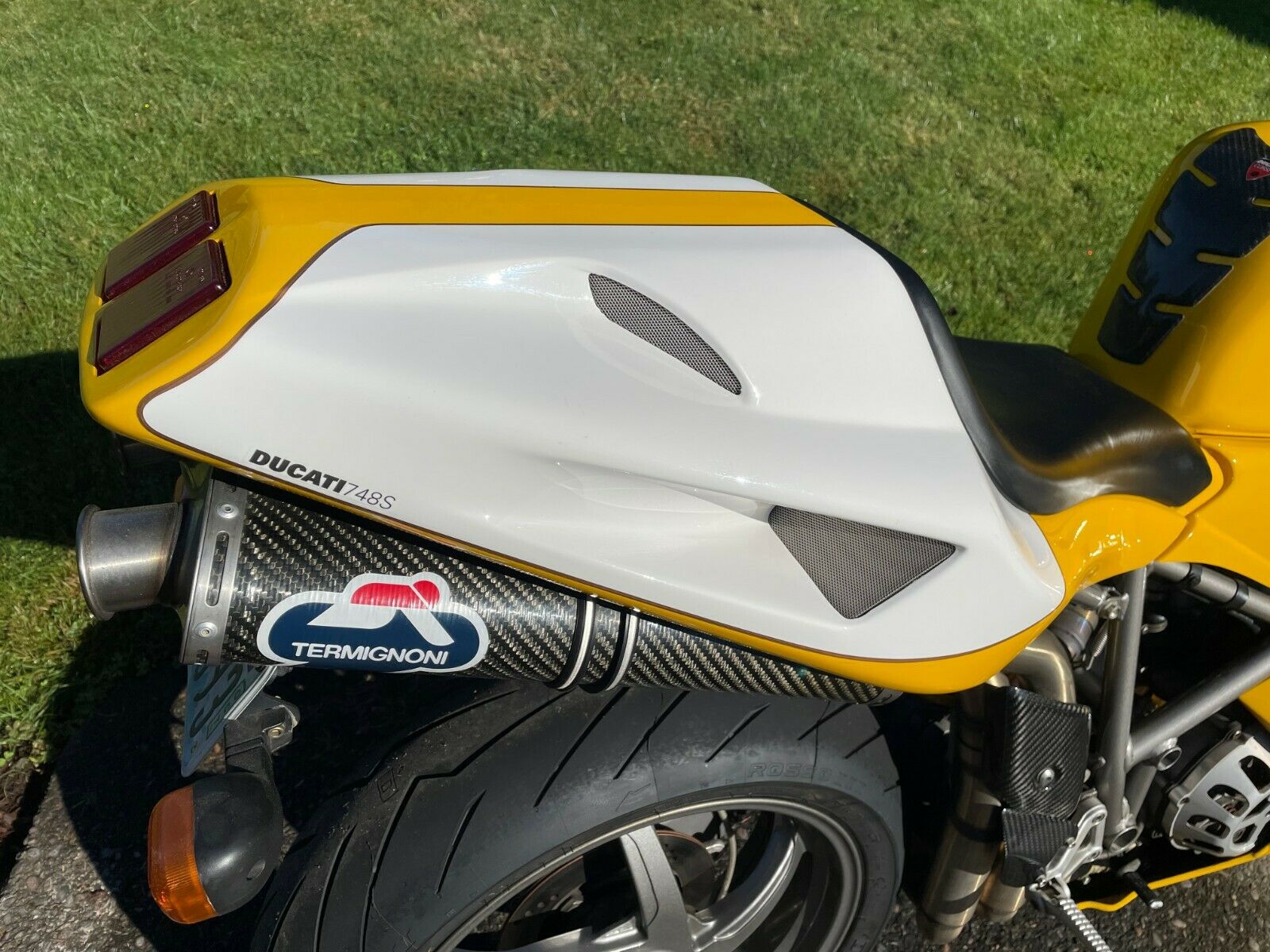 From the seller:
DUCATI 2001 748S MONOPOSTO RARE YELLOW!

This is a gem of a motorcycle. Great opportunity to own a very good example of ducati heritage. Very low miles. Runs fantastic with no known issues. Never been raced. Minor cosmetic defects which are all to the best of my ability listed in the photos. This is a very eye clean motorcycle and shows gentle wear for its age. Considered in very good used condition. Selling to fund another project. Starts immediately and I've never had mechanical issue. NO LEAKS! Maintained by Ducati Corse Portland. New Diablo Rosso III tires with 50 miles use. New OEM hand grips. New OEM Front and Rear sprockets and chain installed. All lights and signals work. Very Low miles on this bike with plenty of miles left as a daily rider or an addition to your collection. Amazing sound of the duel carbon fiber TERMIGNONI Exhaust. Small fogging to the head light lenses, very common for these bikes. Your dealer can easily remove but it will re-accumulate slowly over time. Motorcycle is sold as is. You will not be disappointed with this motorcycle. The pictures speak for the bike. The Pitbull stand IS included in the sale. The ducati garage mat IS included in the sale. Happy to answer all reasonable questions. Very reasonable reserve price.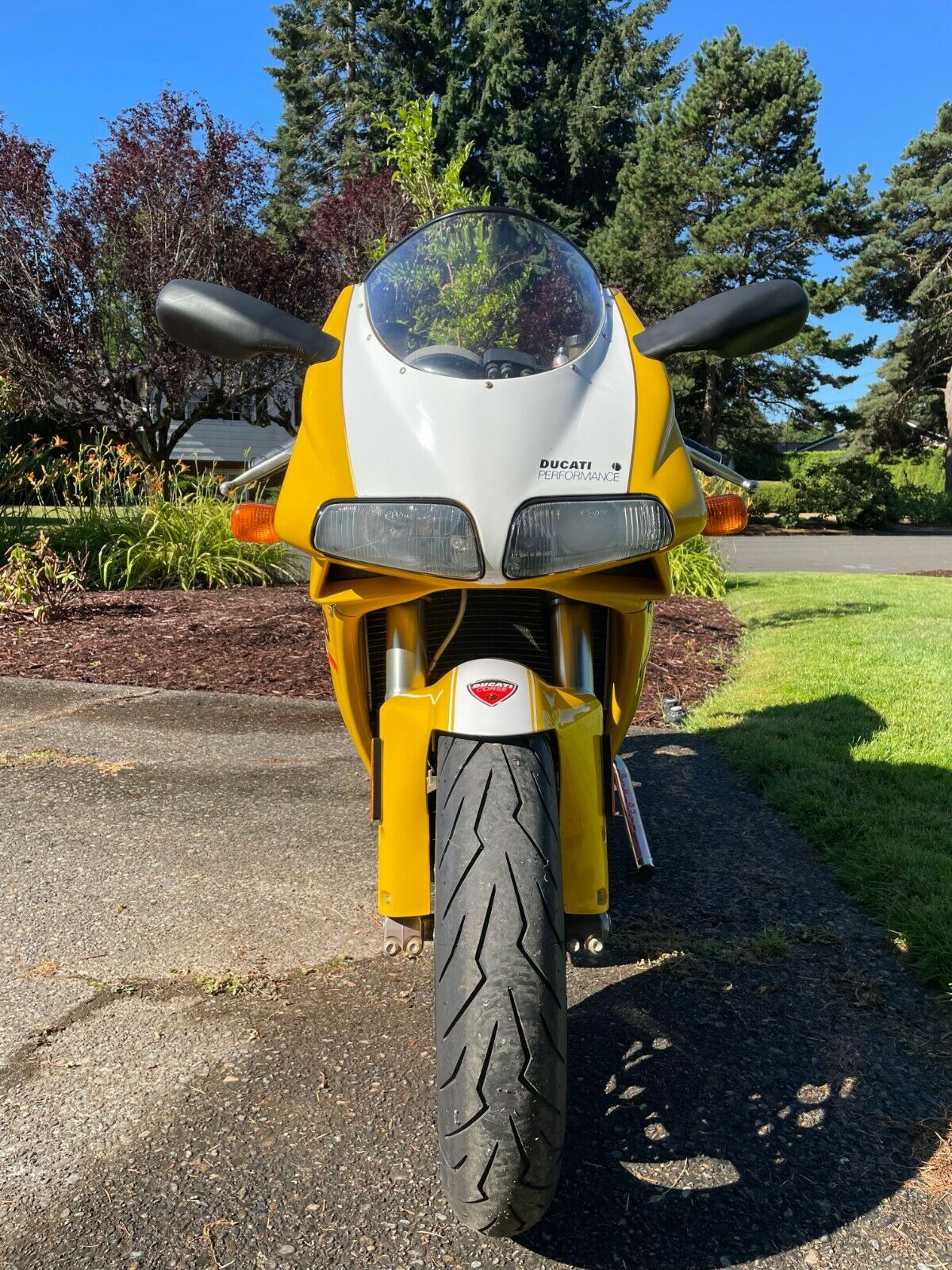 There are some drawbacks to 748 ownership, but these should not be deal killers. If you are a street rider with a lot of stop and go during your commute, you will find that the race ready cockpit stretches you out into a neat aero package that puts a ton of weight on your wrists at slower speeds. Maintenance is a bit more involved on the 748 than on 2-valve Supersports or Japanese machinery, as there are now four valves to adjust in each head, and getting to the belts means moving more stuff out of the way first. Still, these are not as fragile or temperamental as you might expect from an Italian exotic.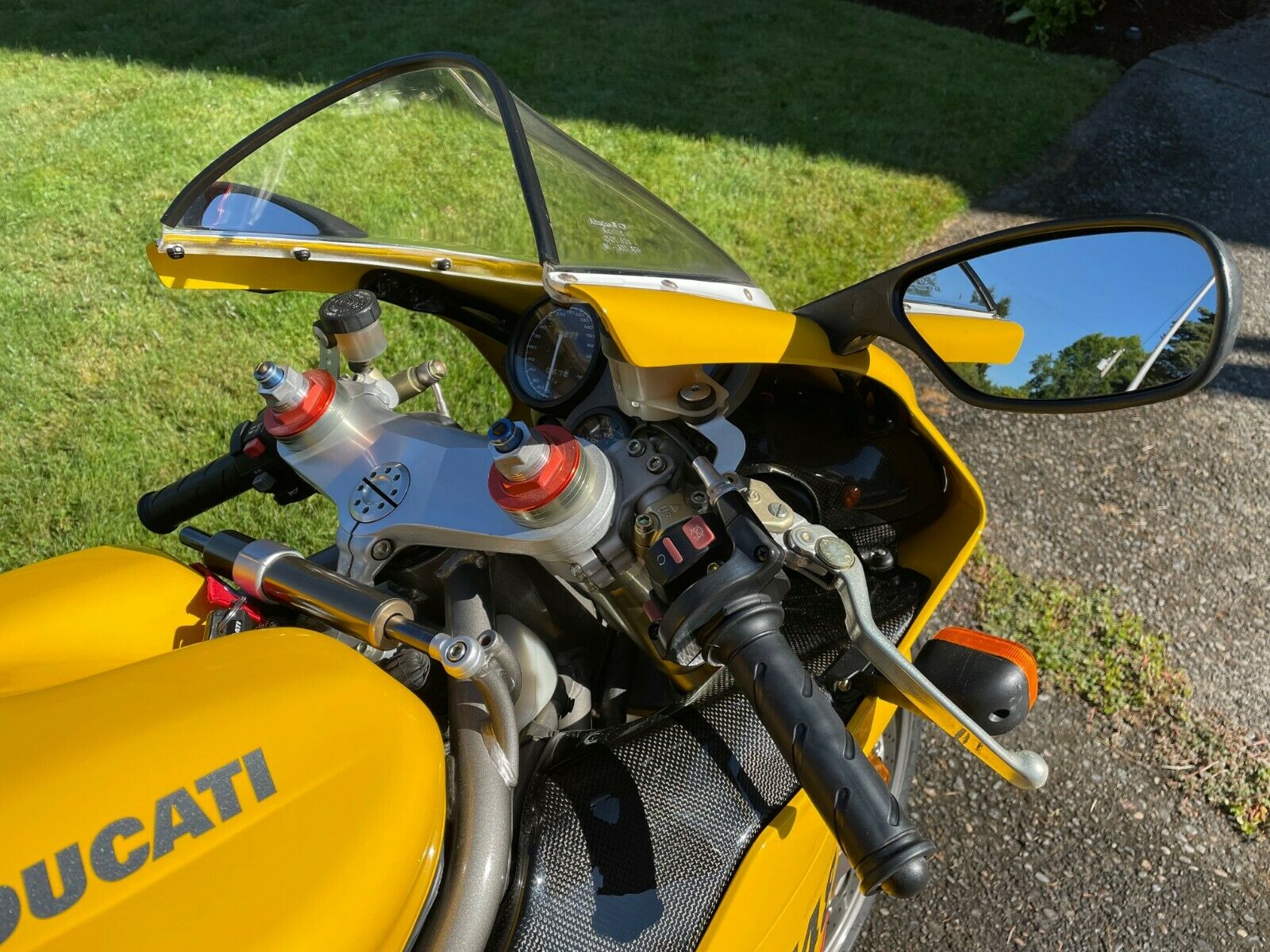 The early Tamburini-designed 916 models are starting to command big money these days. It is clear that this is where the collector world is going. The 748 – a little less loved and without the ultimate performance mantle – will take a little bit longer to get there. That is good news if you are looking for one today. Find it, ride it, enjoy it, and watch it appreciate in value in the wake of the 916/996/998 series. Today's example has fewer than 14,000 miles on the clocks, has some minor farkles which are common to the model, and otherwise looks to be in fine shape. Best of all, bidding is still below $5k with only a couple of days remaining. More rare than the bigger bikes, these 748 models are a kick to ride. And we all know that yellow Ducatis are the fastest…. Check out all of the details here, and Good Luck!!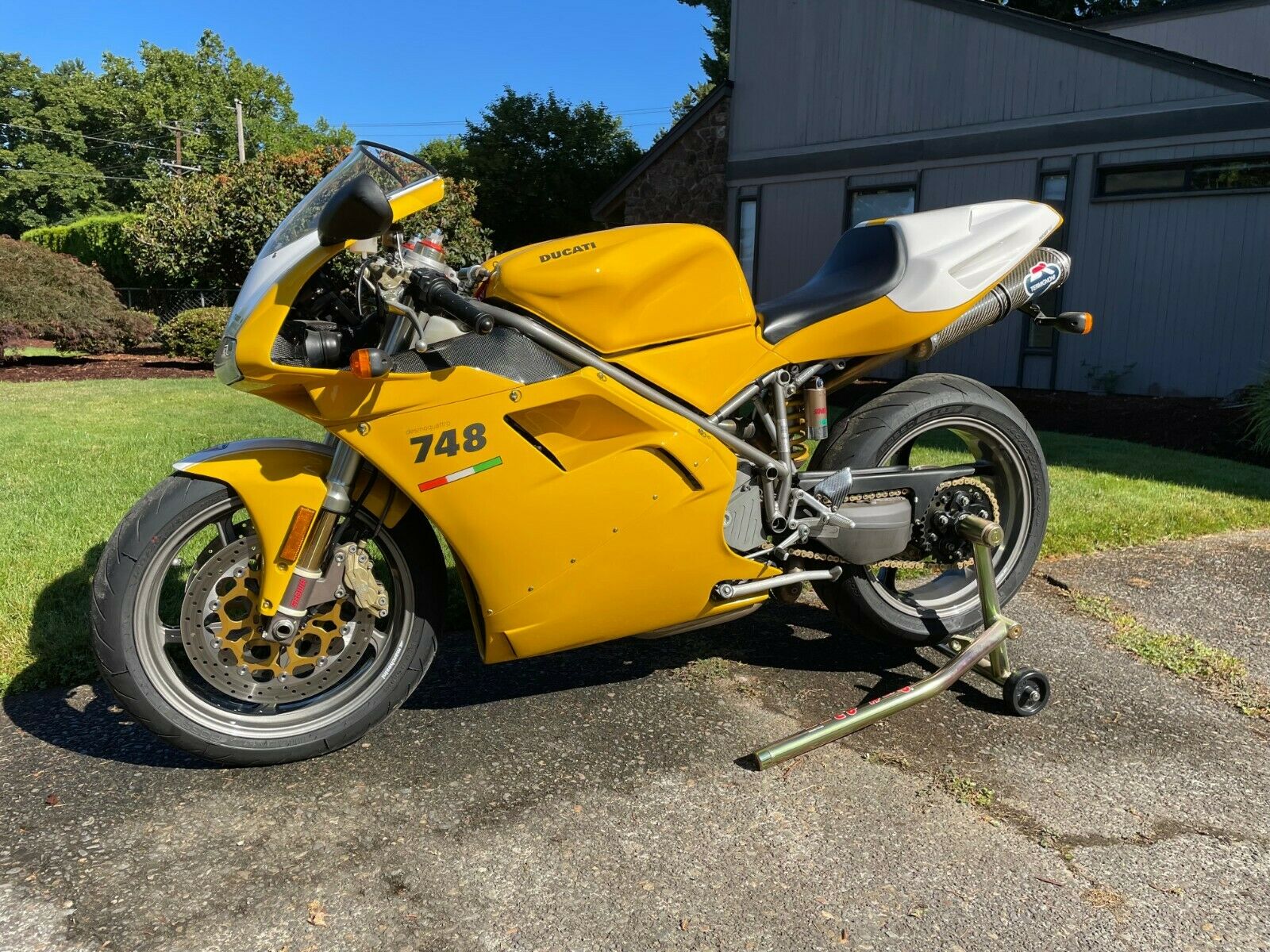 MI