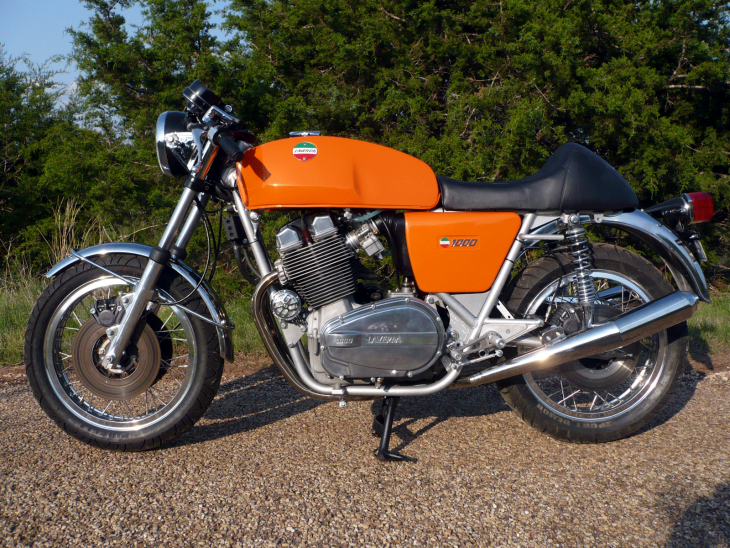 Just in time for Halloween comes this bright orange Italian beast. We usually tend to stick with bikes from the 80s, 90s, and 00s, but a classic Laverda Jota is just too cool not to post. Named for a Spanish dance in triple time as a reference to the bike's three cylinders and the syncopated rhythm of its 180° crankshaft, the Jota was a specially-tuned version of the company's less sexily-named 3CL and was the fastest bike of the era, with a ripping 140mph tested top speed.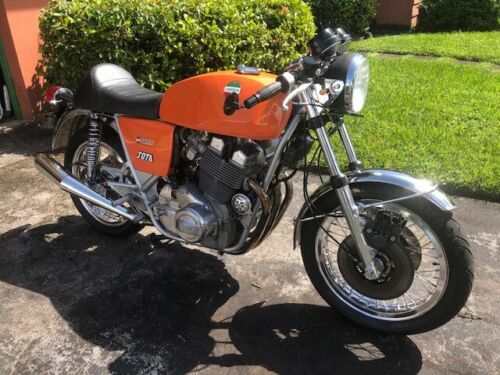 It's interesting to note that the Jota was not a factory bike. Slater Brothers Laverda in the UK saw the performance potential of the regular 3CL and upgraded the already pretty fast machine with high-compression pistons, higher-lift camshafts, and a freer-flowing exhaust to create what was basically a hot-rod version. The modifications resulted in 90hp, up from around 80hp and the bike had a dry weight of nearly 500lbs. Those are big numbers, but luckily the Jota had triple disc brakes to help overcome the force of both.
The early Jotas like this one were powerful, but a bit unruly: a 180° crankshaft meant the outside pistons rose and fell at the same time and led to much more vibration than you'd expect if your experience with triples is limited to the modern three-cylinder bikes from Triumph or Yamaha. Laverda later switched to a smoother-running version with a 120° crank, but those are generally considered far less desirable than the original, fire-breathing bikes.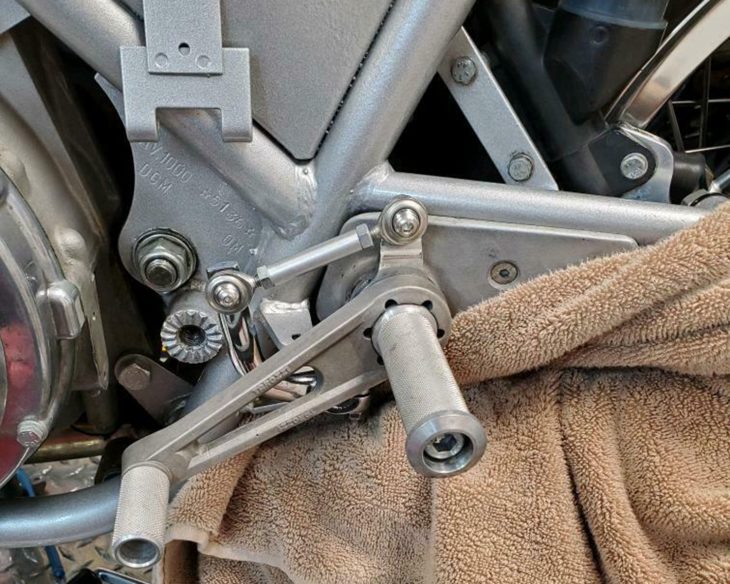 From the original eBay listing: 1977 Laverda Jota for Sale
1977 Laverda Jota, 5136.

The bike's history:

Recognizing the performance of these machines, Lance Weil imported a number of the "silver bullets" into SoCal for resale. Lance, inducted into the AMA Hall of Fame in 1971, was no stranger to performance motorcycles. He sold this machine, one of a batch of three, in Albuquerque where it remained until 2010. Its sister motorcycles, one higher numbered VIN, one lower, are part of the Laverda scene today.

I have a photo of the bike when it was about a week or so old alongside what I understand to be Lance Weil's personal bike, and a letter from Slater confirming that this is a bona fide Jota. This genuine Jota was originally supplied by the Laverda factory to the Slater Bros concessionaire in England. In 1977, only Slater's offered the Jota, as it was an in-house model. The Jota name was not used by the factory until a couple of years later, and you understand early Jotas like this one were fitted with the cams and high compression pistons of the 1974/5 endurance racers along with a nearly open free-flow exhaust system. Italian combustion chamber music at its very finest!  

On 21 August 1976 Motor Cycle magazine clocked a Jota at 140.04mph at the MIRA test track, noting it was "easily the highest recorded top speed for a road-going production motorcycle." While the phrase "the Lamborghini of motorcycles" – especially in Lamborghini Arancia (orange) like this one – is appropriate, it is also quite fitting to see the Laverda Jota as the Brough Superior or Vincent Black Shadow of its time. 

Very extensive down-to-the-last-nut-&-bolt engine & frame rebuild by Scott Potter, at a mileage reading of 27,600.

The objective became: build something very special, changing/replacing/fixing whatever was needed, while preserving original parts wherever possible:- 

Full engine rebuild – everything including bottom end, pistons, honed bores, valve & seats, transmission, clutch etc.
Powder coated frame is Sonic Silver; a high metallic content silver very close to the Jota hue but with a bit more sparkle in the sun. Tank & side covers are Lamborghini Ishtar Arancio with clear coats
Some rechroming
Buchanan's shouldered Excel rims (2.15 front & 2.50 rear) w/stainless spokes, using an SF2 front hub & and a Suzuki rear hub
Race Tech cartridge emulators; new shocks
New forged Jota-spec pistons along with one of Clem's copper head gaskets & Axtell-spec camshafts
New kits for masters & cylinders along with new pistons, pads and hardware
Rebuilt gauges with new faces
DMC ignition
Keihin full stainless exhaust, headers & mufflers, weighs nothing and sounds truly magnificent, pure music
Custom made 3C-style solo seat retaining the tilting feature of the 3CL seat
Many other little details such as Kellermann's stupid-expensive but beautiful halogen indicators – tiny but very bright.

The bike has been featured here:  https://www.bikeexif.com/laverda-jota

Bike of the Year 2011 on the Laverda Forum: https://www.laverdaforum.com/forum/index.php/topic,83684.msg186476.html#msg186476

Details of restoration: http://www.motolaverda.us/alex.htm

I have more photos and entirely too many receipts. Some of the photos show the bike with a left side gear change, rear-sets and clip-ons.
The seller references Lance Weil several times in his post and, for those not familiar, he was the preeminent Laverda tuning guru in the US for many years but was tragically killed in a shop accident in 2006. There are no takers so far at the $16,500 starting bid, which seems a very fair asking price for a bona fide Jota in what appears to be excellent condition.
-tad